Posted 9 a.m. Wednesday, Oct. 7, 2020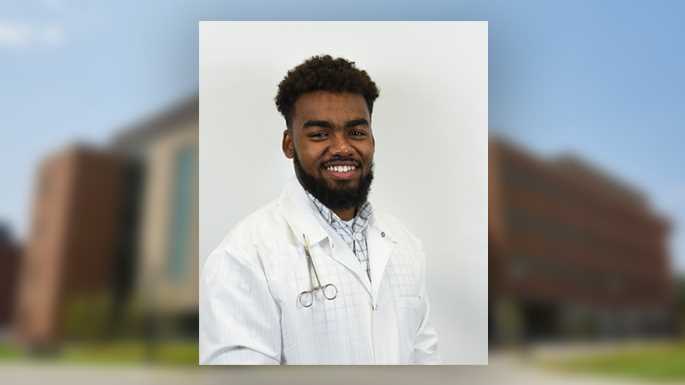 Alum helps spearhead COVID testing at Minneapolis hospital
One of Khadel King's favorite parts about working in medicine is the opportunity to learn new things.
And never has that opportunity been greater than during COVID-19.
King, '19, was originally a medical technologist in the toxicology department at Hennepin Healthcare, a system of clinics based in the Twin Cities. But when the pandemic set in, King was pressed into service in the molecular department, where he is responsible for running various types of COVID-19 tests.
"I was there from the beginning, helping out with troubleshooting and coming up with a plan of action when we saw that the number of specimens would be rising exponentially," he explains. "It was slow at first, but then it really took off. We've gotten several new (testing) instruments, and I've learned to operate all of them. We've had to build everything from the ground up, because this is a novel virus."
King had a hand in developing the health system's standard operating procedures related to COVID-19. He also helped validate the first piece of PCR processing equipment, the Abbott m2000rt, which is used to extract the virus from samples.
In addition to the gold-standard PCR test, Hennepin Healthcare now offers a less invasive saliva test.
King says the health system is doing everything in its power to process tests efficiently and accurately.
Sometimes, though, the machines require maintenance and the unprocessed tests begin to pile up. At a given time, he says, there are roughly 1,500 samples on deck.
"It's been extremely stressful just because of the influx of inpatient and outpatient samples," he notes. "Then when you have difficulties with equipment not working for whatever reason, things get backed up and it adds to the stress. But we have a good group of people, and we've been able to remain composed and push forward."
King, a native of Toronto, is applying to medical schools and hoping to progress in his career. His interest in medicine blossomed at UWL, where he majored in clinical laboratory science and minored in chemistry.
The CLS program shaped King in a number of ways — from the knowledge instilled by his professors to the real-world experience gained from clinical lab work.
"It was a great major, and in terms of teachers and faculty, Dr. (Michael) Lazzari and Kari Johnson were really instrumental," King says. "In your basic labs on campus, you're kind of doing your own thing, and you're only responsible for a grade. But when you're a lab scientist, you're responsible for someone else's health and wellbeing."