Posted 1:40 p.m. Tuesday, Dec. 1, 2020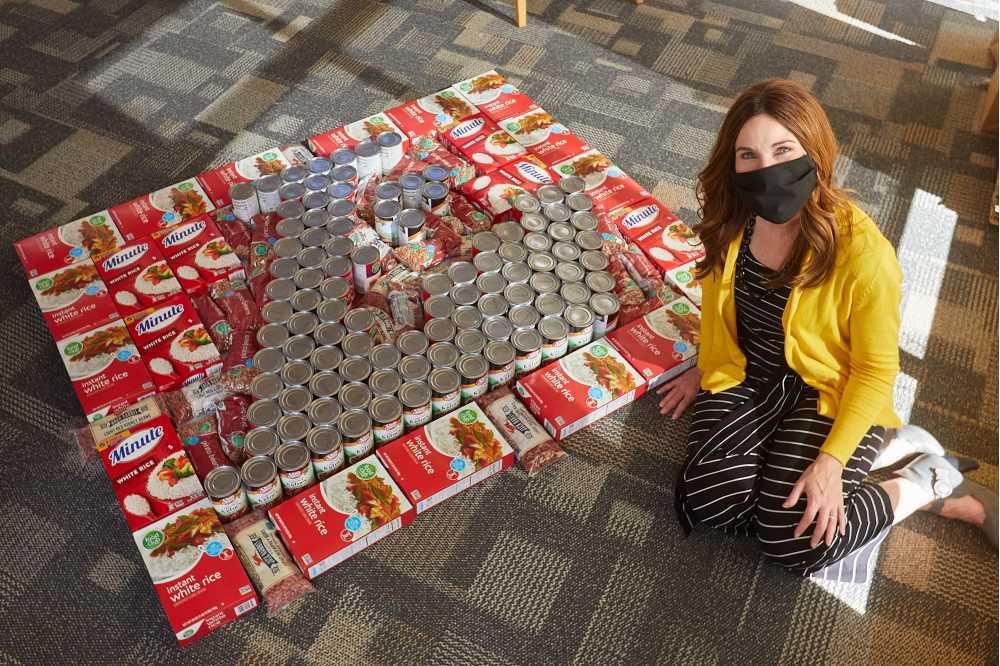 Klein's structure wins Best Original Design in Canstruction® contest
Lisa Klein is queen of the cans.
Klein, the community engagement coordinator at UW-La Crosse, recently won first place for Best Original Design in the Artspire "Canstruction®-Lite" competition hosted by the Pump House Regional Arts Center. The contest challenges teams to build structures out of canned and boxed food items and then donate them to local food pantries.
"This is so exciting," says Klein, who used about 175 pounds of beans, tomatoes and rice to recreate UWL's signature "L." "A huge thank-you to Ed Scholl from UWL Planning and Construction for the design, and to the Pump House Regional Arts Center for creating a space for the community to be creative while contributing to such an important cause."
Klein built her structure in October, using the red and maroon packaging and the silver can tops to match UWL's colors.
Entries were evaluated by a panel of judges, with awards across five categories: Best Meal, Structural Ingenuity, Best Original Design, Most Cans and Best Use of Labels.
The food used in Klein's design was donated to the Campus Food Pantry and the Hunger Task Force of La Crosse.
"Food insecurity has long been a concern for area communities, and our current pandemic has compounded the need for food," Klein notes. "The UWL Community Engagement team is honored by the award, and grateful to have been able to collaborate with the Pump House Regional Arts Center and the Hunger Task Force."