Posted 11:32 a.m. Thursday, Dec. 30, 2021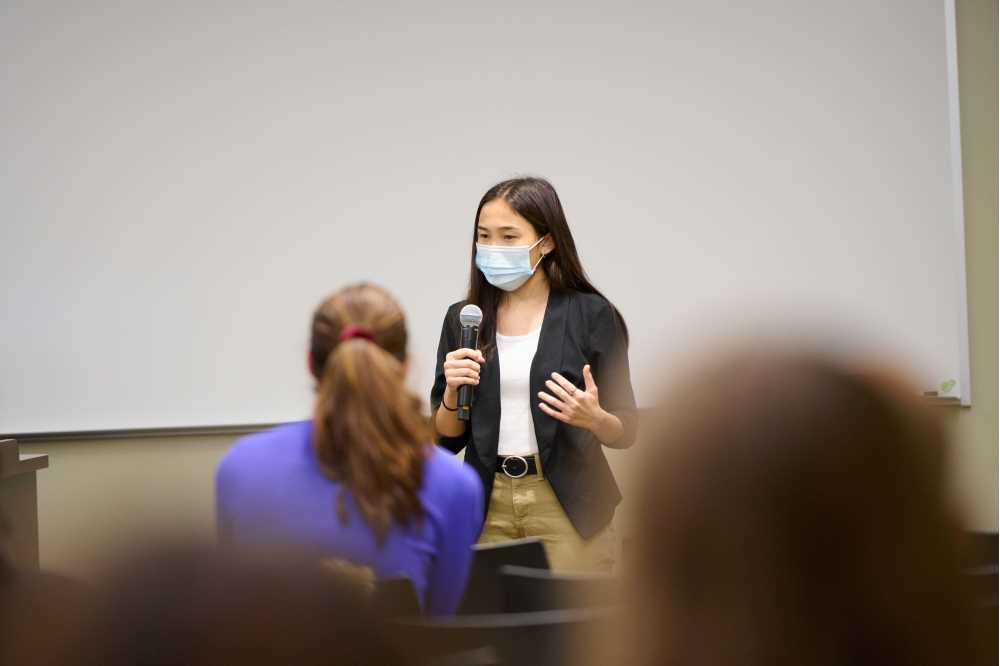 UWL's Christine Starshak takes first place with presentation on skin graft donors
By Maddie Kozel, English student

In November, UW-La Crosse held a WiSys Quick Pitch competition that challenged students to present their research to a panel of judges in three minutes or less.
Christine Starshak, a first-year student majoring in biology (biomedical science concentration), won this year's competition with a concept about skin graft donors, which she's been dreaming of since she was a junior in high school.
"I was sitting in a hotel lobby waiting for my mom to get off of work," says Starshak, who came up with the idea of using leftover tissue from plastic surgery to perform skin grafts. "I've just always been interested in random medical innovations like that."
Starshak says she discovered the Quick Pitch competition through the UWL Pre-med Club. At the time, she said she almost didn't sign up because she was worried about the time constraints.
After reaching out to Professor of Biology Scott Cooper and discovering it was simply an opportunity to express her ideas, she decided to participate.
"At worst," she notes, "it would just be a really good experience."
To explain her concept, Starshak wrote a three-minute pitch titled "Cosmetic Donation and Decellularization as a Graft Resource." In basic terms, it calls for tissue left over from plastic surgeries to be used in skin grafts and other procedures.
According to her research, which involved contacting hospitals and medical universities, this process would reduce the risk of rejections and infection by replacing the DNA with that of the recipient using cell transplantation technology.
Winning the competition took Starshak by surprise, she says. It also validated her research and gave her confidence that follow through with her experiments and ideas.
Starshak plans to earn her doctorate of medicine and become a practicing doctor. Additionally, she'd like to stay involved with research, whether it's this topic or new ones that emerge along the way.
"All in all," Christine says, "it's just about improving people's lives in any way we can."
About WiSys Quick Pitch
WiSys Quick Pitch is a research-focused student pitch competition that inspires UW System students to consider the impact of their research and learn how to effectively communicate it to a general audience.
Participants have three minutes to impress a panel of judges with their ability to explain the value of their research to society.
The top presenters win cash prizes and secure a spot in the Quick Pitch State Final.