Posted 2 p.m. Friday, March 11, 2022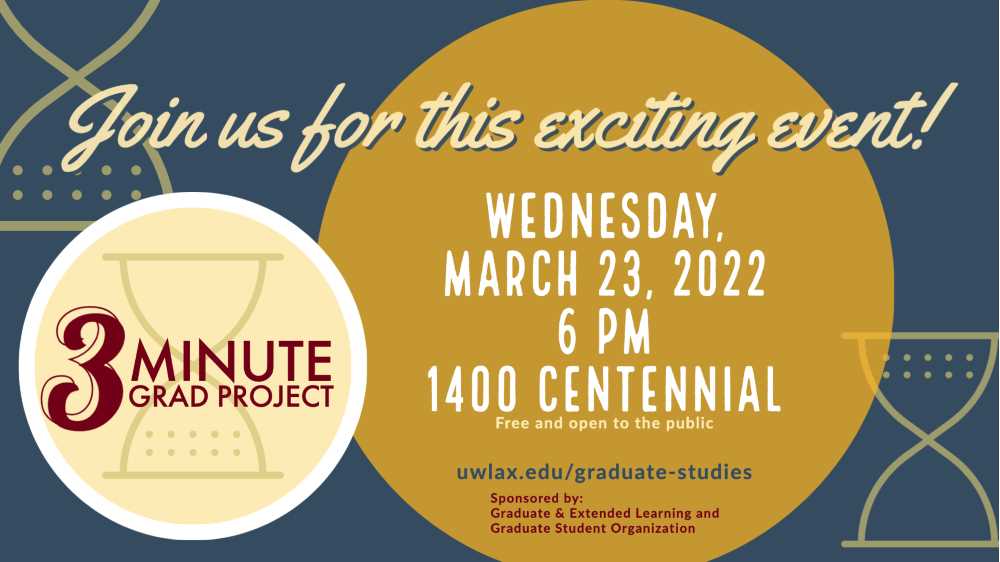 UWL's 3 Minute Grad Project event set for March 23
UW-La Crosse graduates will race the clock during the annual 3 Minute Grad Project event Wednesday, March 23.
The event — featuring graduate students from biology, clinical exercise physiology, physical education teaching, physical therapy, psychology, therapeutic recreation and more — challenges graduate students to squeeze months of research into a compelling, 180-second presentation for a general audience.
The idea, says Kayah-Bah Malecek, UWL's graduate studies coordinator, is to push students to look beyond the granular details of their project and see the simpler, bigger picture.
"This is a wonderful opportunity for students to share their knowledge of a particular topic, but also demonstrate that they can explain it in a clear, concise and engaging way," Malecek says. "Three minutes is not much time, especially when you're presenting. Students need to be able to effectively navigate the different pieces of their research, and pinpoint the information that's critical for the audience to know."
Students, faculty, staff and community members are invited to watch the competition, which is set for 6 p.m. in Centennial Hall, room 1400. Audience members can also participate by voting for the People's Choice Award.
A separate panel will evaluate the presentations for content, engagement and communication, and ultimately determine the top three. The winner will receive $500. The runner-up will receive $300. And the second runner-up will receive $200. The winner of the People's Choice Award will receive $300.
For more information about this year's 3 Minute Grad Project event, click here.
To donate to the 3 Minute Grad Project award fund, click here. Select "Graduate Studies" from the drop-down menu, then select "3 Minute Grad Project" in the designation section.
About Graduate & Extended Learning
Graduate & Extended Learning connects the university to the community by offering innovative educational opportunities including degree programs, professional development, youth programs, conference and event services, and test preparation.
Click here for more information.