Posted 7:03 a.m. Tuesday, Sept. 6, 2022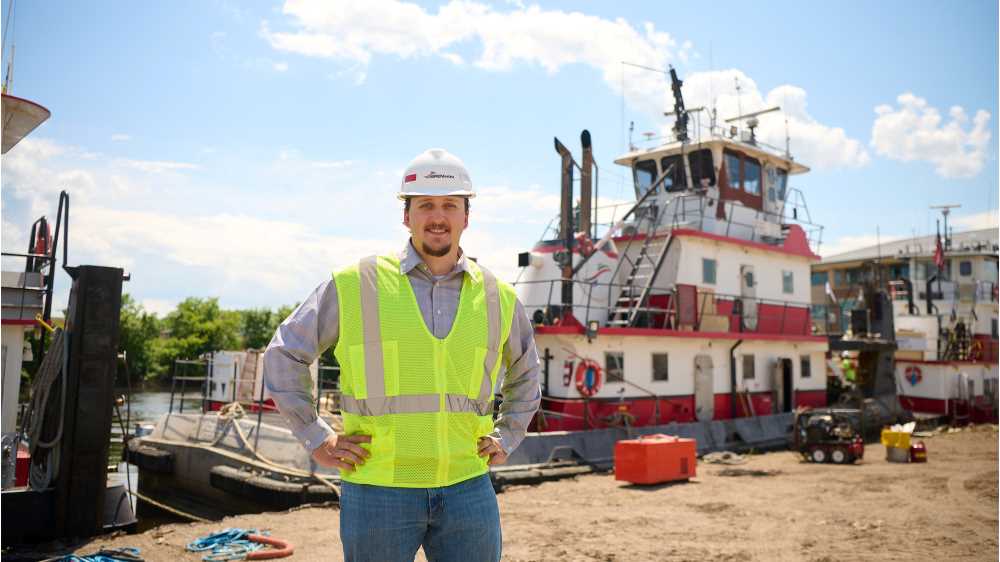 Alumni making La Crosse, Wisconsin work
The Mississippi River has always been a back door laboratory for UWL students. And thanks to a new partnership, it will continue to be.
The La Crosse-based company J.F. Brennan Company Inc. — a century-old, nationwide leader in marine environmental solutions — is partnering with UWL to strengthen research, curricula and the company's talent pipeline.
The partnership between UWL and J.F. Brennan was formed through the initiative of Prairie Springs: The Paul Fleckenstein Trust and the UWL College of Science and Health, with the assistance of the La Crosse Community Foundation.
In early 2022, Prairie Springs: The Paul Fleckenstein Trust gave the La Crosse Community Foundation $430,000 to fund construction of a new research vessel for UWL's River Studies Center: Research Vessel Prairie Springs.
In relation to the vessel, J.F. Brennan will provide maintenance support, a storage location and instrumentation expertise.
But a key to propelling the state's workforce is providing state-of-the-art experiences on campus, too. An obstacle in the way is UWL's outdated Cowley Hall with worse learning spaces than almost any high school in the state.
The Prairie Springs Science Center Completion/Cowley Hall Demolition Project is vital to helping the economy grow.
Here's a look at an alum who stayed in La Crosse, helping to impact Wisconsin's growing economy.
It's a story among many that reveal why campus facilities are important for a solid educational base allowing our alumni to become vital to the state's workforce.
Rolling on the river
Sands is a testament that UWL is key to filling state's STEM jobs
Ryan Sands, '15
Hometown: DeForest, Wisconsin
Major/Minor: Geography, environmental science concentration/Earth Science
Currently: Project manager in the Environmental Division at J.F. Brennan, La Crosse
Ryan Sands knows firsthand the importance of a great education — and the impact faculty have on students.

It's why he's successful in his career. And it's the reason he's stayed in Wisconsin. In fact, he admits he'll always call La Crosse home.
The DeForest native says his UWL education paved his path to the Wisconsin workforce.
"UWL provides a great foundation to prepare students for future opportunities in a variety of fields," he explains. "The university's programs are diverse in providing applications and research for many facets of each industry."
For Sands, it was Geography Department faculty who made a difference.
"They all were open to improving every student, and willing to assist in and out of the classroom," he explains. "And they are always striving to better the future of their students."
When Sands was on campus in the 2010s, Cowley Hall was UWL's lone science facility. The building and classrooms were old and outdated, he recalls. Future expansion of science-based labs, classrooms and lecture halls in PSSC II are critical in enhancing the experience before heading into the state workforce.
And UWL is great at assisting students in finding those career opportunities — focusing on needed STEM jobs, notes Sands. Recently, UWL began partnering with J.F. Brennan to help students receive specific skills making them job-ready.
"This should build networking with local employers and provide training on potential career fields for future students," he predicts.