Posted 1:04 p.m. Wednesday, Dec. 15, 2021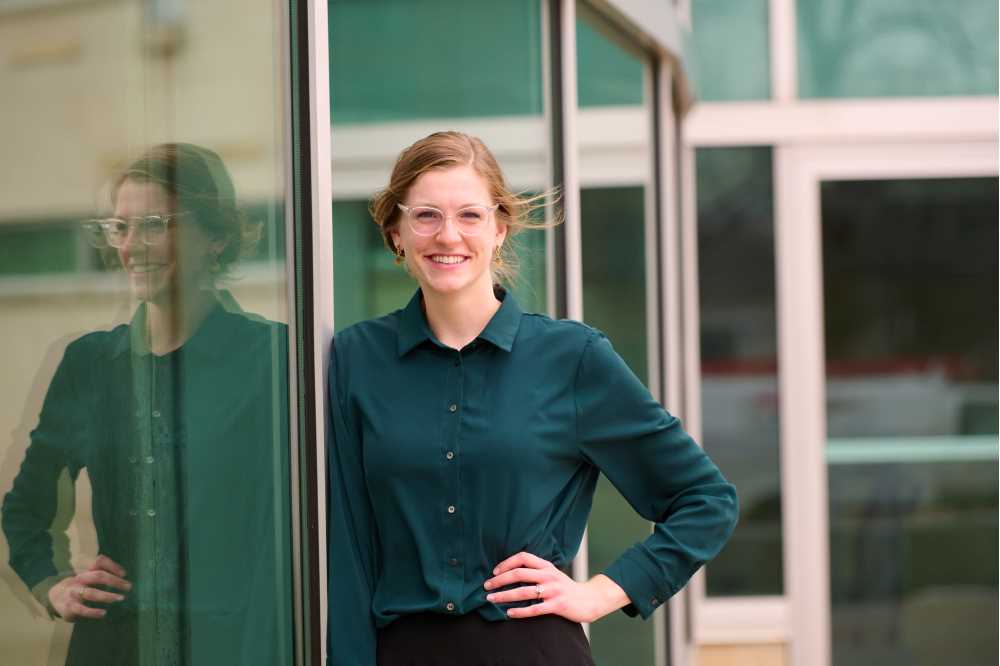 Karin Wright captures grad student experience in six award-winning words
In an environment where 10-page essays and semester-long projects are the norm, Karin Wright recently faced an unusual challenge: making her point in only six words.
UWL's second-annual Say it in 6 contest asked graduate students to share a story from their educational experience in a unique, creative way, using six words and a single, original image.
Wright impressed the judges with her submission — "We study today to serve tomorrow" — earning her first place and a $350 scholarship.
"The biggest challenge was deciding on a message that encompassed a day in the life of a grad student, was able to capture the difficulties and the aspirations of a physician assistant student, but fit into six words," explains Wright, who's in her first year in UWL's Physician Assistant Program.
"I was surprised and grateful to be chosen as the winner," she says. "My classmates are incredibly supportive, and we are in this together. I think a win for any of us is a win for all of us."
Kayah-Bah Malecek, UWL's Graduate Studies coordinator, says Say it in 6 is a valuable professional development opportunity that pushes students to reflect on not just the work they do in the classroom, but the entire experience of being a graduate student.
This year's theme, "Living your dream: A day in the life of a grad student," inspired submissions from 64 graduate students across 18 academic programs.
"This level of participation is incredible and speaks to the importance of providing unique opportunities for graduate student involvement," Malecek notes. "In a world which increasingly uses visual and direct messaging, this competition provides an interesting opportunity for graduate students to develop and demonstrate these communication skills."
Wright came to UWL's Physician Assistant Program after earning her bachelor's degree in biomedical science from Concordia University Wisconsin.
She was drawn to the program, she says, because of UWL's strong relationships with clinical partners Gundersen, Mayo and Marshfield. The program's outstanding pass rate on the Physician Assistant National Certifying Exam was another motivating factor, she says.
After completing the program, Wright plans to practice as a physician assistant in Green Bay.
"I enjoy being able to make people feel comfortable, supported and heard when they are likely going through a vulnerable and difficult time in life," she says of her career choice. "I look forward to using these skills next year for clinicals, and when I am out in practice after graduation."