Posted 3:13 p.m. Monday, Aug. 17, 2020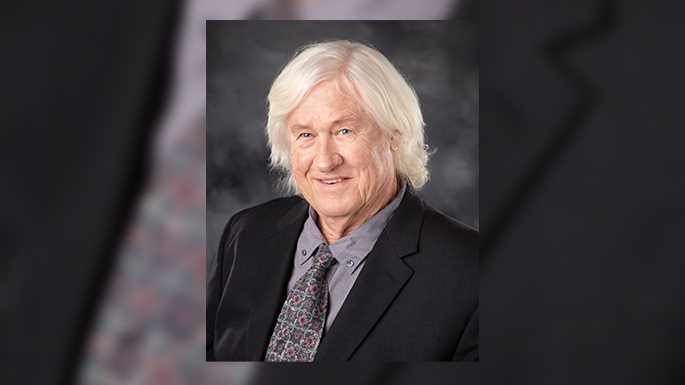 Burkhart recognized as a radon leader
James Burkhart is ending his distinguished career just as he began it 55 years ago — with the blessing of Maurice O. Graff.
It was summer 1965 when Burkhart, an electronics technician fresh out of the U.S. Air Force, returned to his hometown for college. Physics professor Richard Blade asked the undergraduate Burkhart to teach a lab. That required approval from Provost Graff. After Burkhart agreed to a haircut, Graff approved the unusual arrangement and Burkhart's illustrious teaching career began. Now, Burkhart is receiving the distinguished alumni award named in Graff's honor.
After getting his bachelor's degree, Burkhart taught calculus-based physics while earning a master's and doctorate at UW-Milwaukee. Doctorate in hand, he became an assistant professor at Gallaudet University in Washington, D.C., in 1973. He quickly caught on to sign language at the country's only accredited college for the deaf.
But after four years of a nearly 150-mile daily commute, Burkhart moved his young family to the University of Colorado-Colorado Springs. There he fused a long, outstanding career of teaching, research and administration, along with a knack for high-quality measurements of radon before retiring in 2018.
Burkhart won both college and campus outstanding teaching awards at Colorado Springs. He also received the highest honor of the CU system, being named a lifetime Presidential Teaching Scholar.
The Department of Physics and Energy Science grew from around 25 majors to 100 during his 18 years as chair. And, Burkhart was key to the campus acquiring a master's in physics and a doctorate in natural sciences.
Following extensive work with radon in his Colorado Springs lab, Burkhart built a radon chamber. The chamber was one of only two nationwide to certify radon testing devices for Environmental Protection Agency standards.
In 1995, the U.S.EPA named Burkhart director of the Western Regional Radon Training Center, in which he led instruction for countless radon measurement courses. His two-day classes prepared thousands of health and radon professionals, realtors, post office employees and others to pass a national exam to operate a radon enterprise, championing efforts to reduce radon-induced lung cancer.
"He has touched and inspired thousands of radon professionals with his classes, continuing education seminars and research presentations," says Dallas Jones, executive director of the American Association of Radon Scientists and Technologists Inc. "He loves his students as much as he loves teaching them."
Along with his many academic achievements, Burkhart has promoted science through magic programs, acted in numerous theatrical productions and served as a sign language interpreter. And, he's been lead vocalist for a campus band that, among other gigs, performs at the president's pre-football receptions.
James Burkhart, '68
Internationally recognized scholar in radon science and leader in developing high-quality radon measurement equipment to reduce radon-induced lung cancer.
Professor emeritus in the Physics Department at the University of Colorado-Colorado Springs.
Bachelor's in physics and math. Master's and doctorate from UW-Milwaukee.
Six to receive distinguished alumni awards
Alumni from five decades have earned top awards bestowed by the UWL Alumni Association. They're being honored for distinguished service and successful careers.
The alumni were planning to return to campus in September but due to COVID-19 the event has been postponed to March 5 and 6, 2021. The recipients will participate in a panel at 2 p.m. Friday, March 5, in the Stzrelczyk Great Hall, Cleary Alumni & Friends Center. The Alumni Awards Brunch Ceremony is planned for 9 a.m. Saturday, March 6, in The Bluffs Room, Student Union. Tickets are $25 and will be available for purchase online Jan. 1, 2021.
Awards and honorees include:
The Maurice O. Graff Distinguished Alumni Award
Recognizes outstanding achievement of alumni who have brought honor and distinction to the university. Long-time administrator Maurice O. Graff instituted the honor in 1977.
Michael McGinley, '82
Revered for a dedicated career in animal health, improving the lives of animals by preventing disease and championing more effective vaccines and drugs.
President of Biologicals & Pharmaceuticals, Heska Corp.
Bachelor's in microbiology. Master's and doctorate from Iowa State University. Advanced management program at Harvard University.
James Burkhart, '68
(see above)
Rada Distinguished Alumni Award
Recognizes alumni who have graduated within the last 20 years, achieved professional distinction and taken part in humanitarian activities. Professor emeritus Ron Rada and his wife, Jane, created the award in 2002.
Kara Pennoyer, '06
Respected leader in state government, including advisor to the Wisconsin governor and his chief of staff on planning, policy development and problem resolutions, along with overseeing numerous internal teams.
Deputy Chief of Staff for Wisconsin Gov. Tony Evers.
Bachelor's in political science and communication studies. Master's from University of Illinois Chicago.
Parker Distinguished Multicultural Alumni Award
Recognizes outstanding alumni who have contributed significantly to the improvement of multicultural understanding on the campus and in their careers. History Professor Emeritus James Parker initiated the award in 1997.
Jennifer Miller, '70
Renowned career working with low-income, poverty stricken or abused persons; worked to revitalize neighborhoods in Rock County, Wisconsin, and Chicago.
Retired but remains active volunteering for the Heartland Alliance for Human Rights and Human Needs.
Bachelor's in history and English.
Burt and Norma Altman Teacher Education Award
Honors and recognizes outstanding educators and the significant contributions they make to children and communities. Professor Emeritus Burt Altman and his wife, Norma, long-time supporters of teacher education, created the award in 2015.
Penny Kroening, '85
National award-winning leader in empowering kids to live physically active lifestyles by promoting physical literacy using creativity, design and integrated arts into lessons; 2016 SHAPE America Elementary Physical Education Teacher of the Year.
Executive director of the Wisconsin Health and Physical Education Association.
Earned a Bachelor's in physical education with a concentration in adaptive physical education. Master's from Carroll University.
Steven Olson, '85
Respected educator with a reputation for putting students first, while leading with integrity; recently facilitated a five-year district strategic plan resulting in a mission statement of "Enter With Promise. Leave With Purpose."
Superintendent of Community High School Dist. 155 in Crystal Lake, Illinois.
Bachelor's in broadfield social studies. Master's from Northern Illinois University. Superintendent Endorsement from Aurora University.