Posted 10:29 a.m. Wednesday, Sept. 15, 2021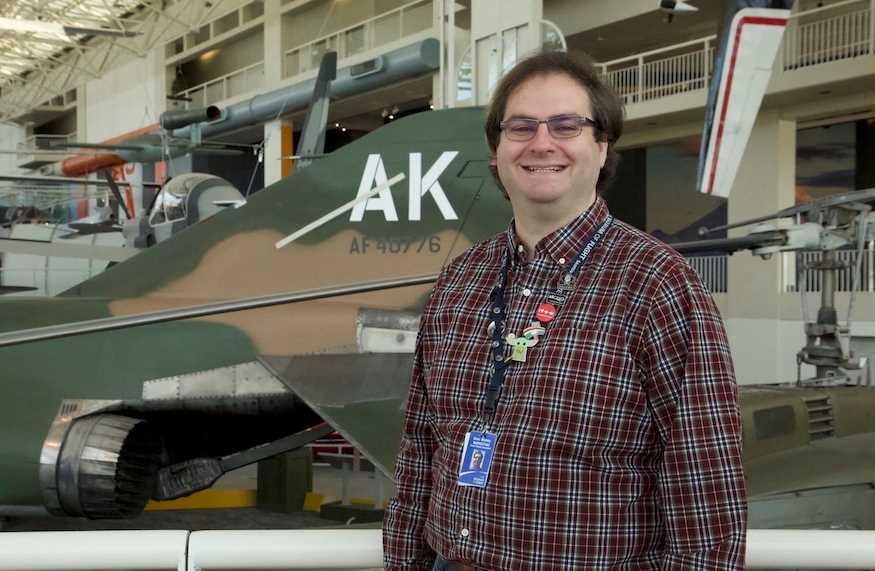 Alum finds calling as museum marketer
Sean Mobley came to UWL to study engineering — his first step toward a career designing roller coasters for Walt Disney World.
But there was one problem: Mobley hated calculus.
His struggles put him on a personal roller coaster, which bottomed out when he was declared academically ineligible. He then shot skyward when he found a new major and passion to pursue: communication studies.
"I just flourished — it was a real turnaround," says Mobley, '12, now the social media and content specialist for the Museum of Flight in Seattle. "I went from being kicked out of UWL to being on the dean's list my last five semesters and speaking at commencement. It all came down to figuring out what I liked to do."
In his role with the Museum of Flight — the largest independent, nonprofit air and space museum in the world — Mobley makes frequent use of the communication skills he learned at UWL, as well as his lifelong appreciation for history.
He crafts the museum's social media content and external communications, hosts its podcast, "Flight Deck," and is creating a miniseries he hopes will air on public television.
Often, he interviews astronauts and other aviation experts about their experiences — most notably, Buzz Aldrin for the 50th anniversary of the Apollo 11 moon landing.
"It was a full-circle moment for me," says Mobley, who, years earlier, had invited Aldrin onto a podcast he recorded in his residence hall. "The response was basically that he's too busy to do an interview with a college student. Many years later, it was cool to get that opportunity."
The Museum of Flight is home to many unique and historic aircraft — including the Taylor Aerocar III (a "roadable" plane from the 1950s), the first-ever Boeing 747 and John F. Kennedy's Air Force One.
But Mobley doesn't limit the scope of his projects to the exhibits within the museum.
The podcast in particular, he says, is an opportunity to explore all kinds of topics related to flight — including the role of women, people of color and the LGBTQ+ community in the advancement of aviation.
For one recent episode, he interviewed the great niece of the first African American woman and Native American to hold a pilot license, Bessie Coleman.
"If you look at the history, museums came out of a white supremacist ideal, and most of the things collected were from people we saw as the movers and shakers," he says. "We don't have many things from women or people of color or LGBT people, so it's been fun to explore how minority groups have contributed to the aviation story."
Before starting his current position, Mobley oversaw the museum's 225 volunteer tour guides, managing personnel and ensuring they had the requisite knowledge about the museum.
When the pandemic forced the museum to close its doors, Mobley led the creation of virtual tours, using 3D scans that allowed visitors to explore aircraft inside and out.
"COVID hit the museum industry really hard, and a lot of museums had to close permanently" he notes. "But we were extremely lucky that people in the community supported us and wanted to make sure this resource stuck around."
Mobley says he owes much of his success to UWL, especially to the faculty who supported him after he switched majors.
It doesn't hurt that he's a natural communicator. It's a skill that shined even when he was recording in his residence hall with a Guitar Hero microphone, and that has only grown as his career has taken off.
"I've always loved history, and I've always loved talking," he says. "So this makes a lot of sense for me."