Posted 7:04 a.m. Wednesday, Jan. 26, 2022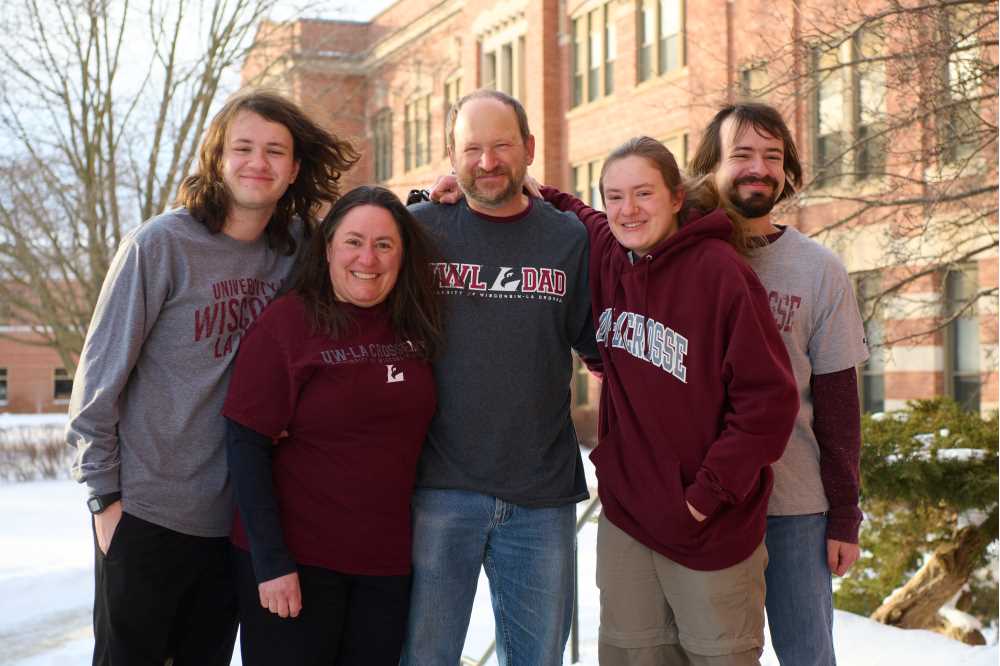 Born out of biochemistry research and two-step country dancing, Grunwald family has been teaching and learning on campus for a quarter century
Back in the late 1990s, Kurt Grunwald decided to solve derivatives just for fun as a stay-at-home dad. He was looking for some intellectual stimulation between diaper changes and bottle feedings. Taking UWL calculus classes was just the ticket. He didn't need the credit. Grunwald had already earned two degrees at UW-Madison in biochemistry and genetics.
But his new math hobby led to enrolling in UWL physics classes, and then taking one class every semester for 10 years until he earned two additional degrees from UWL in math and physics. He eventually became UWL's biology lab manager and then, the university's radiation safety officer in 2004.
While Grunwald plans to retire from UWL in June, his family will continue to make their mark on campus. His son Alex, '19, is a computer science alum and his wife, Sandy, is associate vice chancellor for Academic Affairs. Their other two kids, Andrea and Adam, are current students.
Planting UWL roots
Kurt and Sandy were two Wisconsin farm kids who both made their way to UW-Madison for higher education. They met on the second floor of the biochemistry building where several other familiar UWL faces were earning graduate degrees including Biology Professors Scott Cooper and Jennifer Miskowski.
Kurt was a lab technician in one lab while Sandy was doing graduate research in another down the hall. When a fellow grad student asked Kurt if he wanted to go two-step country dancing with him and his wife, he poked his head in Sandy's lab to see if she would be his partner. Neither had two-stepped before, but, after an evening of dancing to '90s hits like "Boot Scootin' Boogie," they went out and bought cowboy boots to do it again. They kept on dancing, got engaged eight months later, and had baby Alex about three years after that.
They came to UWL in 1997 when Sandy finished her doctoral degree in biochemistry and was offered her first teaching job on campus. Sandy would plan her next two pregnancies to fall at the end of semesters, so she could care for her new babies during the breaks.
She recalls proctoring one final exam while nine months pregnant with Adam. When the last student came up to turn in her final exam, she asked Sandy when she was going to have her baby. The student was shocked by the reply.
"Well, I'm timing contractions right now, so I'd say tonight or tomorrow morning!" said Sandy.
Adam was born the next day. He, Andrea, and Alex grew up at UWL, marching in the Child Center Oktoberfest parade, riding three-wheeled bikes during daycare recess and coloring their mother's blank biochemistry tests as she busily graded a large stack on her desk. Alex remembers following his dad around campus and asking him about how scientific equipment worked. UWL was a natural college choice because the campus was familiar, he says. The same was true for Andrea.
"I think the biggest part of my wanting to go to UWL is that it felt like home to me," says Andrea, who is majoring in art with a minor in archeology.
For their third child, Adam, the college decision wasn't so clear. He ultimately chose UWL because he was offered a UWL Eagle Apprenticeship, an opportunity for a select group of 25 incoming freshmen who work side by side with a faculty member on special projects or collaborative research while earning a $1,000 stipend. Adam was placed with UWL Computer Scientist Elliot Forbes, conducting research related to debugging and comparing the differences between processors.
"Ultimately, I chose UWL because of the good Computer Science program, relatively cheap tuition, as well as the Eagle Apprenticeship I was offered," he says.
The perks of having family on campus
Sandy and Kurt say their kid's involvement on campus with Andrea's art exhibitions and Alex's jazz band performances, has made them appreciate UWL even more.
"We have broadened our horizons and done things that we wouldn't have done as employees, but we do them as parents supporting our UWL kids," says Sandy.
Adam says it is convenient to have his parents so close. "I never have to worry about getting a ride anywhere," he says.
Alex says a major perk to having parents around throughout school was having access to someone who could act as a pseudo-advisor — one he already knew and trusted. In addition to helping her navigate campus and buying her lunch on occasion, Andrea says her parents' presence guaranteed she knew at least two people when she started school.
As to whether she and her siblings will follow her dad's footsteps, returning to take math and physics courses one day, they say, maybe — if cost was not an issue.
"Nowadays, I think it is bonkers how much he enjoys math to want to go back and take more classes on it," says Andrea. "But if I was able to take any classes I wanted without consequence, I think I'd go back too."
"School can be that fun — if you have the right teachers," adds Alex.