Posted 2:08 p.m. Monday, Nov. 22, 2021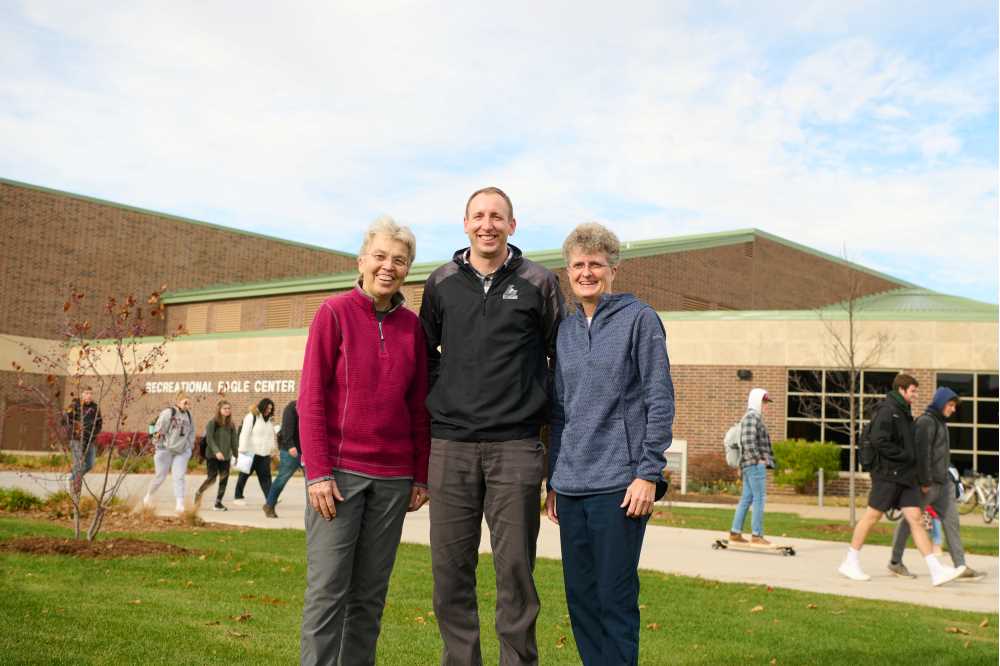 Rec Sports hopes matching gift inspires donors
Current and former students can give back to UW-La Crosse Recreational Sports programs that got them in the game and had a profound impact on their lives.
Recreational Sports will be seeking donations on UWL's second-annual Giving Day Nov. 30 and Dec. 1. Giving Day is a 24-hour online drive during which alums, staff and faculty, and others can donate to UWL causes near and dear to their hearts.
For Recreational Sports, funds will be used to support certification for student employees, cover professional development costs for student and professional employees, and reduce financial barriers to student participation.
"It all goes back to our students," says Jeff Keenan, '12, director of Recreational Sports. To help get the ball rolling, Keenan, Mo McAlpine (recreation program associate director) and Sue White (retired Recreational Sports director) are teaming up to make a $1,000 matching gift on Giving Day.
"This is a fun way for us to put some skin in the game," Keenan explains. "We believe in our program so much that we're willing to contribute as well. We hope this inspires others to donate, think about what Rec Sports has meant to them and spread the word."
Recreational Sports is one of the most popular organizations on campus, consisting of nine programs:
Indoor climbing
Sport clubs
Group fitness
Informal recreation
Instructional activities
Intramural sports
Outdoor Connection gear rental and trips
Special events
Fitness Center and personal training.
It is also one of the largest student employers on campus. More than 250 employees serve as customer service representatives, intramural supervisors, building managers and more.
Keenan says donations to Recreational Sports are critical for not only positioning student employees for success, but also ensuring that all students, regardless of socioeconomic status, can participate.
This extends to campus sport teams that may not have a large budget.
"We're providing our 20-plus sport clubs with the encouragement and communication tools to reach out to their alumni on Giving Day," says Keenan, noting that these funds will help cover tournament fees, travel costs and equipment expenses. Those who aren't able to give, he adds, are encouraged to spread the word on social media and share what Recreational Sports has meant to them.
To McAlpine, '91, Recreational Sports programs are about much more than exercise. They help create a sense of community on campus — relationships that continue long after students graduate.
"As much as Rec Sports may have helped them, they have helped us even more," McAlpine notes. "It's pretty special to stay connected with our student employees and see them go on to have families of their own."
The tight-knit, community aspect of Recreational Sports is something White, '85, appreciates even more following her retirement in June 2020.
"I'm grateful for the number of years I was surrounded by such outstanding students, many of whom I am still in contact with today," she says. "I'm inspired to contribute so that Rec Sports can continue to help students develop through their employment while creating life-changing experiences."