Posted 7 a.m. Sunday, Feb. 5, 2023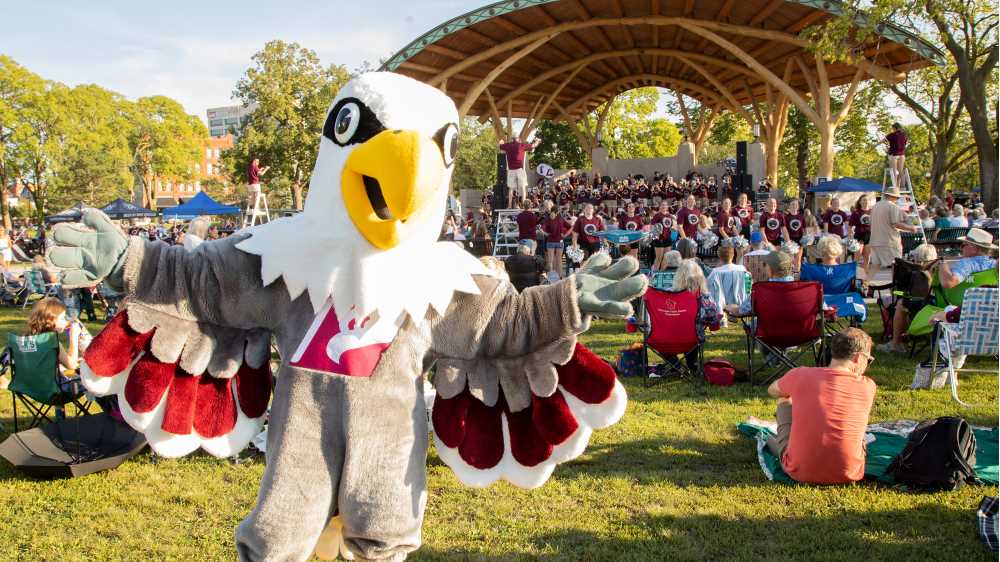 Plus a list of events in 2023
Looking for ways to engage with UW-La Crosse throughout the year? The UW-La Crosse Alumni Association has many opportunities for 2023!
The Alumni Association hosts events and activities for people of all interests, along with virtual options for those who can't be there in person. If you haven't attended our events in the past, now is a great time to start. If you have, we would love to see you again!
Here are five fun things you may not know, along with a selection of upcoming events.

1. TRAVEL: You can travel with us! The Alumni Association has three travel programs planned for 2023, although the registration deadlines are quickly approaching. If you're interested in joining us, you may want to act now to reserve your seat. Learn more/register.
Landscapes & Lighthouses of Coastal Maine, Sept. 16-23 (register by March 16)

Iceland Explorer, Oct. 4-11 (register by April 4)
Montreal & Quebec City Chris Markets, Nov. 30-Dec. 4 (register by May 30)
2. GOLF: The Alumni & Friends Golf Outing is a tradition spanning 30-plus years, but its name is much newer. The outing has gone by a few different names over the years, including the "Dean's Classic", "Provost's Classic" and the "Chancellor's Golf Outing." While we've had many exceptional golfers at the Alumni & Friends Golf Outing, we have had just one hole in one. If you'd like to make the second, or if you're simply interested in a fun day on the links, save the date for this year's event: Wednesday, Aug. 9, at The Golf Club at Cedar Creek in Onalaska.
3. BASEBALL: You can meet us at the ballpark! UWL has a large alumni contingent in Arizona, where the Milwaukee Brewers hold their spring training. Each year, the Alumni Association invites alumni to join us at a Brewers spring training game. It's a chance for us to shake off the snow and enjoy some warm weather — and to bring a slice of Wisconsin to you. In the past at Brewers spring training, UWL alumni had the privilege of cheering on fellow alum Vinny Rottino, '02, who spent several years with the Brewers and their minor league teams. Rottino is now an analyst during Brewers games on Bally Sports Wisconsin.
4. AWARDS: Each year we are honored to recognize the accomplishments of distinguished alumni across the country. If you know of an alum who should be nominated, please contact the Alumni Association.
5. COMMUNITY EVENTS: The Alumni Association partnered with the Music Department, Admissions, Athletics, Graduate & Extended Learning, Community Engagement to sponsor MarOON Tunes alumni event in conjunction with Valley View Rotary's Moon Tunes concert series.
Upcoming events
Feb. 15 — What's New Wednesdays (check the website for future installments)
Feb. 22 — Silver Eagles Take an Eagle to Breakfast
March 2 — Retiree breakfast (occurs on the first Thursday each month)
March 9 — Wisconsin Day in Arizona
March 11 — Brewer game in Arizona
April 24-28 — Student Philanthropy Week
May 14 — Spring commencement
June 2-3 — WIAA State Track and Field Championships
June 3 — June Dairy Days featuring the Alumni Band
July 10 — Fox Valley Alumni Golf Outing
Sept. 16-23 — Landscapes & Lighthouses of Coastal Maine (Alumni Travel Program)
Sept. 22-23 — Alumni Awards panel, brunch and ceremony
Sept. 28-Oct. 1 — Oktoberfest
Oct. 4-11 — Iceland Explorer (Alumni Travel Program)
Oct. 20-22 — Family & Reunion Weekend (home football game Oct. 21)
Nov. 30 — Montreal & Quebec City Christmas Markets (Alumni Travel Program)
Contact Megan Pierce at mpierce@uwlax.edu for more information.
Want to plan your own alumni event? Check out our event planning guide.
For the latest news on Alumni Association events, follow us on Facebook and Instagram.