Posted 12:33 p.m. Friday, April 30, 2021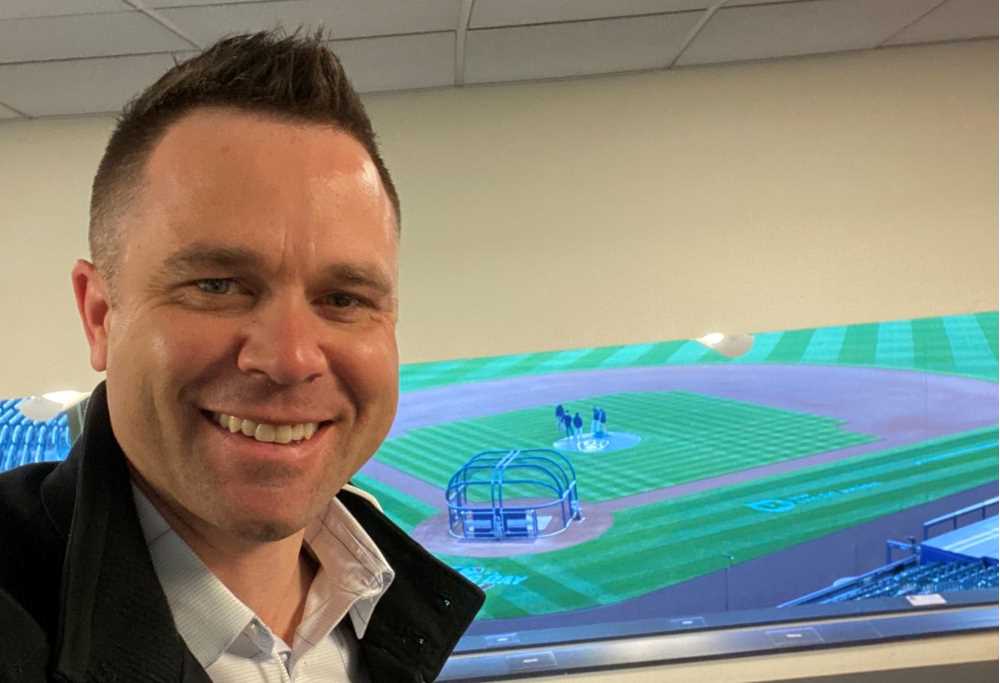 Playing days behind him, Rottino takes swing at broadcasting
Former UWL Eagle Vinny Rottino is back with the Milwaukee Brewers. But this time, he's traded his bat and glove for a microphone.
Rottino, '02, has joined the broadcast team for "Brewers Live" this season with Bally Sports Wisconsin. He's providing pre- and post-game analysis alongside hosts Craig Coshun and Dario Melendez, and fellow analyst Tim Dillard.
It's an exciting but challenging change for Rottino, who had a 14-year playing career before serving as a scout for the Texas Rangers the past four seasons.
"I used to watch all these former baseball players doing analysis or color work on TV, but it never once crossed my mind that it would be an option for me," Rottino explains. "There have been a number of challenges, but I'd say the biggest one has been learning to talk about baseball without getting too far into the weeds. I think I have an interesting and insightful perspective to bring, but I need to make sure it's digestible for the average fan."
While Rottino says he has much to learn about the broadcasting world, he does have an endorsement from a widely respected sportscaster.
One of Rottino's colleagues with the Rangers was Mike Anderson, the older brother of Brewers' longtime play-by-play announcer Brian Anderson. The younger Anderson thought Rottino would be a strong addition to the broadcast team, and the rest is history.
"Brian has been an unbelievable resource and has really helped speed up the learning curve," Rottino notes. "As busy as he is, he always has time to call, text and answer any questions. He's truly a pay-it-forward kind of person. He lives by that philosophy. He really sets the tone for everyone on the production team and the broadcast team. It's been a great group to work with."
Rottino's path to broadcasting was much like his path to the majors — unconventional.
The Racine native received minimal interest from collegiate baseball programs. UWL was one of the few that reached out.
"I wasn't recruited anywhere except La Crosse and a couple others. I was a late bloomer physically," says Rottino, who majored in chemistry. "The experience I had in La Crosse I don't think I would have gotten anywhere else. I got to play right away as a freshman, even though I wasn't one of the best players on the team. And the people in La Crosse and on campus … just their energy and excitement were contagious. I really enjoyed my time at UWL and have a ton of great memories."
By the time he was a senior, Rottino was an All-American standout. He credited an unlikely source — Whitney Dining Center — for aiding his development.
"It was the reason I was able to put on weight and make it to the major leagues," he joked.
Rottino signed with the Brewers in 2003, worked his way through the minors, and made his major-league debut in 2006.
After the Brewers traded him in 2009, Rottino spent time with the Dodgers, Marlins, Mets and Indians.
Later, he played in professional leagues in Japan and South Korea. He made one last push in MLB, spending the 2016 season with the White Sox, before retiring.
Now, with much of his career still ahead of him, Rottino is focused on maximizing his potential as a broadcaster, the same way he made the most of his playing skills.
"I've never pursued anything in my life with a half-in sort of mindset, so I'm kind of all-in at this point," he says. "I'm having so much fun in broadcasting, and I'm starting to realize that I could be pretty good at this. There's a long way to go, but if I could make this a full-time career, that would be a dream come true."