Posted 8:46 a.m. Monday, Jan. 10, 2022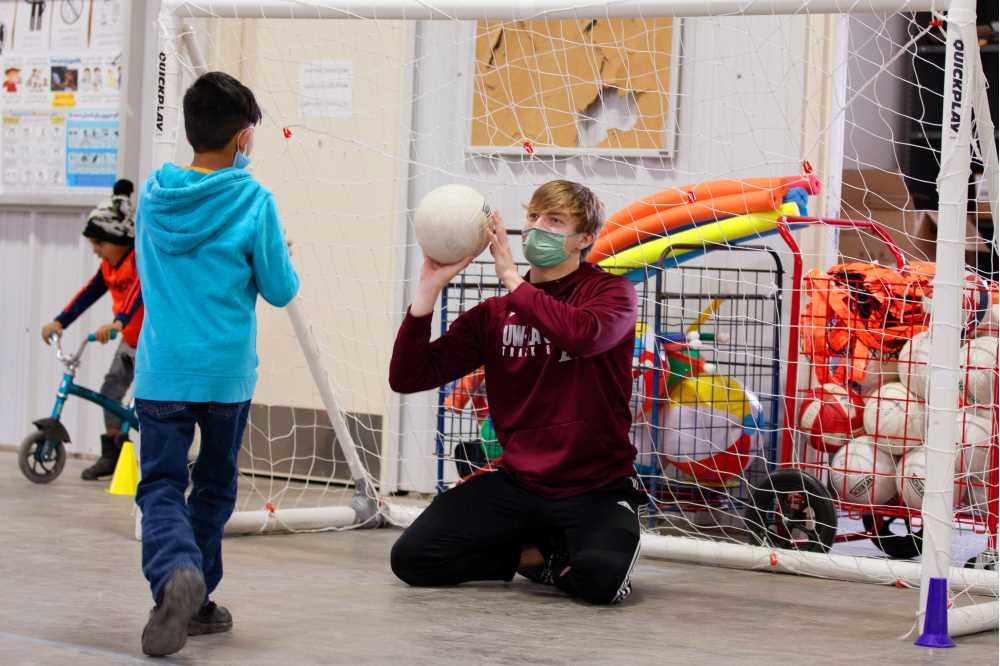 Programs will support Afghan child evacuees
UW-La Crosse staff, faculty and student-athletes are visiting Fort McCoy this month to provide sports programming and exercise opportunities for Afghan children staying at the Army base.
The All-sport Athletic Camps will be offered select days throughout the month of January, and will expose participants to a range of physical education activities. Coaches and student-athletes from UWL's men's track and field team, as well as physical education faculty, will lead the sessions.
"The sports programs on Fort McCoy for Afghan children are an extension of learning," Fort officials note. "Participating in sports teaches them important lessons that will be beneficial throughout their lives, including camaraderie and a healthy lifestyle."
Josh Buchholtz, UWL men's track and field coach, says his team was eager to help when presented with the opportunity to volunteer at Fort McCoy. Exercise can be deeply therapeutic, he says.
"Physical activity is a great coping mechanism," Buchholtz explains. "If what we are providing can help the Afghan kids cope with the events they have been involved in over the past several months, we will have done our jobs."
Buchholtz hopes the camps will have an equally beneficial impact on his student-athletes.
"Our men's track and field philosophy has been: 'Creating champions in school, in sport and in life.' This opportunity falls right into the 'in life' portion of that philosophy," he says. "I also believe there is a lot of learning that can happen outside the classroom. When this opportunity came to light and I realized our young men could provide guidance while learning something themselves, we were in."
Organizing the sports camps has been a collaborative effort, with key contributions from many campus and community members. Ron and Jane Rada, both longtime educators and supporters of UWL, donated $2,500 to cover transportation costs.
"We feel fortunate," Ron and Jane say, "to be able to play a small role in supporting the thoughtful efforts of UWL coaches, student-athletes and other volunteers to help the Afghan children in these very trying, life-changing times."
Lisa Klein, UWL's community engagement coordinator, says the impact of this programming underscores the university's important role in addressing community challenges.
"UWL believes in the UW System's philosophy of the Wisconsin Idea — 'Education should influence people's lives beyond the boundaries of the classroom,'" Klein explains. "Using the expertise of our coaches, faculty and student-athletes to meet the needs of children by providing physical activities and structured play at Fort McCoy is a perfect example of how our university engages with the community."