Posted 11:29 a.m. Wednesday, June 23, 2021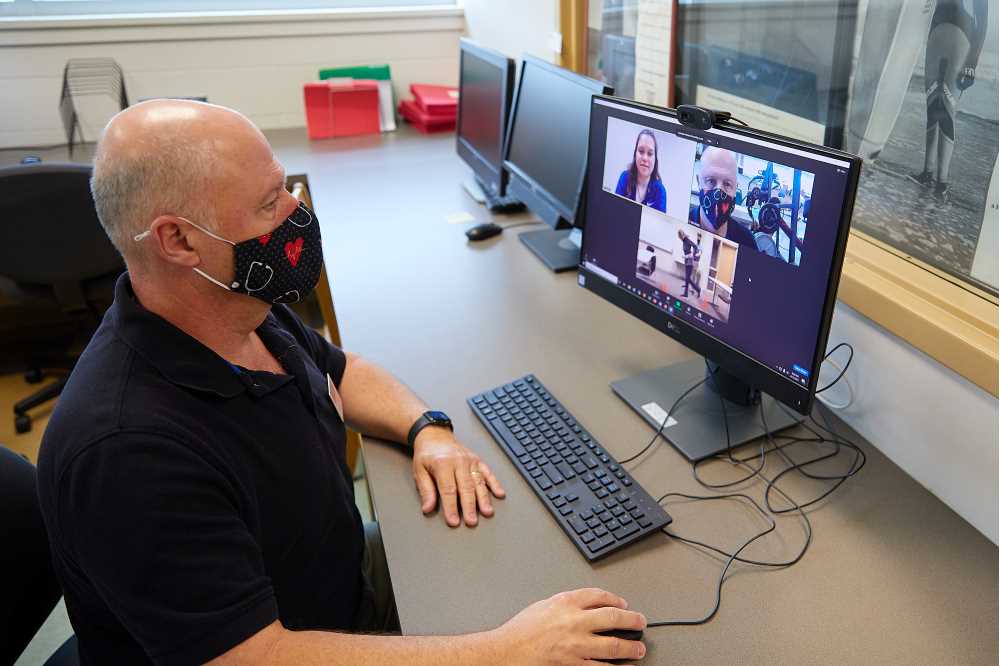 UWL Physical Therapy Program embraces shift to telehealth
UW-La Crosse is preparing the next generation of physical therapists for a changing health care landscape.
As virtual care becomes increasingly popular during COVID-19, the Exercise Program for Adults with Neurologic Disorders (EXPAND) at UWL offered its own virtual rehabilitation sessions this spring.
John Greany, an associate professor in the Physical Therapy Program, says these sessions gave students valuable experience with virtual care while ensuring that local clients continued to receive the specialized attention they need.
"Virtual physical therapy and virtual medicine have always been in the background. But over the past year, it's gone from slowly developing in the background to a point where everyone is doing it," Greany explains. "I think our students are appreciative of the opportunity to experience this in a learning environment, so that when they do enter a clinic environment that is part of a health care system, they'll have the skills to do the job."
EXPAND hosted the sessions in early April, with students logging in from one floor of the Health Science Center and their clients logging in from another floor. Through video conferencing, the students gave their clients personalized instructions for aerobic exercises, strength training and balance/coordination training.
The students — all second-year graduate students — say it was an informative exercise filled with useful lessons. Without the face-to-face connection, they note, it was a challenge to guide clients through the movements, monitor their breathing and exertion, and generally communicate with them.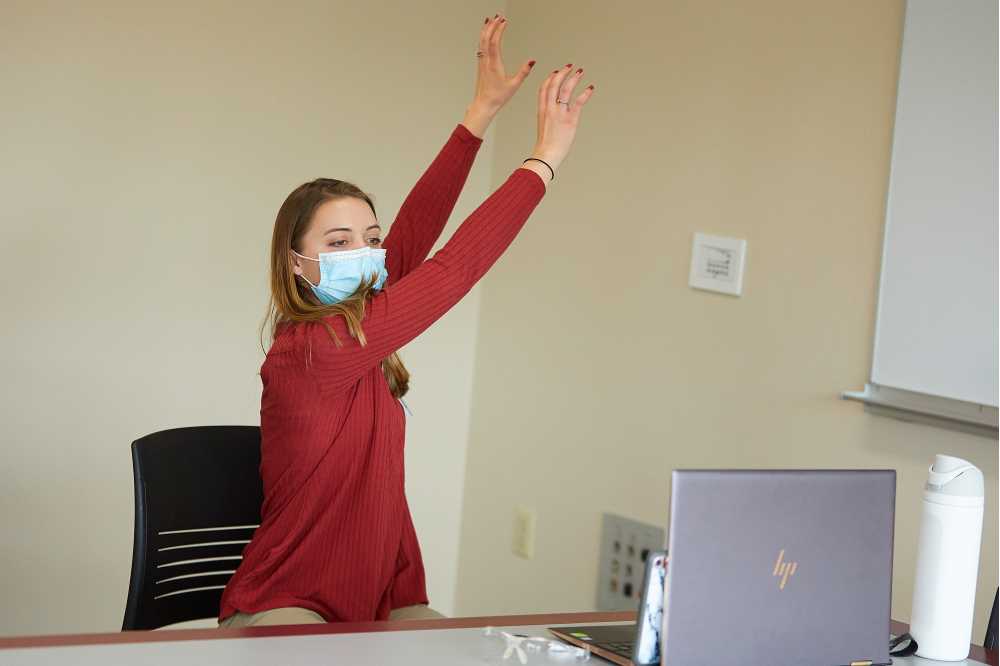 "Overall, the telehealth EXPAND session was a valuable experience, and there are many positive takeaways from participating," explains student Zach Mancl, who says it was difficult to monitor how hard his client was pushing during certain movements. "I remedied this by consistently asking my client to rate the intensity level and compare the intensity of each exercise to when those exercises were completed in person."
Added student Melissa Klaeser: "While I do believe that face-to-face physical therapy is far more beneficial, telehealth sessions are a feasible option when face-to-face is not an option. It is certainly a challenge to effectively communicate how to perform exercises, but it can be done, and it will be a great way to improve access to health care for so many people."
Telehealth is not only more convenient for clients with mobility issues — it is also cheaper and more accessible.
For instance, someone who lives an hour from their physical therapist may have a difficult time making it to a weekly in-person appointment. But logging in for a virtual session is much easier.
These virtual sessions also make students better physical therapists, Greany explains, since they have to approach their instruction in a unique way. Telehealth places a premium on communication, patience and flexibility — skills that will serve students well in all aspects of their career.
And while the identity of EXPAND will always be in face-to-face interactions — which have continued safely throughout the pandemic — Greany says the program will further explore how students and clients can benefit from this new style of care.
"Our program has a long history of producing wonderful graduates, and it's because of the face-to-face curriculum," he says. "My objective is to make sure we're preparing 21st century physical therapists who can meet the needs of this evolving clinical world, and that means adapting to the times as best we can."
About EXPAND
EXPAND brings no-cost supervised physical activity programs to La Crosse area community members with various neurological conditions.
Students work one-on-one with each client, under the supervision of a faculty member, to develop a physical activity program meeting each client's unique needs and health goals. Core components of EXPAND include aerobic exercise, strength training and balance/coordination training.
EXPAND sessions are offered twice weekly during the fall and spring semesters at the Health Science Center on UWL's campus. The program is a collaborative effort among local medical centers and the physical therapy programs at UWL and Western Technical College.