Posted 11:39 a.m. Monday, July 26, 2021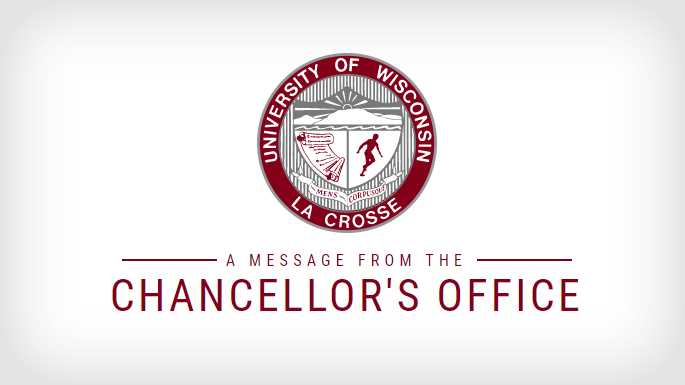 Announcing UW System's "70 for 70" campaign
Dear students and colleagues:
As fall approaches, we are looking forward to a much more normal 2021-22 school year and a return to the traditions that make UWL so special.

We also know COVID-19 remains a serious threat, and that vaccinations are the key to achieving a safe and successful school year. With this in mind, I am pleased to announce an exciting opportunity for students.
Students who receive their COVID-19 vaccination and grant UWL's Student Health Center permission to confirm their status will be entered into drawings for prizes and scholarships. To become eligible, students must be fully vaccinated and complete a short survey by Oct. 15. This voluntary program will give us a clearer picture of student vaccination rates and allow us to reward students for doing their part to protect the community. We will share more details in the coming days.
That's not all. UW System is allocating additional scholarships to campuses that achieve a 70% student vaccination rate by Oct. 15. By reaching this goal, UWL can unlock at least seven $7,000 scholarships distributed via drawing.
Those who are vaccinated and have completed the survey are already eligible for the drawings. No further action is required.​
If you are vaccinated but have not taken the survey, it will take moments to complete. If you are not currently vaccinated, you can become eligible for the drawings by getting fully vaccinated and completing the survey by Oct. 15. Please note that, in order to be entered, you must allow the Student Health Center to confirm your vaccination status.
I encourage everyone to take advantage of this wonderful opportunity to not only win prizes and scholarships, but demonstrate UWL's culture of responsibility as we work to put COVID-19 behind us.

Thank you for all you've done — and continue to do — to keep our campus and community safe.