Posted 9:06 a.m. Thursday, April 27, 2023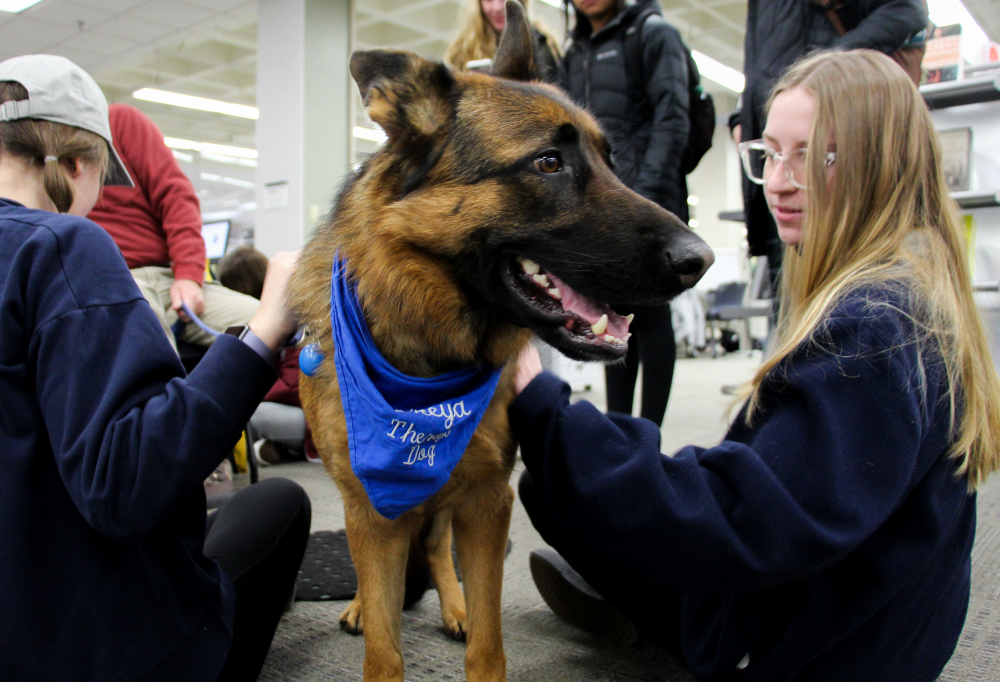 Therapy dogs, free drinks and snacks, extended hours, de-stress resources and more!
Another year is almost over, and Murphy Library is here to help you finish out the semester strong! We have many resources available to help you do your absolute best during finals week!
Extended Hours
The library will be open later for finals from May 6 - May 12. For summer hours and more, see our hours webpage.
Saturday, May 6: 10:00 a.m. - 11:00 p.m.
Sunday, May 7: 11:00 a.m. - 1:00 a.m.
Monday - Thursday, May 8 - 11: 7:30 a.m. - 1:00 a.m.
Friday, May 12: 7:30 a.m. - 6:00 p.m.
We also have some extra study space available in room 152, located across from the main library entrance in the atrium!
Therapy Dogs
In partnership with the Coulee Region Humane Society, therapy dogs will be in the library to help you de-stress!
Thursday, May 4 from 1-3 p.m. - Hang out with Lily, a Shih-Tzu mix, and her human, Judy.
Friday, May 5 from 1-3 p.m. - Visit with German Shepherds Kelevra and Freya and their human, Leif.
Snack Break
Murphy Library and Dining Services are providing free drinks and snacks in the library near Murphy's Mug on the following days:
Saturday, May 6 at 11 a.m. - Free coffee, lemonade and COOKIES!
Sunday, May 7 at 11 a.m. - Free coffee and lemonade
Note: Everything is first-come, first-served. Cookies are only available on Saturday.
De-stress

Resources
Need a study break to help you de-stress? Try one of the following:
Coloring

Coloring supplies are available at the Circulation Desk!

Board games

A selection of games, such as Chess, Mancala, and more, are available at the Circulation Desk!
Research Help
Get research help from a librarian from 11:00 a.m. to 3:00 p.m. on weekdays during finals. You can also find library resources for different subjects, courses, or other topics by using our library guides.
Cite Your Sources
Writing up your bibliography can be tricky, but librarians have put together a Citing Sources guide full of tips and resources to help you create your citations.
Tutoring
Tutoring sessions are available in person in the Murphy Learning Center. Additionally, The Writing Center and Public Speaking Center offer sessions through video via the MLC course in Canvas. More information can be found on the MLC webpage.
Good luck with finals, Eagles!