Posted 3:36 p.m. Tuesday, Sept. 13, 2022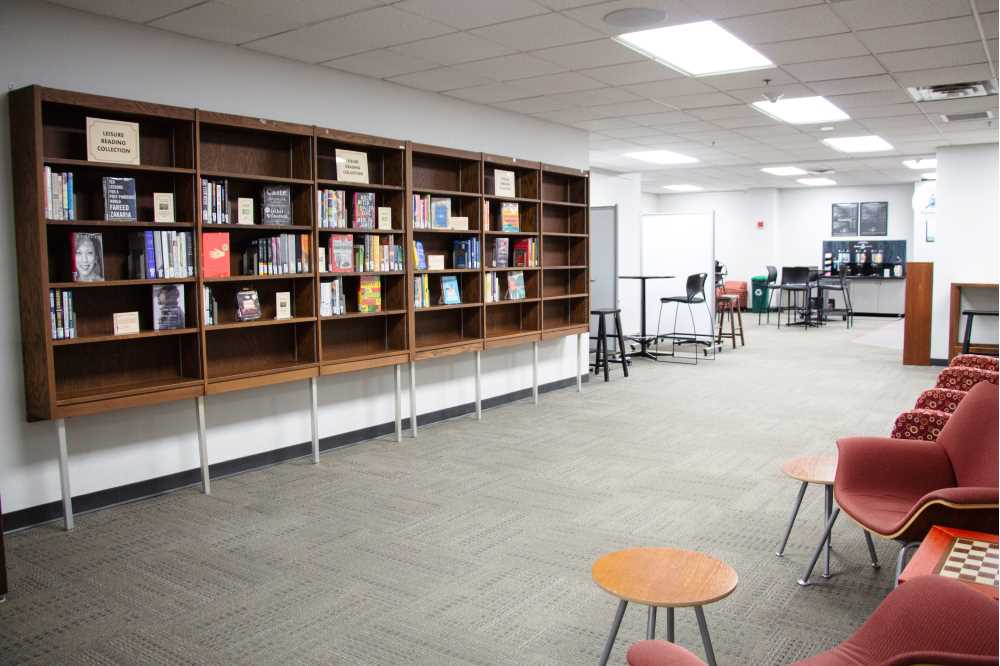 Popular titles available for checkout, located in Murphy's Mug
If you've been over to Murphy's Mug already this semester, you may have noticed something new in that area of the library: our newly revamped Leisure Reading Collection! The Karin Sandvik Leisure Reading Collection has been around for years, but its old location on the second floor of the library wasn't always easy to find. Now that it's just inside Murphy's Mug, the Leisure Reading Collection is already getting much more visibility.
Students often ask for books they can read just to relax—something that isn't a textbook or assigned to them. Over the summer, Pam Cipkowski, Murphy Library's Collection Development Librarian, and Becca Strandlie, Collection Development and Acquisitions Assistant, reconceptualized the Leisure Reading Collection to include many current favorites on college students' lists, such as books by Colleen Hoover and Casey McQuiston, and other titles to attract a wide audience of students, faculty, and staff.
A new feature of the collection is book recommendations from librarians, staff, students, and others on campus. Stop by the Leisure Reading Collection to see what Provost Betsy Morgan, Library Director John Jax, and others are reading! You can read their recommendations on the shelves.
The library is still adding more books to this area, so if you have any suggestions for new titles, or if you'd like to write up a recommendation for a title we have, we'd like to hear from you! Email suggestions and recommendations for Leisure Reading titles to acquisitions@uwlax.edu.