Posted 8:05 a.m. Friday, March 31, 2023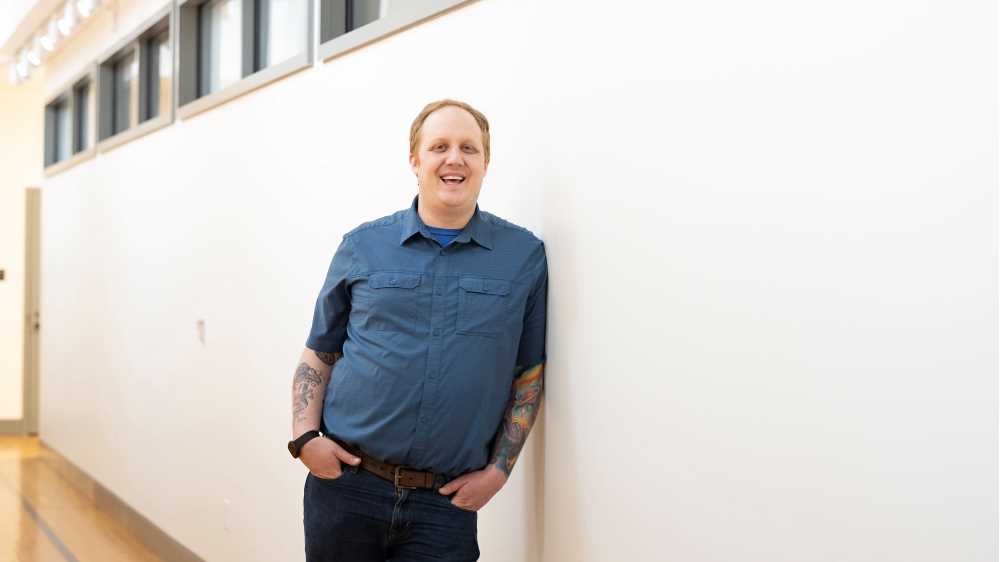 Andrew Ives recognized for work exploring experiences of LGBTQ students with disabilities
Supporting and empowering students is at the heart of Andrew Ives' work as director of the ACCESS Center at UWL.
It was also the focus of Ives' dissertation, which received the Marylu McEwen Dissertation of the Year Award in late March from the American College Personnel Association.
"It feels amazing, and in a lot of ways, it's surreal," says Ives, '16 & '22, who holds a master's in student affairs administration and a doctorate in student affairs administration and leadership, both from UWL. "It's nice to think that your ideas are being read and thought about by other people. To know that the things I thought were important and interesting are also important and interesting to other people, it's really validating."
In his dissertation, Ives explored the college experiences of LGBTQ students who identify as Mad, mentally ill, neurodivergent or disabled. He met with 10 such students across the country, learning about their lives and identifying common themes among their college experiences.
"I wanted to look at college student mental health partially because of my previous work in UWL's Student Life Office and also because of my own struggles with mental health," Ives explains. "Reflecting on my own experiences as a college student and identifying as a gay man, it's hard to separate them. They're both important and they both have an effect on one another. So I wanted to see whether other people have had similar experiences."
After interviewing the students — whom Ives described as his co-researchers — he concluded that creating a sense of community is crucial to the success of LGBTQ college students navigating mental health issues.
"For me, it was so important to connect with friends and chosen family who were like me," Ives notes. "In my own experiences and in my research, I found that having a connection to the community, feeling like you belong, is so important."
Ives shared this and other takeaways during his presentation at the ACPA Convention March 26-29 in New Orleans. He hopes other higher education professionals can learn from his dissertation and incorporate its lessons into their own work, much like Ives learned from faculty in his doctoral program.
"With the dissertation, I had an incredible amount of support from the Student Affairs Administration and Leadership program, especially my Dissertation Chair Becki Elkins," he says. "All the faculty were great, and they had opportunities to read, edit and provide feedback. The program also has a writing specialist, Hanna Dovalina, who helped me edit my writing and learn and really explore what I was writing about.
"I might be receiving this award, but it was the whole community who set it up and deserves the recognition."
Ives has carried a passion for serving students, particularly those from diverse and underrepresented backgrounds, throughout his career.
He came to UWL as a graduate assistant advisor in 2014 and held a number of positions in UWL's Student Life Office over the next several years.
In June 2022, Ives began his current role as director of the ACCESS Center, which promotes equal access and educational opportunity for students with disabilities.
"I have the opportunity to change the lives of students, oftentimes in really simple ways," Ives says, mentioning a recent case where the ACCESS Center helped a student who was struggling with test-taking. "We discovered that they had a documented disability, and they were eligible to take the test in our office with extended time. We were able to accommodate that, and then the student reached out and said they passed.
"To me, that's the coolest thing. Once you get the barriers out of the way and get the right support in place, it really allows them to thrive."
Additional ACPA accolades
Ives wasn't the only UWL staff or faculty member recognized at this year's ACPA Convention.
Tori Svoboda, chair of the Student Affairs Administration Department, received the Wisdom Award from the APCA's Commission for Women's Identities. The award honors those with a history of contributing toward woman- or female-identified individuals in student affairs and promoting the professional and personal development of woman- or female-identified individuals.