Profile for Becki Elkins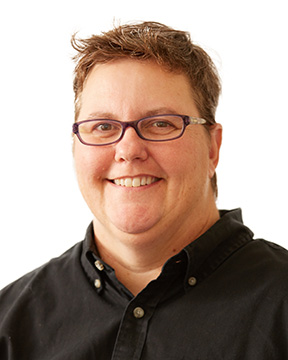 Specialty area(s)
Higher education organization and governance; higher education history; student affairs law and policy; assessment of student learning and program efficiency; social class identity; and college students in recovery.
Current courses at UWL
SAA 705 Values, Philosophy, and History of Higher Education (Fall 2019)
SAA 730 Law, Policy, and Governance (Summer 2019)
SAA 760 Administration of Human and Organizational Resources (Spring 2019)
SAA 765 Assessment in Student Affairs (Summer 2018)
SAA 805 Organization and Governance in Higher Education (Summer 2019)
SAA 808 Enrollment Management (Fall 2018)
Education
Ph.D. in Student Affairs Administration and Research - The University of Iowa
M.S. in Professional Studies in Education (Higher Education) - Iowa State University
B.S. in Journalism (Public Relations) - The University of Kansas
Teaching history
I'm in my fifth year at UWL. Since joining the faculty, I've taught in our master's and doctoral programs in on-campus, online, and blended instructional formats. Topics I've taught include organization and governance, administration, legal issues, history of higher ed, assessment, enrollment management, university finance, and capstone. Prior to joining the UWL faculty, I taught for a number of years as an adjunct faculty member in the Higher Education and Student Affairs program at The University of Iowa. I also taught at New England College and Kirkwood Community College (regional education center). The courses I taught at these programs included student affairs administration; cognitive and moral development; and contemporary issues in higher education.
Professional history
I've worked in student affairs/higher education administration for roughly 25 years. My work has been located at several public research institutions and a private, residential liberal arts college. I began my career in residence life at Iowa State University and Texas A&M University. My professional experiences include overseeing the Gender Issues Education Services (GIES) office at Texas A&M. GIES served the role of a women's center and an LGBT resource center. After earning my doctorate, I served as the director of Institutional Research and Assessment at Cornell College. Eventually, I also became the Registrar at Cornell. During this time, I served as an adjunct faculty member at The University of Iowa and at New England College.
Research and publishing
I currently am working on several projects related to students in recovery from substance use disorders (particularly alcohol use disorders) as well as a project on social class identity. These projects include:
Swimming in Shark-Infested Waters? A Study of the Experiences of Being in Recovery from Alcohol Dependence While Attending a College without a Recognized Collegiate Recovery Program (primary investigator)
This research is funded by a Faculty Research Grant from UWL. It entails an in-depth interpretative phenomenological analysis of the experiences of eight college students in recovery at three different institutions.
College Students in Recovery: Creating Space for Success (New Directions in Student Services monograph, co-edited with Penny J. Rosenthal)
This monograph highlights the experiences of college students in recovery, delineate the associated problems and barriers to sobriety and academic success, and identify and explore strategies for creating and maintaining campus recovery programs and environments that support students in recovery.
Social Class Identity in Student Affairs (co-editor with Georgianna L. Martin)
This New Directions for Student Services monograph was published in 2018. The volume critically examines the discourse, research, and practice related to social class identity in higher education and student affairs.
Code-Switching to Navigate Social Class in Higher Education and Student Affairs (co-authored with Eran Hanke)
This monograph chapter outlines the concepts of social class privilege, highlights the experiences of students navigating social class, and examines the role of code-switching as a strategy to traverse higher education.
I Couldn't Just Sit There: Leadership Learning through Activism (co-authored with Jackson Elkins)
This monograph chapter explored the meaning one high school student and one parent/educator made of the concepts of leadership, activism, and identity.
Kudos
named
Becki Elkins, Student Affairs Administration, was named a Presidential Spotlight Series scholar of ACPA-College Educators International on March 1. The ACPA Presidential Spotlight Series highlighted the work of 10 scholars and scholar-practitioners seeking to address complex social issues and racial inequities in higher education via the Strategic Imperative for Racial Justice and Decolonization.
Submitted on: Mar. 16
presented
Eran Hanke, University of Northern Iowa and Becki Elkins, Student Affairs Administration, presented "The Power of Connection and Community: Supporting College Student Recovery in the Time of COVID-19 " at the American College Counseling Association conference on Feb. 18 online. The presentation highlighted results from a phenomenological study of being in recovery from substance use disorder and in college. The presenters shared implications of the research for college counselors, particularly in the context of the pandemic.
Submitted on: Feb. 22
presented
Byron Brooks, Ph.D., Edward J. Hines VA Medical Center; Jessi Hutchins, Ph.D., University of Nebraska-Omaha; and Becki Elkins, Student Affairs Administration, Student Affairs Administration; presented "The Professor-Student Toolkit to Courageous Conversations about Race, Class, Heteronormativity, Ableism, and Genders" at East Tennessee State University Equity and Diversity Conference on Tuesday, Sept. 22 in Johnson City, TN (virtual). The invited panelists focused on how to facilitate meaningful conversations about current national/world issues and the role of limiting beliefs and institutions surrounding race, class, gender identity, sexual orientation, and ability.
Submitted on: Sept. 22, 2020
published
Garrett Denning
and
Beck Hawkins
, both Student Affairs Admin High Ed; and
Becki Elkins
, Student Affairs Administration; co-authored the article
"Teaching Student Affairs Administration Online via a Simulated Institution and a Pandemic"
in Developments published on June 2 by ACPA. This article highlighted the use of simulation and problem-based learning in the Spring 2020 on-campus SAA 760 course, Administration of Human and Organizational Resources. The authors also explored the move to an online format, given the COVID-19 pandemic, and the effects on the simulation, instruction and student learning.
Submitted on: June 9, 2020
presented
Beck Hawkins
, Student Affairs Admin High Ed and
Becki Elkins
, Student Affairs Administration, presented "Resilience and Belonging: Students in Recovery from Substance Use Disorders" at
ACPA-College Educators International's annual convention
on March 3 in Nashville, TN.
Submitted on: Mar. 12, 2020
Becki Elkins's office hours
Wednesday
10 a.m. to 11:15 a.m.
or by appointment