Posted 8:51 a.m. Tuesday, Feb. 14, 2023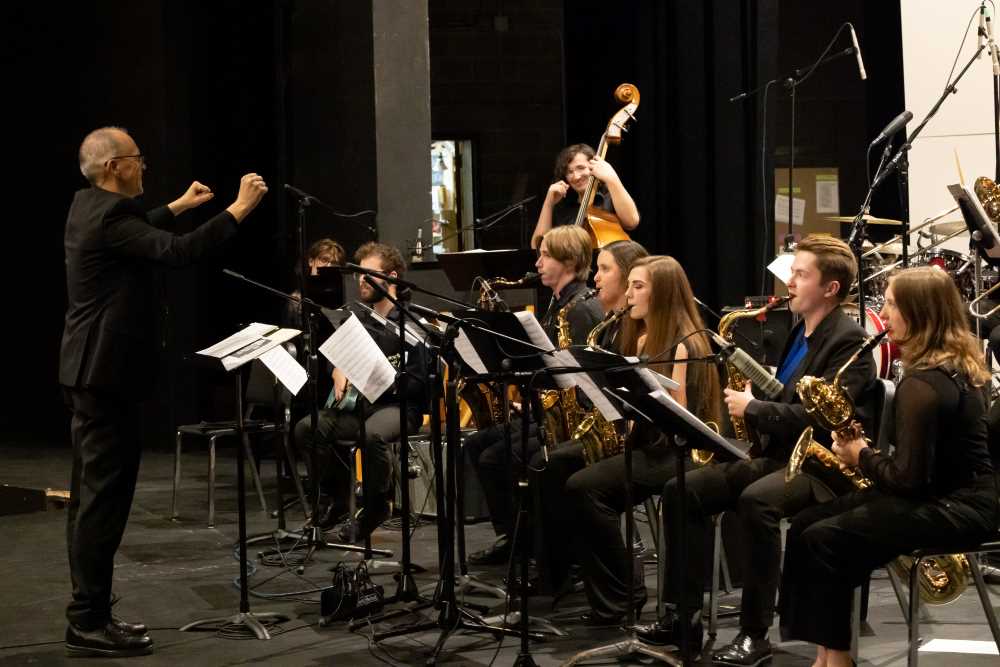 UWL jazz ensembles perform in 35th annual event
An evening of big band jazz, singing and dancing returns to UW-La Crosse. Two 18-piece big bands from the UWL jazz program are featured in the 35th annual Big Band Cabaret at 7:30 p.m. Friday, Feb. 24, in the Bluffs in the UWL Student Union.
The "Tuxedo Dance Orchestra," the UWL Jazz Orchestra directed by Director of UWL Jazz Studies Jeff Erickson, will be joined by special guest vocalist Tim Henke. Along with Michael Bublé's "Save the Last Dance for Me," Henke will sing such Frank Sinatra classics as "I've Got you Under My Skin," "Don't Worry About Me" and "I Get a Kick Out of You."
The whole band will also provide back-up vocals for new trumpeter and vocalist Leah Mattingley. She will sing three numbers with the "Black Coat Jazz Band," aka the UWL Jazz Ensemble directed by Professor Jon Ailabouni. They include: "'S Wonderful," "How About You" and Ella Fitzgerald's career launching version of "A Tisket, A Tasket."
Swing dancers and jitterbuggers can shake a leg to up-tempo swingers from Count Basie, Les Elgart and Glenn Miller, such as "Jumpin' at the Woodside," "Bandstand Boogie" and "In the Mood."
Other ballroom dances will include cha chas, tangos, waltzes and polkas.
A large dance floor will be set-up for dancing. Seating is cabaret-style with beverage service and snacks. The suggested donation for this scholarship fundraiser is $10 for students, $18 for senior citizens and $20 for others. For ticket reservations call 608.785.8415 during regular business hours. Tickets will also be available at the door, but reservations are recommended.