Posted 10:07 a.m. Monday, June 26, 2023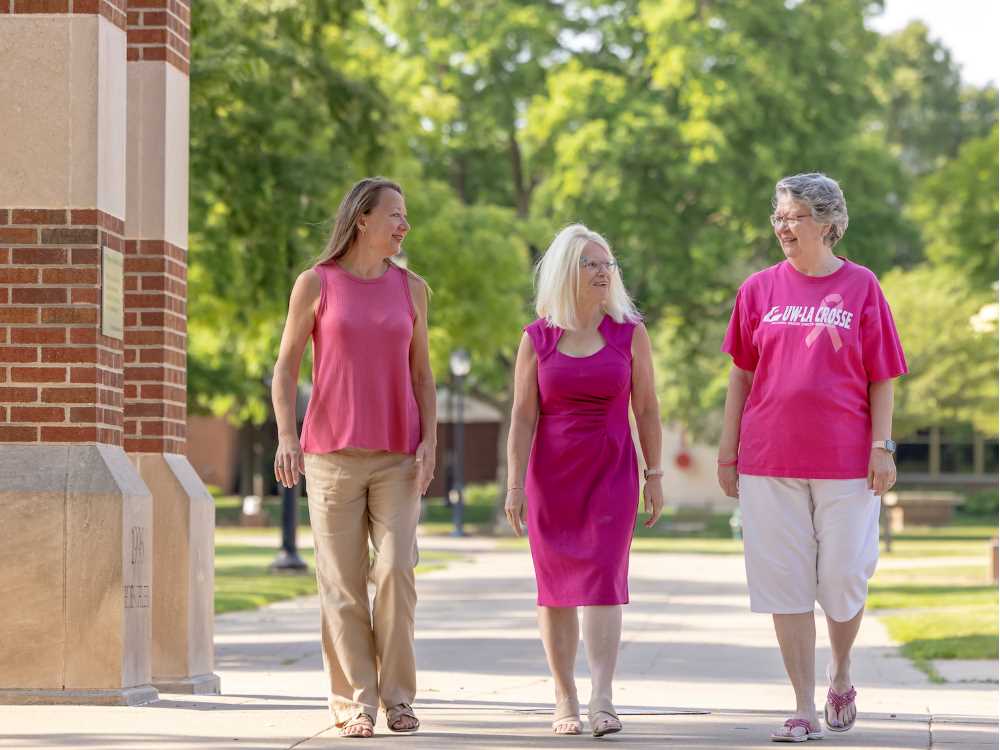 UWL women share experiences after breast cancer diagnosis, some make Steppin' Out in Pink a tradition
Being diagnosed with stage-three breast cancer changed Jonelle Streed's perspective on life.
"I stopped wanting a new car or a better house or superficial things," she says. "I only wanted my health to improve."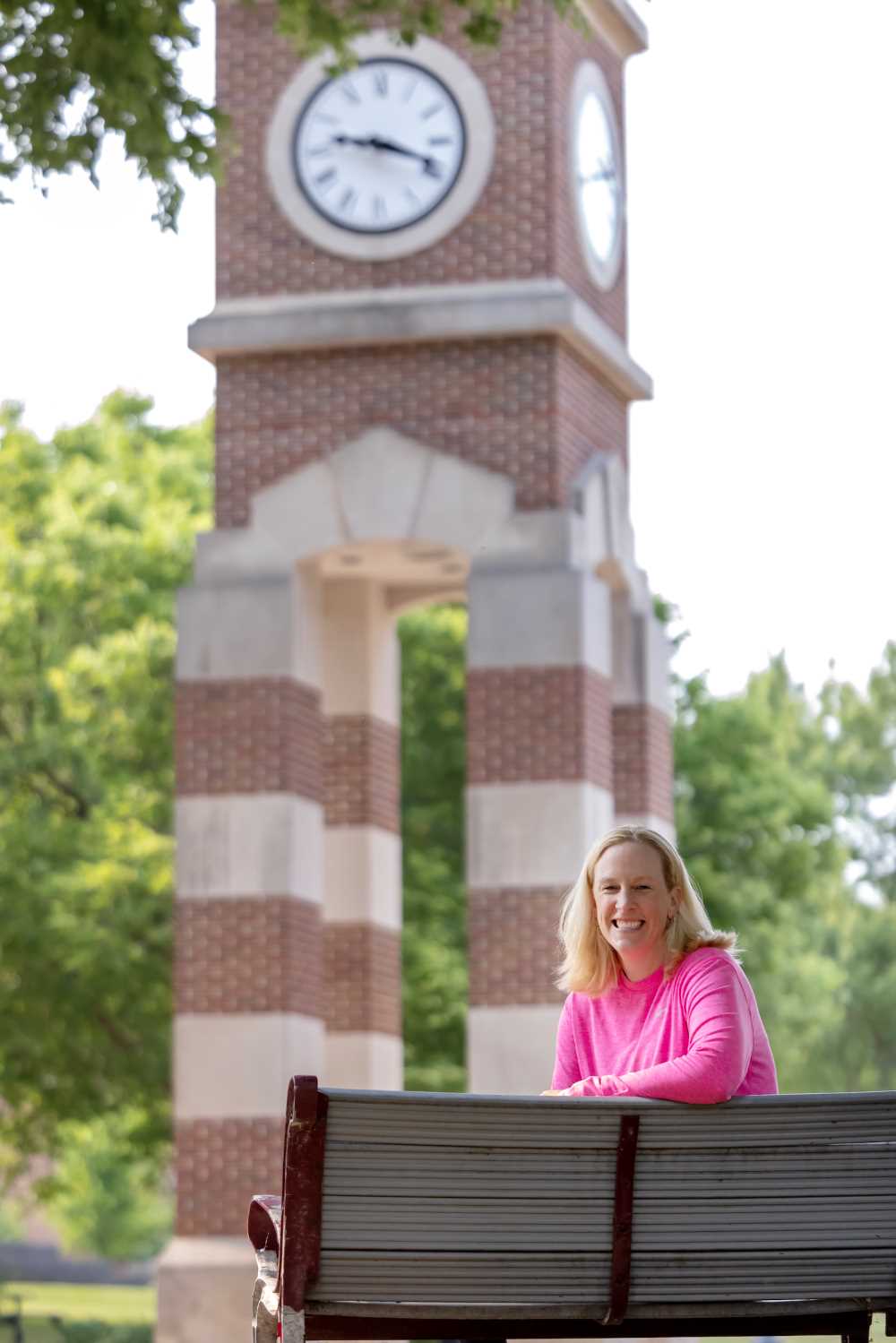 Streed was only 36 years old when she found the lump in her breast. At the time, she was coaching and working in Admissions at UWL. She loved her work and she gave all of herself to her job, recruiting for the campus day and night.
"Cancer made me stop — think about what was happening to me — and forced me make some pretty serious life decisions," she says.
She underwent surgery, chemotherapy, radiation, and 171 appointments in 271 days. In addition to decisions about healthcare, she also needed to make an important decision about her future, specifically if she ever wanted to have children. If so, she'd need to take fertility treatments at Mayo Clinic Health System to save four embryos prior to her surgery.
"I didn't know the answer, but I knew the answer was not a hard no," she says.
Support with decision making and more for breast cancer patients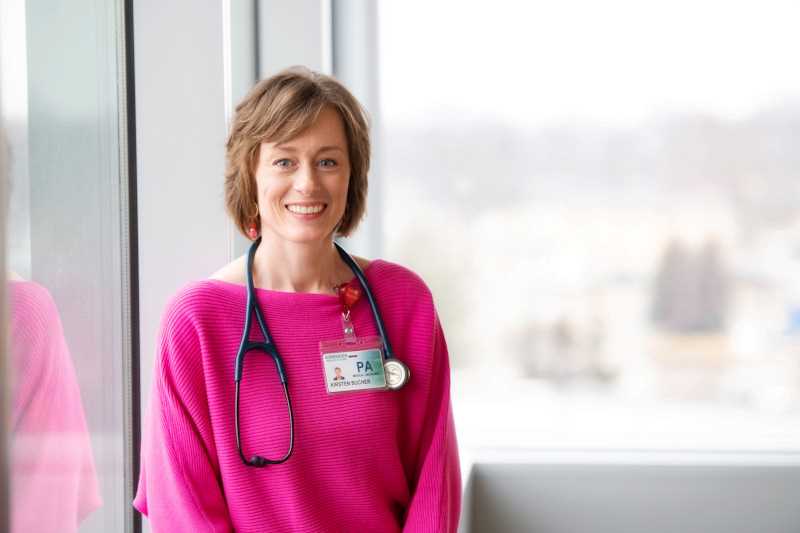 UWL Alumna Kirsten Bucher is this year's Steppin' Out in Pink Survivor Advocate. She is sharing her personal story of being diagnosed with breast cancer leading up to Gundersen Medical Foundation's 18th annual Steppin' Out in Pink event on Saturday, Sept. 9, with early-bird registration ending June 29.
A new cancer diagnosis and navigating treatment decisions can be overwhelming, says Bucher, who graduated from UWL's Physician Assistant program and is now a physician assistant in the oncology department at Gundersen. Bucher was diagnosed in 2021 and then treated for six months while doing clinical rotations as part of her master's degree in the physician assistant program at UWL. She was fortunate, she says, in that she was able to continue her education throughout her treatment and earned her master's degree in June 2022.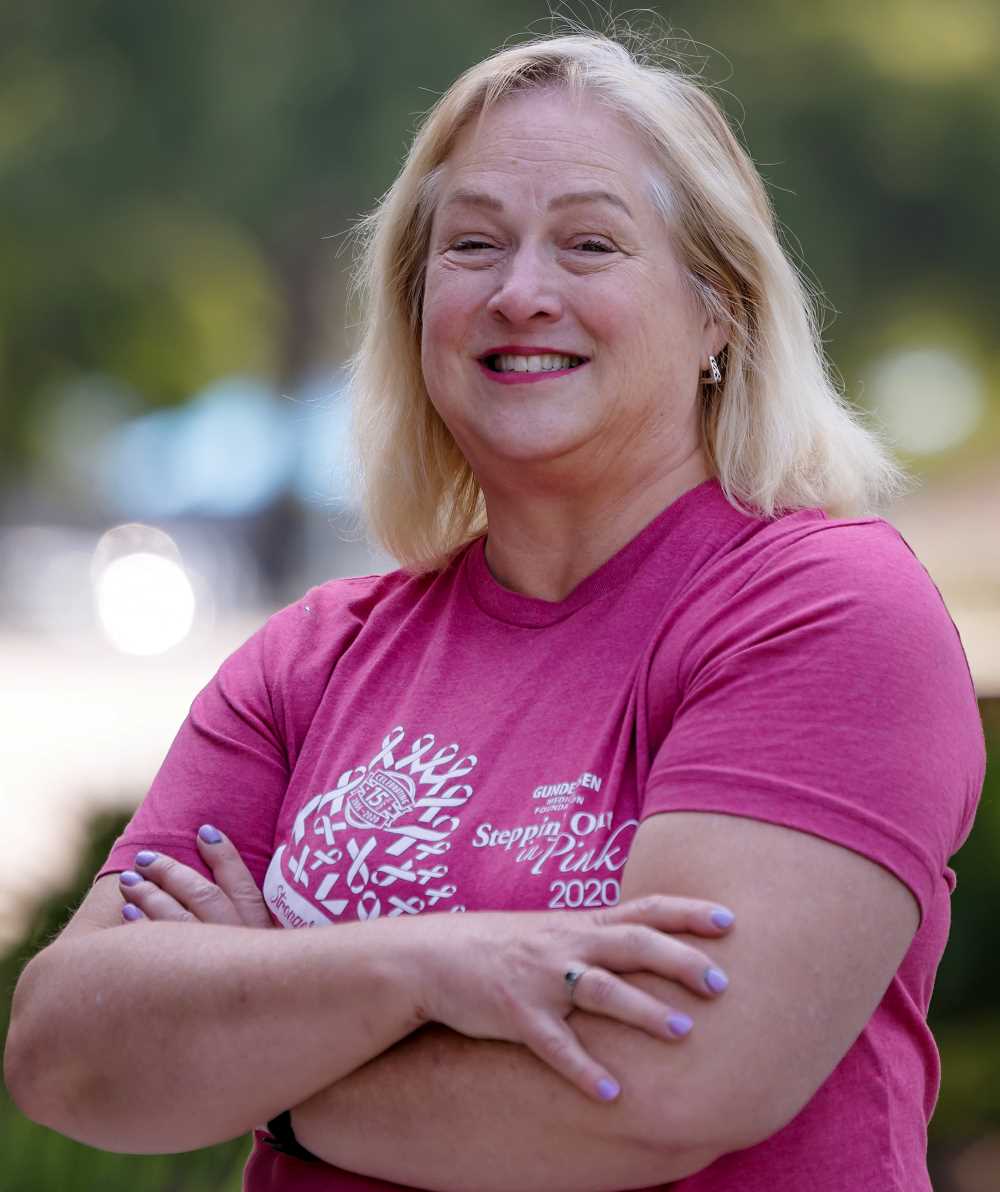 UWL Provost Betsy Morgan says having cancer helped her see how differently breast cancer is experienced by those who have it based on when they are diagnosed and type of breast cancer. Like Streed, her treatment involved surgery, chemotherapy, and radiation. She is six years cancer free.
UWL Marketing Manager for Extended Learning Michele Overgard, like Bucher, was fortunate to catch it early when her medical provider referred her for a mammogram at age 38. That led to less invasive treatments, as well as no recurrences now 14 years later, she says.
Regardless of the level of treatment, a breast cancer diagnosis requires a support system, both emotionally and in terms of access to medical care, survivors agreed.
"Having access to healthcare and insurance to cover testing and scans ensured my providers and I had sufficient data to make well-informed treatment decisions," says Overgard. "What I had was privilege. Everyone should have access to affordable healthcare."
Bucher is in the process of starting a YouTube channel to give people more access to information about breast cancer and help guide with diagnosis considerations, treatment options, managing side effects, deciding on type of surgery, and other cancer-related information.
"I focused on the science and logic to make decisions; yet breast cancer is emotional," says Jackie Jensen-Utz, a major gifts officer in University Advancement whose cancer was detected in an annual mammogram. "I was told having choices was good as not all women have choices. It was all happening so fast. At one point, I had wished someone would just tell me what to do and why. It was very difficult and stressful."
'It takes a village'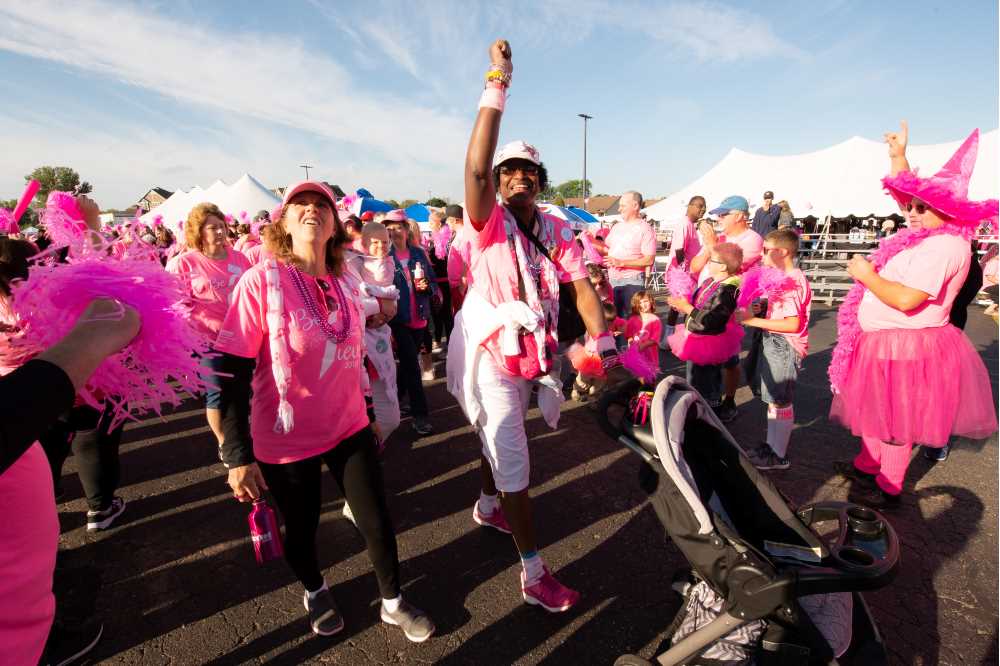 A key to dealing with a diagnosis of cancer or any other serious illness is to seek out support and accept help, cancer survivors agreed.
Cheri Niedzwiecki, retired professor emeritus of Communication Studies and breast cancer survivor of 20 years, was involved in creating those networks on campus as an advisor to the Colleges Against Cancer student group. She gave presentations along with other breast cancer survivors to inform UWL employees about breast cancer and the types of treatments and support available in the community.
Susanne Koehler, UWL employee with the Self Sufficiency Program who was diagnosed in 2008, had family and friends as an anchor, but she also sought out connections through her health provider's cancer center. She found counselors and groups that formed through the library to be supportive.
"It takes a village to go through the breast cancer experience," says Koehler. "You are never alone."
She learned a lot about cancer by asking questions, which led to others to open up and share their experience.
"So many connections are made when spending time with others in similar circumstances," says Koehler. "I am forever grateful for those who walked beside me and continue to walk with me on my journey."
A visible representation of the community support is the La Crosse area is Steppin' out in Pink, says Streed.
"I have done it every year since diagnosis, and I find it strangely important now," says Morgan. "I use it as my way of ensuring at least once a year that I acknowledge how grateful I am to be alive and how appreciative I am of science and my support network."
Finding your why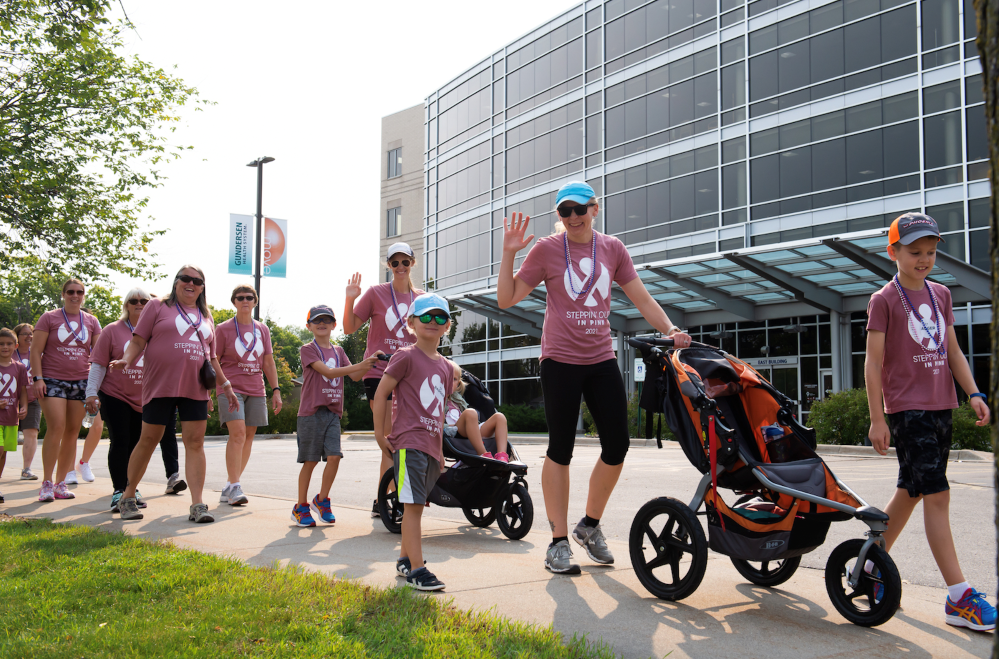 The American Cancer Society estimates that U.S. women have a 1 in 8 chance of developing breast cancer during their lifetime. For those who are diagnosed, Bucher says it's important to find "your why."
Today, she is savoring more small moments and using her cancer experience to help others.
Streed, who has been cancer free for more than four years, also has her why. Her19-month-old daughter is now learning new words and bringing joy into her life every day.
"Without the terrifying cancer diagnosis at 36, I really don't believe I would have stopped my life to have my sweet daughter," she says.
Register for Steppin' Out in Pink
Register for Steppin' Out in Pink now through the day of the event, Sept. 9. Early-bird pricing ends June 29.
By June 29: $20

By June 30: Sept. 3td: $25

Sept. 4 - 9: $30
All proceeds for Steppin' Out in Pink go to local breast cancer research and patient support program initiatives at Gundersen Health System.
Visit steppinoutinpink.org to register, read event day details, or volunteer.
What is breast cancer?
Breast cancer is a group of abnormal cells in the breast tissue that grow uncontrollably. Breast cancer can be classified based on many different findings. For example, doctors determine which type of breast cell the cancer started in (lobular or ductal), if it uses hormones as a fuel source (estrogen receptor positive or negative), or if it has too much of a certain protein (HER2 positive or negative). Doctors also determine if the cancer is only found in the breast itself, or if it has spread to lymph nodes nearby, or even to distant organs such as the bones, liver or lungs. Doctors put all these pieces of information together for each patient to determine the best treatment plan and may include one or more of the following: surgery (lumpectomy or mastectomy), radiation, chemotherapy, and/or estrogen blocking medication.
-Source: Kirsten Bucher - physician assistant in the oncology department at Gundersen Health System