What is a Physician Assistant?
Physician assistants (PAs) are health professionals licensed to practice medicine with the supervision of a physician. PAs work in a variety of practice settings including hospitals, clinics, nursing homes, and research centers. PAs are qualified to take medical histories, examine patients, order and administer tests, make diagnoses, treat illnesses, and assist in surgery. They are trained to provide care that otherwise would be administered by a physician. PAs can provide care as generalists in primary care situations, or in subspecialty areas of medicine. Common specialties in which PAs practice include family practice, internal medicine, obstetrics and gynecology, emergency medicine, surgery, and pediatrics.
Education Programs for PAs began in the mid-1960s to help offset a shortage of doctors. Many of the first PAs were former military medical corpsmen who wanted to use their training and continue in the medical field. Now there are over 180 PA education programs in a variety of academic and clinical institutions. PAs have become vital to bringing health care to underserved areas, such as rural communities, and enhancing efficiency in nearly every health care setting. In 1973 there were fewer than 1,500 practicing PAs. Today there are more than 100,000 PAs working across the United States.
What is the difference between a PA and a NP?
If you are the patient being cared for by either a PA or nurse practitioner (NP) and can't see your provider's name tag, you probably can't tell the difference. In any given practice setting the care provided will likely be indistinguishable based purely on the profession of the provider. Philosophically though, the approach each of these two professions takes in the care they provide their patients is different. NPs describe themselves as advanced practitioners of nursing, while PAs practice medicine with physician supervision. There is also some difference in specialty mobility. NPs are trained in only one specialty (e.g. Family NP, Pediatric NP, Geriatric NP) and usually require additional formal training in order to move from one specialty to another. PAs are trained in a broad-based, primary care curriculum that allows mobility between specialties, typically with on-the-job training.
Employment Outlook
According to the U.S. Bureau of Labor Statistics, employment of Physician Assistants is expected to grow 38% from 2012-2022, considerably faster than the national average for all occupations. To learn more about the current employment outlook please visit – Bureau of Labor Statistics
The University of Wisconsin-La Crosse, in partnership with the Gundersen Medical Foundation of La Crosse and the Mayo School of Health Science of Rochester, Minnesota, established this physician assistant educational program in 1995. The program's initial Bachelor of Science program enrolled eight classes that have completed courses at the University of Wisconsin-La Crosse, at Gundersen in La Crosse, and at the Mayo School of Health Sciences, Rochester, Minnesota. Most graduates are now employed in Wisconsin, Minnesota, and Iowa.
In June of 2004 the program enrolled its first class in the Master of Science in Physician Assistant Studies program. Students take classes on the campuses of all three partner institutions. Program instructors include renowned clinicians and scientists, along with dedicated UWL PA program faculty. Clinical rotation sites include primarily Gundersen, Mayo Clinic and Mayo Health System practices in Wisconsin, Minnesota and Iowa.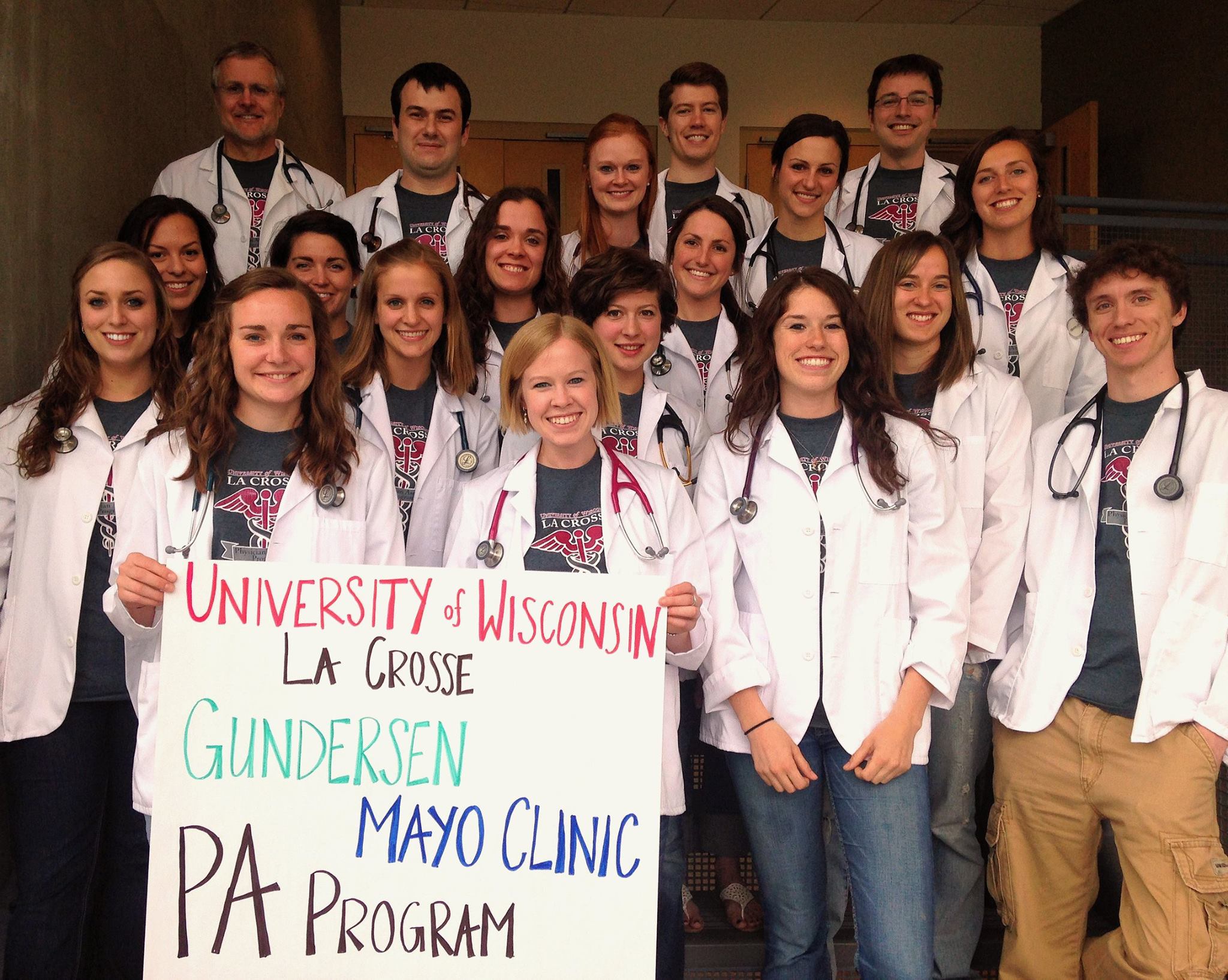 Class of 2016
Mission Statement
The mission of our program is to educate highly competent and compassionate physician assistants who excel in meeting the healthcare needs of the regions served by the partner institutions.
Vision Statement
We will continue to be a nationally recognized program by:
Selecting students with the academic background, interpersonal skills and maturity necessary to be outstanding physician assistants

Educating students who will excel in improving the health and wellness of patients through the supervised practice of medicine

Developing students who are grounded in professional ethics, cultural sensitivity, and the use of evidence based medicine.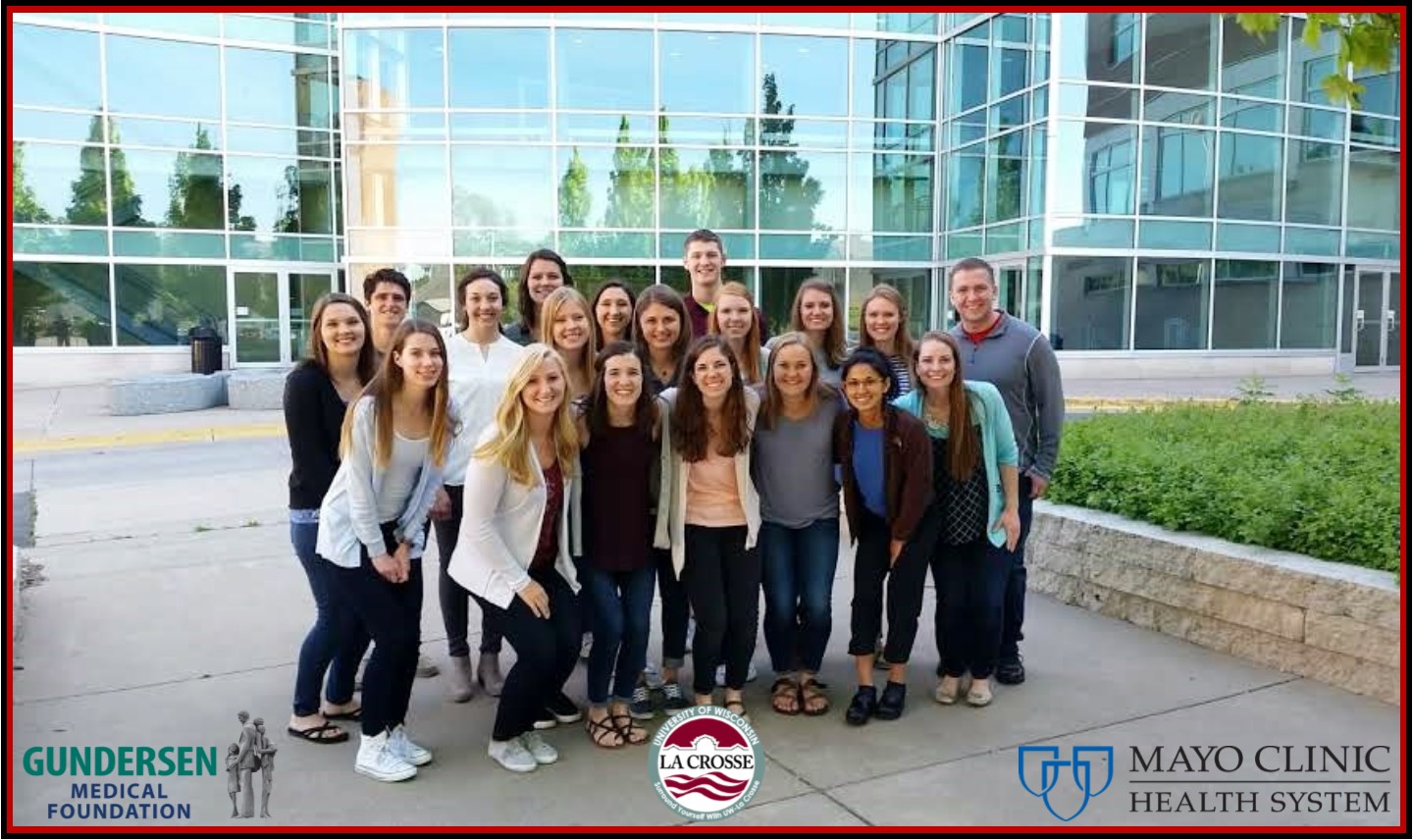 Class of 2019
The Accreditation Review Commission on Education for the Physician Assistant (ARC-PA) has granted Accreditation-Continued status to the University of Wisconsin – La Crosse Physician Assistant Program sponsored by the University of Wisconsin – La Crosse. Accreditation-Continued is an accreditation status granted when a currently accredited program is in compliance with the ARC-PA Standards.
Accreditation remains in effect until the program closes or withdraws from the accreditation process or until accreditation is withdrawn for failure to comply with the Standards. The approximate date for the next validation review of the program by the ARC-PA will be September 2027. The review date is contingent upon continued compliance with the Accreditation Standards and ARC-PA policy.
All students complete 11, 4-week clinical rotations during their second year (June through the following April). Seven rotations are in required or core areas of medicine and intended to provide a broad foundation for a generalist PA: general surgery, emergency medicine, obstetrics/gynecology, pediatrics, internal medicine, family medicine and behavioral health. The remaining four selective rotations occur in practice environments intended to broaden the student's skill and base of knowledge as well as providing depth to interest areas expressed by the student. Selective choices are determined by the program based on preceptor/site availability and student interest.
In keeping with the mission of the program, a majority of the required clinical rotations are completed with our partner institutions: the Gundersen and Mayo Clinic Health Systems. Student experiences are varied and take advantage of the many rural and suburban clinics and hospitals within the respective health systems in Wisconsin, Minnesota and Iowa. Family medicine rotations will typically occur in rural sites outside of La Crosse and Rochester.
The student will be responsible for their own housing and transportation during the clinical year. Some clinical sites are able to provide housing, however this is highly specific to the location and current availability. Students are encouraged to secure housing through known contacts, personal connections, former students and the program's index of clinical housing opportunities.
The following presentation provides a summary of the clinical year experience - Clinical Rotation Presentation
Additional information about Gundersen and Mayo Clinic specialties and practice sites can be found at the following websites:
Goal 1: The program will attract highly qualified applicants with the academic background necessary to successfully complete the rigorous training required to become a physician assistant.
Since 2010, the number of applicants received and the ratio of applications to available spots has progressively increased. The pool of applicants remains strong academically, as indicated by GRE scores and undergraduate GPA of those matriculating into the program. Our graduation rate over the past 5 years has been 97% with a first time pass rate on the PANCE of 100%.
Application

Cycle

Number of

Completed

Applications

Number

Matriculated

Ratio of

Applications

to Available Spots

Cumulative

GPA

Science

GPA

GRE
2010
167
19
8.8
3.82
3.80
1270
2011
220
19
11.6
3.79
3.75
1240
2012
240
19
12.6
3.86
3.84
1230
2013
274
19
14.4
3.88
3.87
318
2014
290
19
15.3
3.87
3.87
315
2015
319
19
16.8
3.91
3.89
318
Goal 2: The program will ensure that its graduates attain the medical knowledge necessary to become highly competent physician assistants.
The first time pass rate on the PANCE for our 5 most recent graduating classes has been 100%. The students consistently demonstrate excellent patient care as assessed by preceptors during clinical rotations, formative and summative faculty assessments, and employer surveys. To view PANCE performance please visit 2017 National Certifying Examination Five Year First Time Taker Summary Report.pdf
Goal 3: The program will ensure the development of excellent interpersonal skills essential for the effective practice of medicine as a physician assistant.
During the didactic year, faculty members assess professionalism and interpersonal skills during formative assessments of history-taking skills as well as classroom interactions before students may progress to the clinical year. Preceptors of students during the clinical year and employers of graduates have consistently rated our students' interpersonal and communication skills favorably on clinical rotation evaluations and employers' surveys, respectively.
Goal 4: The program will educate physician assistants who will meet the healthcare needs of the regions served by the partner institutions.
The Master of Science in Physician Assistant Studies was first offered to the graduating class of 2006. Since that time, 91% of our graduates have stayed and helped meet the needs of the tri-state area served by the partner institutions.
Location

of Practice

Number of

Graduates

Minnesota
65
Wisconsin
49
Oregon
3
Iowa
2
Texas
2
Virginia
2
Alaska
1
Illinois
1
Indiana
1
New Hampshire
1
North Dakota
1
The Bureau of Labor Statistics estimates the national median average salary is $86,410 in 2010. The 2010 median average salary in Wisconsin for 2010 is $87,100 and $88,800 in Minnesota , per the U.S. Department of Labor sponsored Career One Stop .