Posted 9:14 a.m. Tuesday, March 23, 2021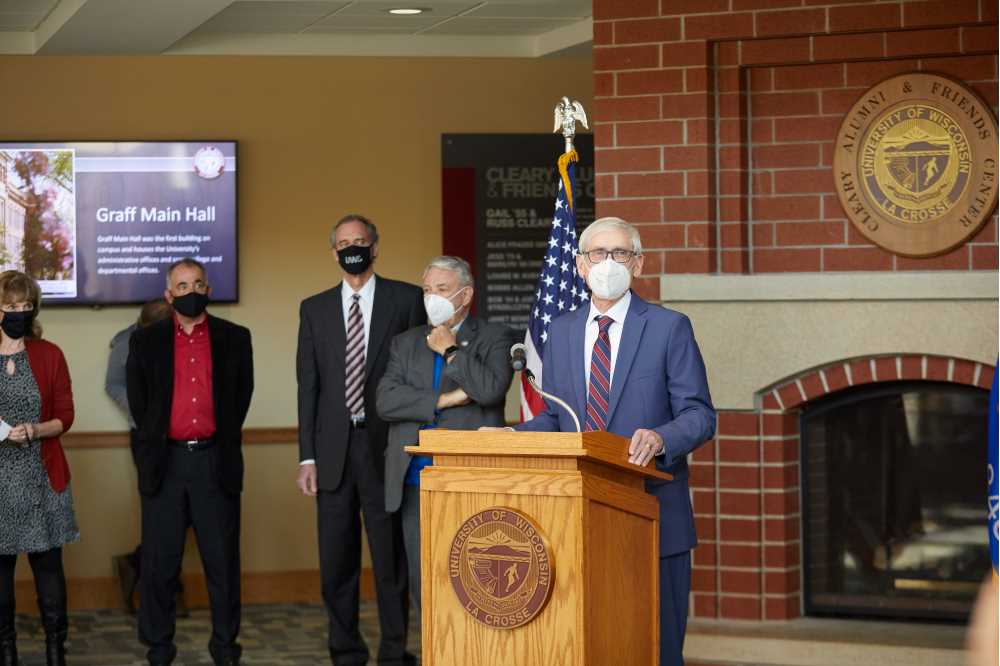 Officials praise partnerships; first shots administered
La Crosse County's new COVID-19 vaccination clinic at UW-La Crosse opened to the public Tuesday, with roughly 200 shots going into the arms of people 65 and older.
Gov. Tony Evers, UW System Interim President Tommy Thompson, Chancellor Joe Gow and other officials toured the clinic shortly before the launch. All praised the local and regional partnerships that helped make it a reality.
"I'm so proud of the people of Wisconsin for getting people vaccinated as quickly as possible," said Evers, noting that this is the second community vaccination clinic in Wisconsin (behind Rock County), and that others are being planned. "This work is very important, and these counties and communities are taking it on (through) great collaboration. The light is at the end of the tunnel. We're getting there, and we feel very confident about our future."
The clinic, housed in UWL's Cleary Alumni & Friends Center, is open Tuesdays through Saturdays from 11 a.m. to 7 p.m. Initially, the La Crosse County Health Department will prioritize people 65 and older. People in this age group who have not been contacted by the county should call 608-785-6240 or register online at vaccinate.wi.gov/. More information about local vaccinations can be found at www.lacrossecounty.org/covid19.
Thompson noted that this is another example of how UWL and UW System have renewed their commitment to the Wisconsin Idea during COVID-19. Previously, UW campuses have hosted community Surge Testing programs (which are still in operation), and connected short-staffed hospitals with student medical workers.
"The idea is making sure the University of Wisconsin System is there when the state needs our help," Thompson explained. Wisconsin, he added, has one of the best vaccination rates in the country, which will only improve as community clinics at UWL and across the state get off the ground. "We're going to start with 200 vaccinations a day, and then we're going to ramp it up to 1,000 a day, which is an amazing accomplishment." The number of vaccinations administered will depend on the amount of vaccine Wisconsin receives from the federal government.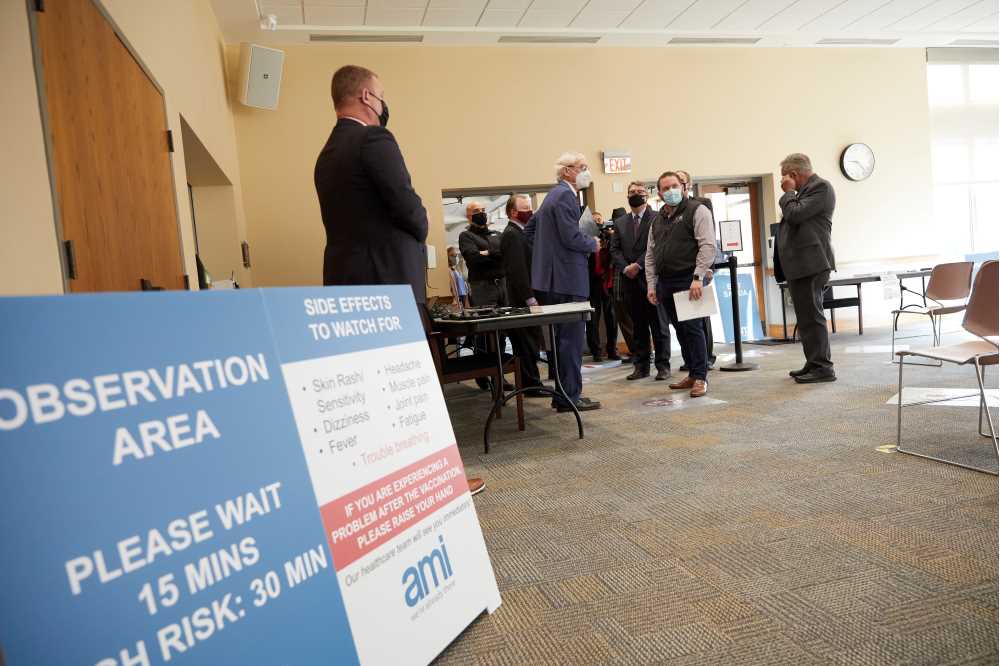 Officials stressed that, while the opening of the clinic is welcome news, there is still much that needs to be done before life can return to normal.
Monica Kruse, chair of the La Crosse County Board of Supervisors, credited the county health department for following the science, just as it has done throughout the pandemic.
"By putting our trust in science and experts, we put policies in place that helped us weather this pandemic," she said. "Let's finish getting La Crosse's 65-and-older population vaccinated, so we can cast a wider net and vaccinate all Wisconsinites. Life as we know it and love it will resume."
Gow noted that La Crosse and UWL have emerged from the shadow of a pandemic before — the Spanish flu of 1918, seven years after the university was founded. UWL is grateful, he said, to be part of the solution this time.
"In 1918 … our little university had to shut down, and there was nothing we could do," he said. "Today, we're very fortunate that science has progressed to the point where we can have a vaccine after one year.
"We hope everyone will get vaccinated, but until then, we have to be mindful of masks and distancing, and make sure we're staying safe."