Posted 8 a.m. Wednesday, Oct. 20, 2021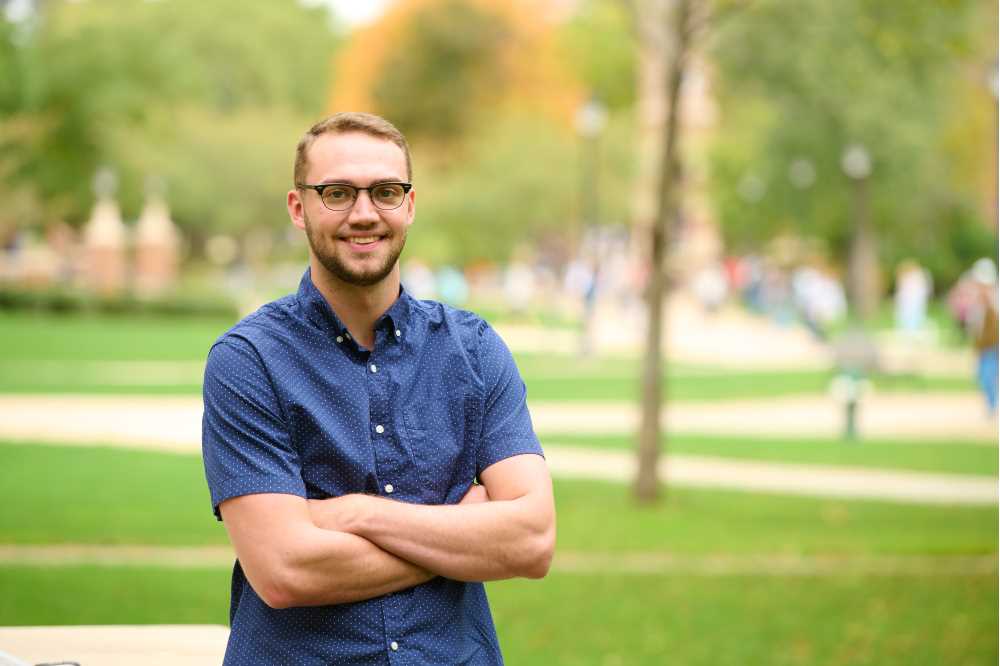 Transfer student Dakota Lindgren relied on friends, faculty while starting at UWL
To mark National Transfer Student Week Oct. 18-22, UWL is highlighting the stories of transfer students who have found their home at UWL. This is the second installment of the series.
To learn more about National Transfer Student Week, visit www.nists.org/national-transfer-student-week.
UWL junior Dakota Lindgren
Major: Marketing
Hometown: La Crosse
Previous college: Viterbo University
Q: Why did you choose to transfer to UWL?
A: There was definitely a moment of self-realization that helped motivate me to set goals and get on track to achieving them. The process of getting admitted and transferring into UWL was very simple and straightforward, which helped with the stress of returning to school. I had also heard nothing but high remarks from my friends and colleagues about their experiences at UWL.
Q: Tell me about how you started in higher education.
A: I picked Viterbo to not only continue my education, but my basketball career as well.
Q: What advice do you have for transfer students? What advice would you give a first-year transfer student?
A: Definitely wait until you know you are ready to return. It is not an easy transition going back to school after taking a lengthy break. Make sure that you are in the right mindset and have the capacity to make the adjustment. I would also say to start making connections right away. Joining study groups and taking the time to meet some of your fellow classmates are great ways to ease into a new university.
Establishing a strong relationship with your advisor is also extremely important, for they will be the ones who are able to give you the most guidance in not only an academic/career perspective, but also just life in general.
Q: What has surprised you here at UWL?
A: How friendly and helpful all of the faculty has been. Professors, advisors and other staff are extremely helpful and accommodating. It has made it very simple to jump right back in as if I hadn't taken time off.
Q: Who has helped you or helped you in your transition to UWL?
A: I worked very closely with the counselors in the Admissions Office, which really brought to light how easy it would actually be to get started. As well as my advisor, Erin Flottmeyer, who has really helped bring everything to light about how achievable everything really is. Also, my closest friends and family who have been extremely supportive with my decisions.
Q: What would you like to do with your degree after you graduate from UWL?
A: I am still not 100% sure on what I would like to do in the future. But I know that, down the road when I am in the position to decide, I will have plenty of resources and connections to help me find exactly what I am looking for.