Posted 2:55 p.m. Monday, Nov. 9, 2020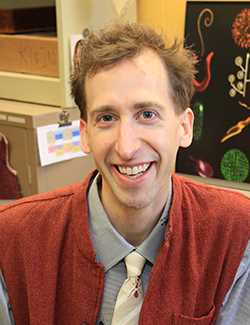 Metal art skills help on-campus bee research.
Some would run the other way, but Barrett Klein, UW-L assistant professor of Biology, wanted a closer look at the dozens of newly spawned bees and their nests near Murphy Library and Wittich Hall. "It's ridiculously convenient to do research right here in our backyard," says Klein, an entomologist. The insects are Colletidae bees, a species that transports pollen that brushes on their hind legs. Their nesting may become a thesis for a graduate student working with Klein. To learn more about the habitat, Klein reached out to Brad Nichols, associate Art professor, to pour molten metal into the ground to get a visual of the nests. The metal creates a cast of the nest as it cools, which teaches scientists about behavior and ecology of bees. https://www.youtube.com/watch?v=qEFQ0CMDmdQ "We couldn't have done this without his expertise, skills, tools and material," says Klein. "It really forges a nice connection between science and art, which I'd like to further." "The arts and sciences are more closely related than people think," says Nichols. "Both are based in creativity." The next step for this research is to excavate one of the nests without using the metal. "We can figure out how many brood they lay and how much pollen they collect," notes Klein.