Kimpossible
A young woman's devotion to life, learning and the fight against cancer are unsinkable
Kimberly Graham with UWL Chancellor Joe Gow during the 2013 graduation ceremony. At the right are her parents, Dawn and Gary.Today her story lives on with a scholarship awarded each year through The Kimberly D. Graham Extraordinary Scholarship Fund.
Posted 1:07 p.m. Thursday, Dec. 15, 2022
At UW-La Crosse many come through the doors with spirit and drive, but a 2013 graduate stands out. Her will was so strong — particularly at the end of her young life — that everyone who knew Kimberly Graham called her Kimpossible.
Graham led a procession of UWL graduates out into the world after her May 2013 commencement ceremony with the school's medallion hanging around her neck. She had just earned an extraordinary degree, reserved for students who accomplish surprising, unusual or remarkable feats.
But as she led those graduates, Graham knew her own future would be cut incredibly short. She had just been given a terminal cancer diagnosis a week before. Graham died nearly a year later in March 2014.
Still, this college graduate's story hasn't stopped. Her memory is still inspiring others to fight cancer, pursue education and persist — even in life's roughest moments. Her parents established The Kimberly D. Graham Extraordinary Scholarship Fund through the UWL Foundation, which is now awarded annually to a UWL student, with a priority for those who have had childhood cancer.
Each student who receives Graham's scholarship also receives an anchor necklace from her family. Graham had an anchor tattoo and carried the symbol as a screensaver on her phone with the words, "I refuse to sink." The message reflects the way Graham lived her life — always staying firm in her hope even when the waters got rough.
'I refuse to sink'
Graham was first diagnosed with Ewing's sarcoma, a rare childhood cancer, just three weeks before her Germantown, Wisconsin high school graduation in 2008. A small fender bender car accident brought her into the doctor's office where they discovered a two-pound, volleyball size tumor on her lung.
During nine hours of surgery the next day, the surgeon stepped out to let her parents know that she likely wouldn't survive the operation. Even if she did, she probably wouldn't be around long after that.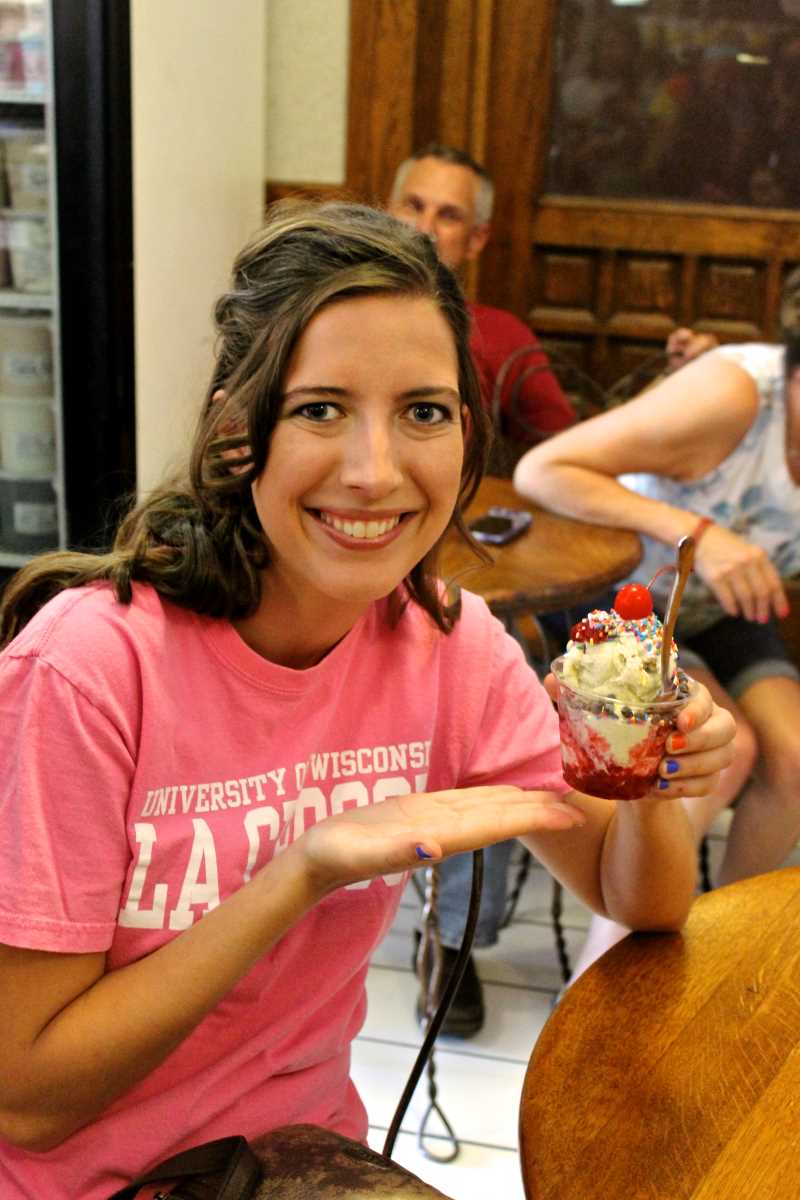 In a recorded speech at a Relay for Life event about five years later, Graham explains how she made it out of that surgery, but it was "just the beginning of the fight for my life."
While her close friends packed up for college, Graham, a stand-out, A student, who had been admitted to UW-La Crosse, stayed home and began a regimen of 30 prescription drugs, 10 months of chemotherapy and six months of radiation.
Her mother, Dawn Graham, remembers her daughter, who rarely cried, lying on her bed with tears streaming down her face. Not only were her dreams put by the wayside, but the radiation had left painful burns inside and outside of her body. Persistent infections led to difficulty eating and poor nutrition. "She was slipping away," recalls Dawn.
But during this challenging time, a thought began to emerge in Kimberly's mind. She started taking classes online through the UW System while undergoing treatment. And, as she began to recover and get stronger, she thought more about what her future could be. She wanted to help children going through the same pain and challenges with cancer — and she wanted to give them hope.
Arriving on campus
Kimberly arrived at UWL for the first time in fall 2009 with her cancer in remission. Although she was still recovering and her strength could barely carry her up a flight of stairs, she set her sights on the Radiation Therapy Program. She began studying with the same vigor as high school, tried out and made the tennis team and excitedly took her visiting parents on tours of campus and downtown. "She fell in love with UWL," says Dawn. "She was so proud of the campus and the little city."
But Kimberly's cancer would reemerge two more times during college, in March 2010 and again in August 2012, just after being accepted into UWL's Radiation Therapy Program.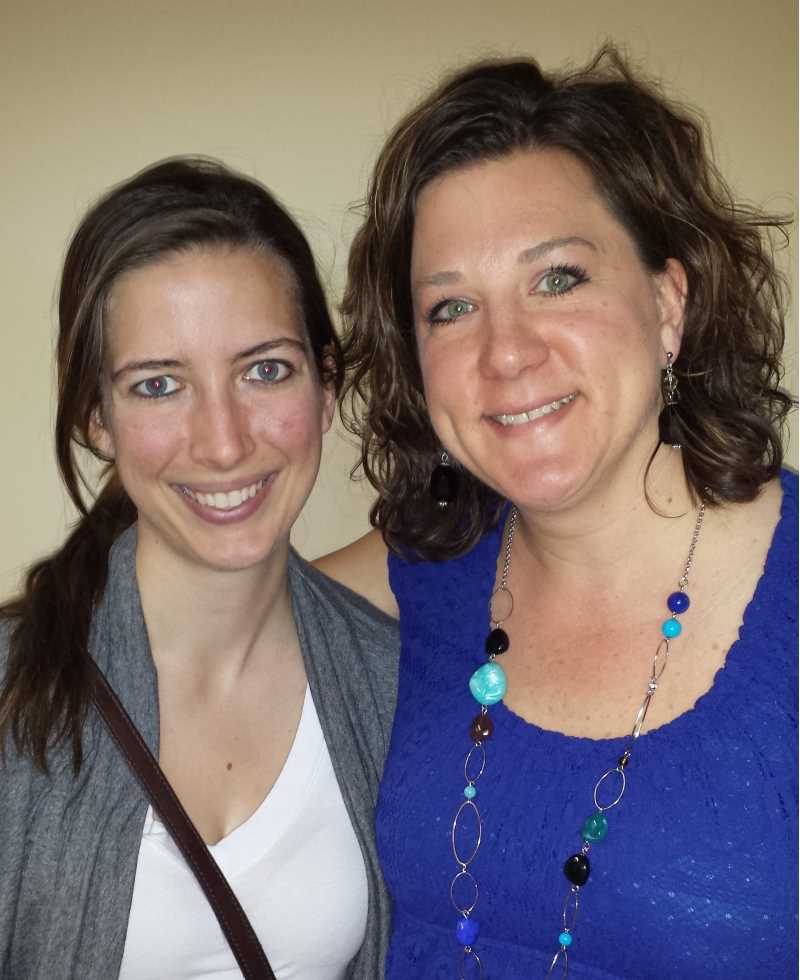 Melissa Weege, Radiation Therapy Program director, recalls the phone conversation with Kimberly prior to the start of the 2012 fall semester. Weege said they could hold her spot in the program, allowing her to start the following year. But Weege could sense the disappointment. Kimberly said that although she would be part of a clinical trial at Mayo Clinic Health System in Rochester, she wanted to try to continue her education at UWL. Education helped her cope, and her treatments would only be an hour away.
"Absolutely," was Weege's reply.
When she hung up the phone, Kimberly's outlook went from night to day, recalls Dawn. "It was like someone had given her a billion dollars." Dawn says the conversation is just one example of the kind of care and support UWL faculty showed for Kimberly.
"She listened to the drive and determination in my daughter's voice and she heard it. She knew this was outrageously important to this girl, and she agreed and let her do it," recalls Dawn. "I can't say enough about the professors at UWL. They were unbelievably outstanding."
"She listened to the drive and determination in my daughter's voice and she heard it. She knew this was outrageously important to this girl, and she agreed and let her do it," recalls Dawn. "I can't say enough about the professors at UWL. They were unbelievably outstanding."
The Radiation Therapy family
Weege describes the Radiation Therapy Program as a family. The student groups that move through the program are always tightly connected, but the year Kimberly joined the program the group was exceedingly so.
Classmates pitched in to take notes for Kimberly and helped tutor her on concepts she missed because of treatments. Outside of class they studied together, volunteered together and met for frequent pool parties and outings. As much as classmates were invested in Kimberly's success, she was always looking for ways to help them. She did — even unknowingly.
"We were all inspired to work harder because we knew there was a much bigger goal in our class at the time," says fellow student Morgan Stueber.
Classmates typically got an email and text update from Kimberly after every treatment at Mayo, but one Friday near the end of the semester they heard nothing. They began texting one another to see if anyone had heard news.
That afternoon, they received a text from Kimberly about her terminal diagnosis. Weege told the students not worry about finals. Instead, they should go spend time with Kimberly.
The group met outside of her apartment where a friend asked what she wanted to do. Kimberly's response was simple: "Harry Potter World and the beach." What seemed like a joke in the moment, became reality two days later as 16 of the 18 students in the RT Program, along with other close friends, piled on a plane to Florida.
Donning neon T-shirts with "Kim" spray painted on the front, the group trekked around Harry Potter World together. When a passerby at the airport asked what they were celebrating, the classmates looked to one another for a cue. Kimberly replied, "life."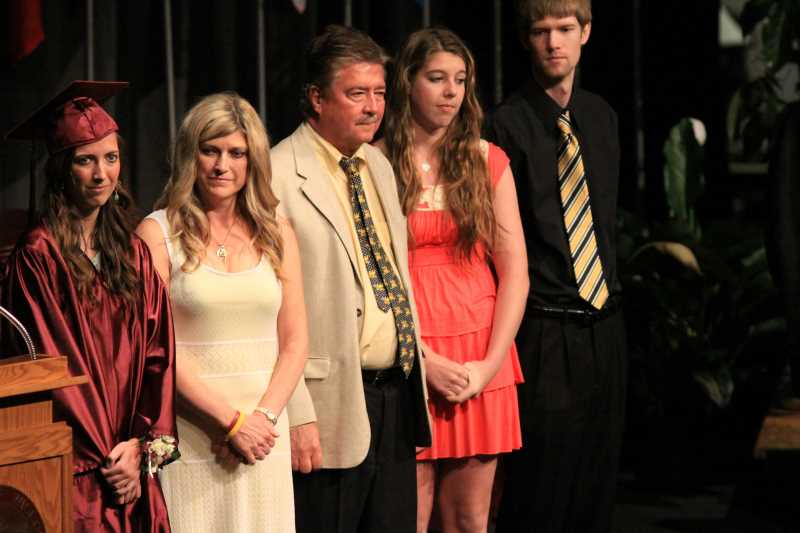 Finding peace through supporting others
Meanwhile, back in La Crosse, spring commencement was nearing, and Weege wondered how to celebrate Kimberly's educational achievements at UWL — even though she technically had another year before completing the RT Program. She connected with UWL Chancellor Joe Gow who suggested an extraordinary degree.
That degree was presented to Kimberly on the stage during the May 2013 commencement ceremony over the cheers of friends in the Radiation Therapy program. "She was Kimpossible," says Dawn. "Education was an immense part of her life, and her drive and dedication to achieve that was stronger than her cancer."
The following year, in May 2014, although Kimberly was not there to celebrate her own graduation, her Radiation Therapy Program cohort shared her message of hope — flying their graduation caps into the air — all adorned with anchor decorations.
Those classmates are now all living around the country. Stueber, a practicing radiation therapist, thinks of Kimberly every day. "Even on the bad days when I'm struggling to get through the day, I have conversation with her and it helps me get through," she explains.
Those who were close to Kimberly report little signs of her everywhere. She may not physically be on Earth helping cancer patients as a radiation therapist, but the work she did to draw attention and resources to support the fight against childhood cancer continues. Kimberly would have been thrilled at the idea of a scholarship to bring hope to students who have battled cancer, says Dawn.
"I can't tell you how much peace it can give to us to know that we can help someone else," says Dawn.
Dropping new anchors of hope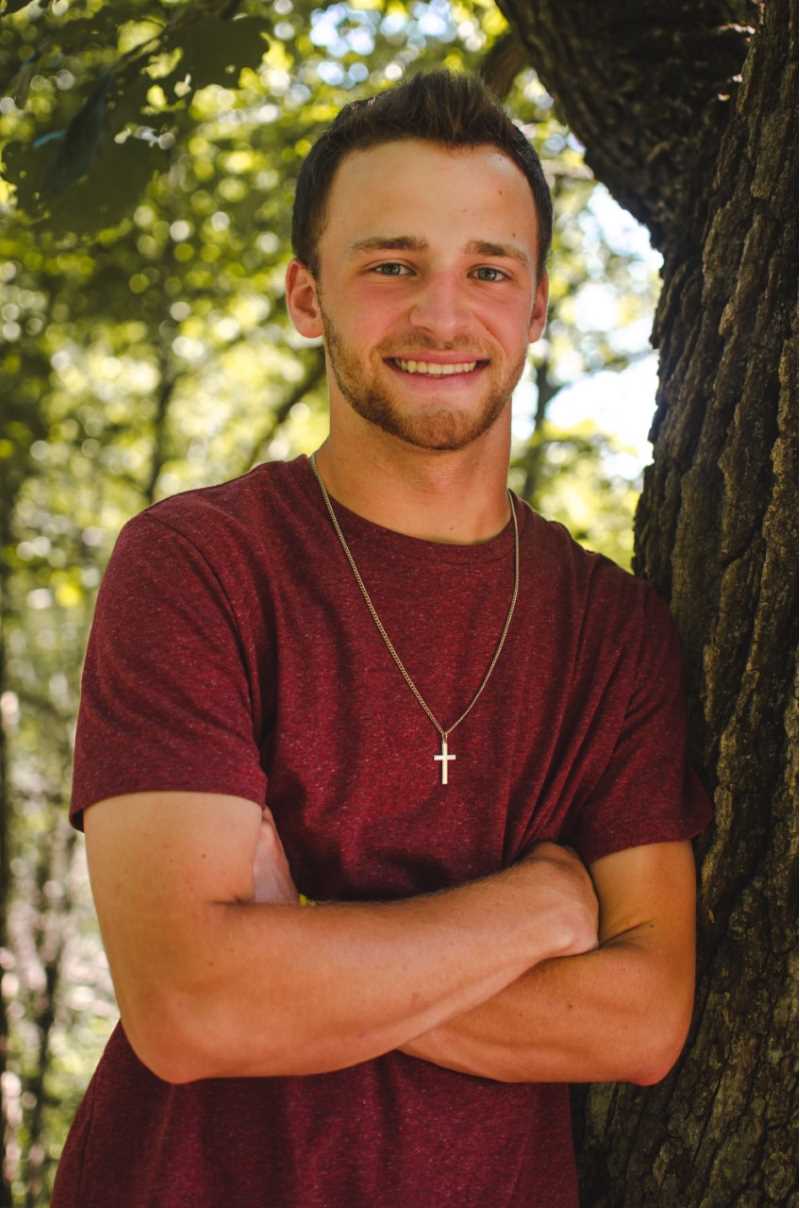 In spring 2020 as the world began to close to prevent the spread of COVID-19, a high school student named Sean Floersch got some good news amid the changes and uncertainty. As an incoming UWL freshman, he had just been awarded a scholarship with the name Kimberly Graham. Floersch didn't know Kimberly, but he did know about the courage and determination it takes to fight cancer as someone who had survived cancer in his teens. The award is more than a financial boost, he says.
"It's having someone else's legacy to motivate me through school," he says. "When someone else puts faith in you, you want to give that good faith back."
Apply for UWL Foundation scholarships
Kimberly Graham's scholarship is one of many offered to UWL students through the UWL Foundation. Find UWL Foundation scholarships