Posted 10:26 a.m. Friday, Jan. 1, 2021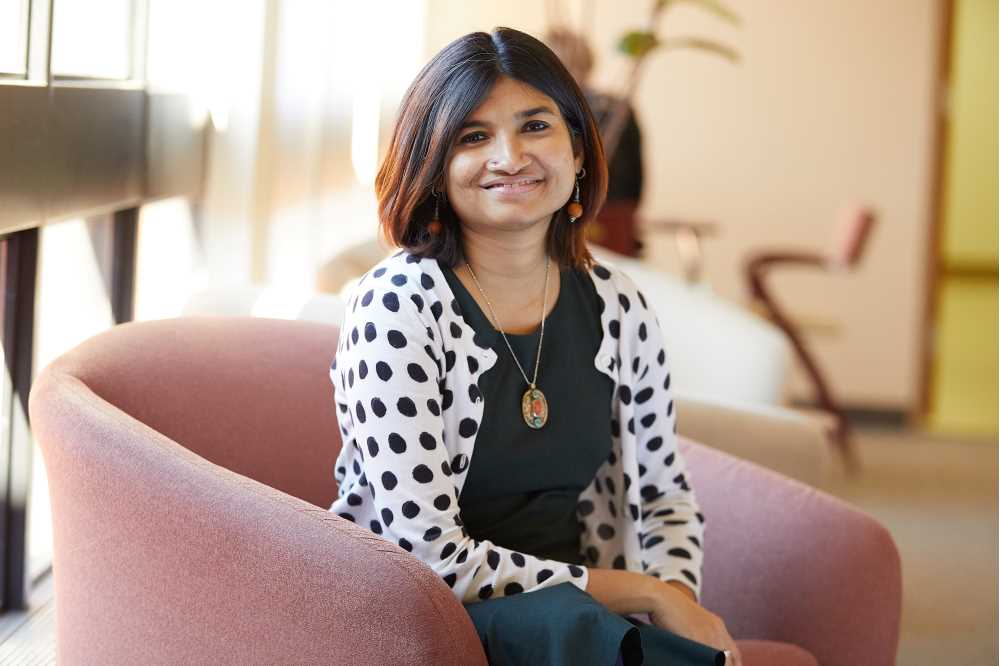 Nabamita Dutta receives inaugural Menard faculty fellowship
UW-La Crosse Professor Nabamita Dutta loves guiding her students through the world of economics — whether it's on campus or in a virtual classroom.
But it can be a challenge to find the proper time-energy balance between her teaching responsibilities and her main professional passion: research.
A new faculty fellowship will help her and other professors in the College of Business Administration have the best of both worlds.
Dutta is the first recipient of the Menard Family Faculty Fellowship — a program that supports CBA faculty researchers through stipends and teaching relief. Dutta plans to use the fellowship to continue advancing her research portfolio, focusing on entrepreneurship, culture and gender, and how the three intersect and interrelate.
"I'm really happy to see Menards supporting faculty research, and I'm excited to be the first recipient of this fellowship," she says. "Research is extremely challenging, especially with growing competition from institutions across the globe. It is even more challenging for faculty to tackle current research challenges at a heavy teaching institution such as UWL. Therefore, opportunities like my fellowship are very welcome, and will further the scope and quality of UWL's research presence, eventually leading to significant impacts on many local and global scales."
Dutta's research interests can be classified into three categories: how institutions shape various development outcomes, how institutions interact with macroeconomic variables (such as growth or income), and what factors shape institutions over time.
A sample focus is how certain traits, such as individualism and the fear of failure, affect male and female entrepreneurship.
"Researching in my areas of interest helps enhance my knowledge and get a better grasp on the subject matter," Dutta notes. "For the upper-level classes I teach, it is very important to expose students to current and ongoing research and to help them contextualize the findings on current issues."
But it's not a one-way street. Dutta's students also inspire her to investigate new topics. "Many times, explaining recent findings in the literature to my students leads almost naturally to engaging discussions on specific topics, and then all of a sudden a new research idea will hit me," she explains. "In this way, and others, the processes of teaching and of research are complementary to me."
Dutta has authored 48 peer-reviewed articles, her work has more than 1,100 citations on Google Scholar, and she serves on the editorial board of the international research journal: Economic Modelling. Her research has been covered by the BBC, New York Magazine and Ideas for India.
A native of Kolkata, India, Dutta moved to the United States in 2004 to study at West Virginia University. She earned her doctorate in 2009 and joined UWL later that year.
Adam Hoffer, director of the Menard Initiative, says Dutta is an exemplary professor and researcher to receive the initiative's inaugural fellowship.
"Professor Nabamita Dutta is a prolific scholar … and she produces research that has the potential for serious impact," he says. "At the Menard Family Initiative, we pursue fundamental, scientific truth above all else. Based on scientific findings like those Dr. Dutta researches and uncovers, we hope to inform solutions to create a better world for as many people as possible."
About the Menard Initiative
The Menard Family Midwest Initiative for Economic Engagement and Research supports scholarships, research projects and hands-on learning opportunities in UWL's College of Business Administration.
The initiative started in 2019 after a $2.1 million gift from the Menard family — the largest single donation in university history.
For more information about the initiative, visit www.uwlax.edu/foundation/your-impact/economic-engagement-research/.