Posted 10:30 a.m. Wednesday, March 23, 2022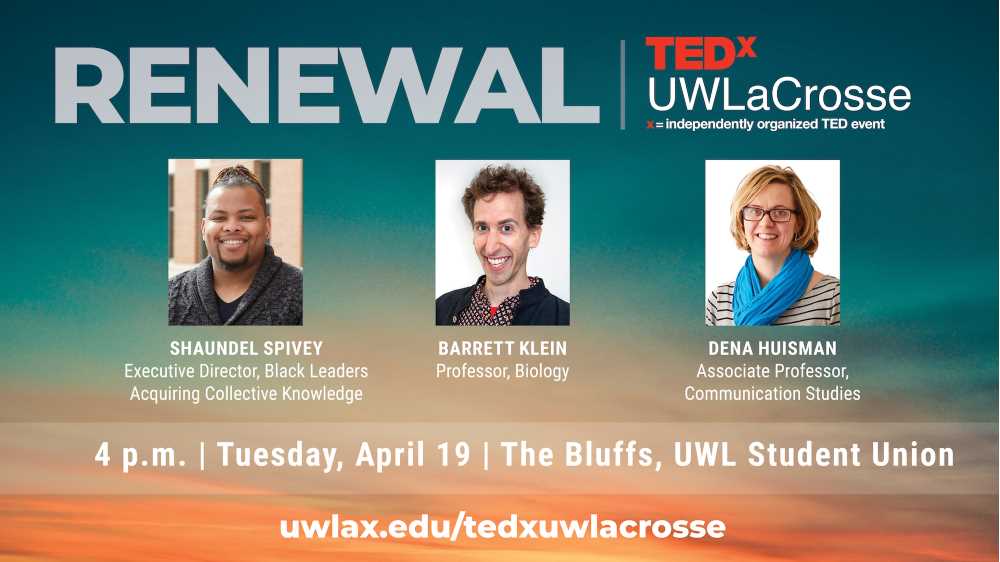 TEDxUWLaCrosse event April 19 features three speakers during a time of change
Spring is a time of renewal. UW-La Crosse's next TEDxUWLaCrosse event aims to renew our thinking about the community where we live, the natural space we inhabit and the communication we use to support others during difficult times.
TEDxUWLaCrosse will explore the theme of renewal at 4 p.m. Tuesday, April 19, in The Bluffs, Student Union at UWL. A total of 300 free tickets will be available. Reserve your ticket at on the TEDxUWLaCrosse website. Presentations will be recorded.
The event will include presentations from three speakers and watching TED Talks. Speakers include:
UW-La Crosse Alumnus and Executive Director of B.L.A.C.K. Shaundel Spivey will reimagine what it takes to build an equitable and loving community.
Entomologist and UWL Biology Professor Barrett Klein will bring a renewed appreciation for the 10 quintillion insects on the planet.
Associate Professor of Communication Studies Dena Huisman will share how to connect and communicate with loved ones needing support — particularly as this need has become more visible during the COVID 19 pandemic.

In 2013, UWL started organizing independently-coordinated TEDx events featuring local speakers on a range of topics. Many are familiar with TED Talks, the 18-minutes or less videos made available for free on TED.com. The organization is devoted to "ideas worth spreading," and, in that spirt, it created TEDx, a program of local, self-organized events that bring people together to share a TED-like experience. TEDxUWLaCrosse Spring 2022.
Speakers include:
Dena Huisman: What to say to someone in distress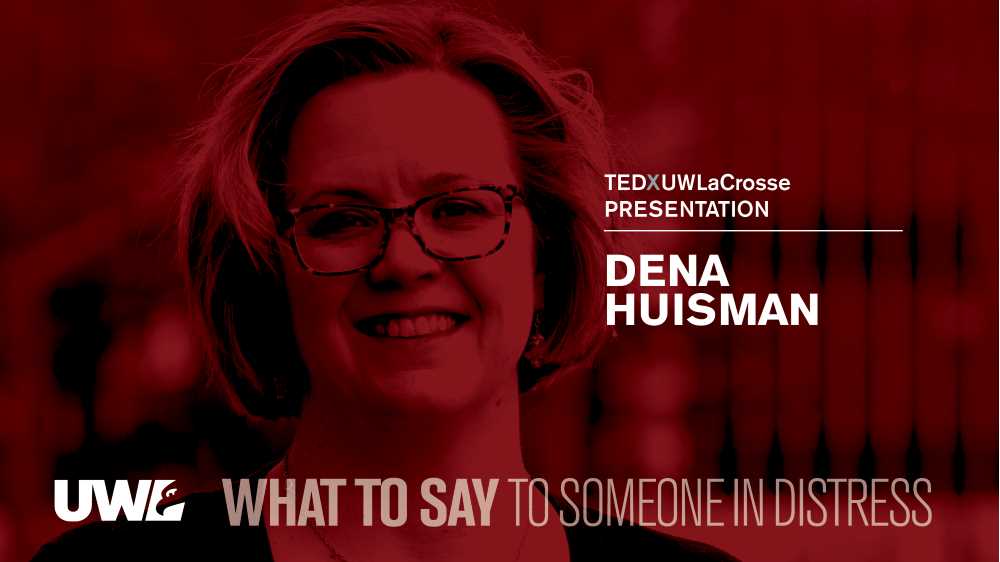 The need for social support has become more visible to us during the COVID 19 pandemic as we learned how to cope with isolation and health scares. While the need for support in troubled times is often significant, research often finds that our satisfaction with the support we receive is less than ideal and that people often don't know what to say to others in distress. UWL Associate Professor of Communication Studies Dena Huisman will discuss how we can improve our connections to people through more conscious and deliberate communication choices that meet the individual and relational needs of loved ones needing support. The talk will discuss how cultural norms and expectations can help or hinder our success in relating meaningfully as humans experiencing challenges, and how careful attention to each other can overcome potential barriers to meaningful support.
Barrett Klein: What would the world look like without insects?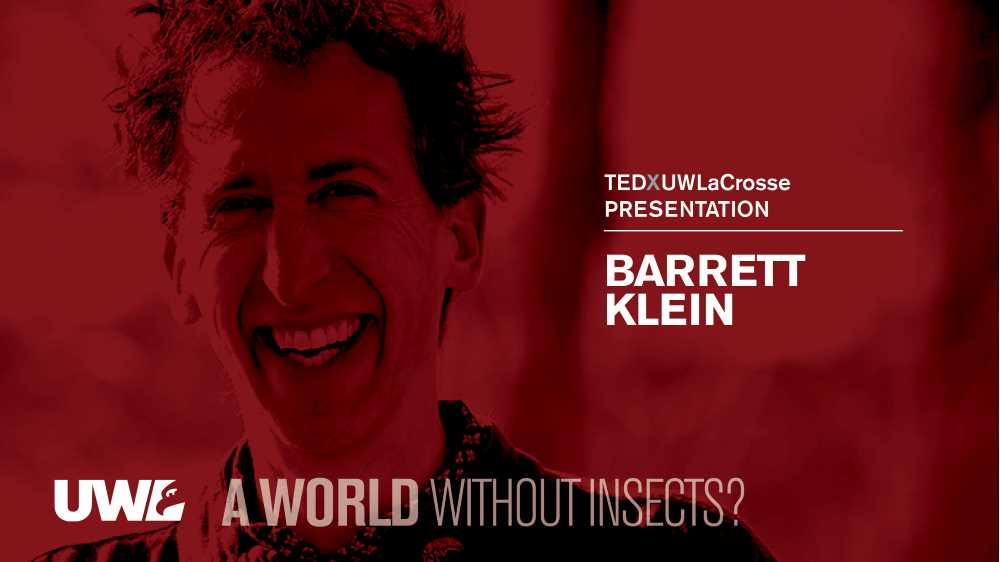 UWL Biology Professor Barrett Klein will explore and reveal cultural connections we have with the 10 quintillion insects with whom we share the planet. Insects not only serve vital ecosystem services like pollination, waste removal, and sustenance for others, but they also have intimately and profoundly shaped human culture for millennia. What we eat, where we live, how we dress, and what we believe are all affected by the six-legged animals around us. Renewal can be interpreted in many ways, and Klein sees the connection between his advocating for insects as a call to look at and treat our distant relatives with a new perspective and vigor. He believes that we need to renew our appreciation for and our connection with nature, or we will suffer the consequences of a depleted world. Distancing ourselves from the grand diversity of insects would diminish what best defines us. Human culture, in some key respects, stands on six legs.
Shaundel Spivey: Reimagining equity work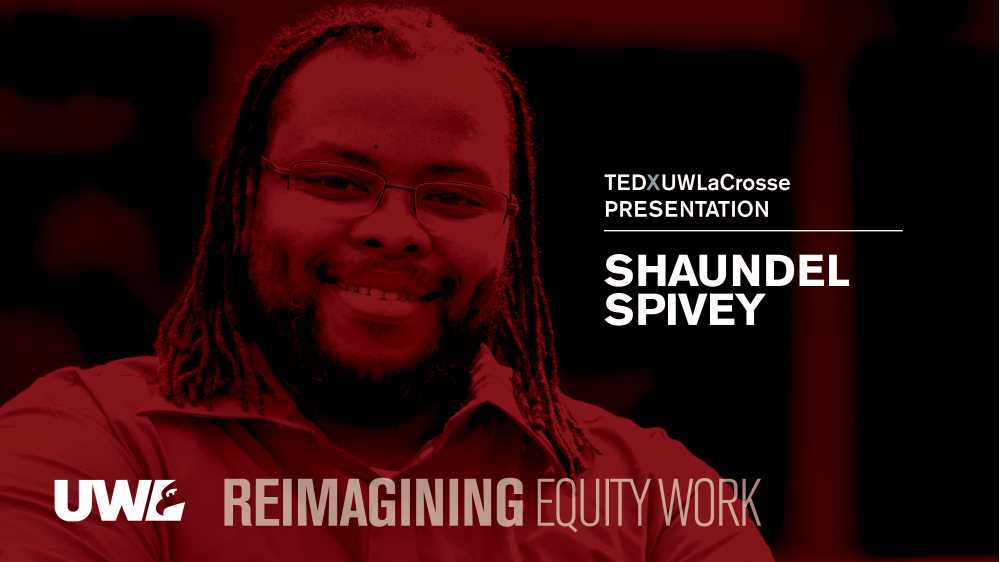 You can't do true authentic equity work without doing work on you first. As we strive to build an equitable and loving community, we have to imagine the work differently. To do this we must truly examine ourselves and the roles we all play in the perpetuation of this inequitable community we live in. Shaundel Spivey, executive director of Black Leaders Acquiring Collective Knowledge, will provide the audience a visible reminder of how to build an equitable community.
About TEDx, x = independently organized event
In the spirit of ideas worth spreading, TEDx is a program of local, self-organized events that bring people together to share a TED-like experience. At a TEDx event, TED Talks video and live speakers combine to spark deep discussion and connection. These local, self-organized events are branded TEDx, where x = independently organized TED event. The TED conference provides general guidance for the TEDx program, but individual TEDx events are self-organized. (Subject to certain rules and regulations.) About TED
TED is a nonprofit organization devoted to Ideas Worth Spreading. Starting as a four-day conference in California 30 years ago, TED has grown to support its mission with multiple initiatives. The two annual TED conferences invite the world's leading thinkers and doers to speak for 18 minutes or less. Many of these talks are then made available, free, at TED.com. TED speakers have included Bill Gates, Jane Goodall, Elizabeth Gilbert, Sir Richard Branson, Nandan Nilekani, Philippe Starck, Ngozi Okonjo-Iweala, Sal Khan and Daniel Kahneman.
The annual TED conference takes place each spring in Vancouver, British Columbia. TED's media initiatives include TED.com, where new TED Talks are posted daily; TED Translators, which provides subtitles and interactive transcripts as well as translations from volunteers worldwide; the educational initiative TED-Ed. TED has established The Audacious Project that takes a collaborative approach to funding ideas with the potential to create change at thrilling scale; TEDx, which supports individuals or groups in hosting local, self- organized TED-style events around the world, and the TED Fellows program, helping world-changing innovators from around the globe to amplify the impact of their remarkable projects and activities.
Follow TED on Twitter at http://twitter.com/TEDTalks, or on Facebook at http://www.facebook.com/TED.