Posted 2 p.m. Friday, Sept. 8, 2023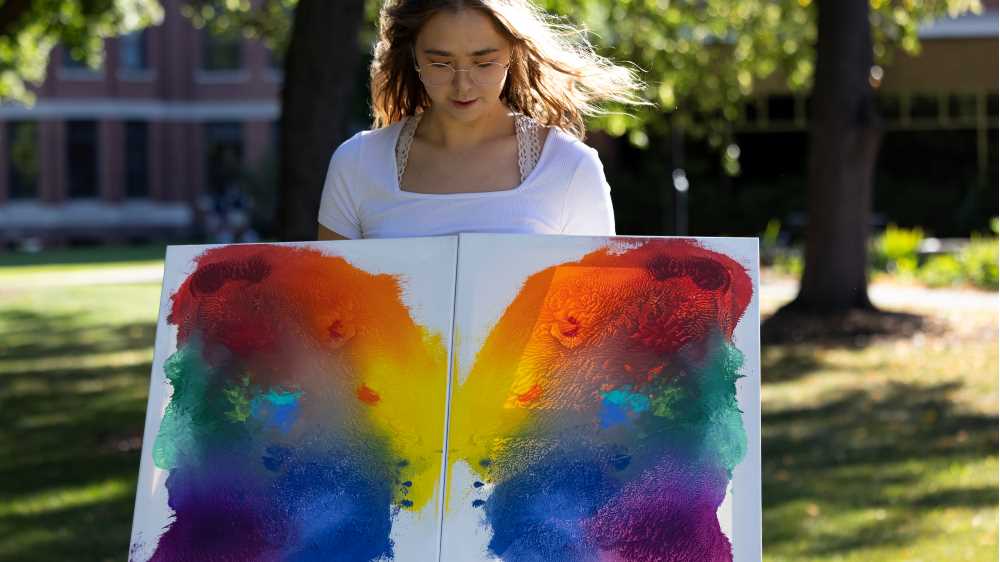 The 2023 Eagle Fest wing design has a special meaning for its creator
Few artists can say they won the first contest they entered.
Kaite Koll is one of them.
Koll, a junior in the Public Health & Community Health Education program at UW-La Crosse, won the 2023 Eagle Fest "Wings of the Year" design contest with her painting of a pair of rainbow butterfly wings.
Koll's winning creation inspired this year's wing design for Eagle Fest, UWL's annual September festival, held this year on Friday, Sept. 8.
"I've loved art as long as I can remember," says Koll, who is almost entirely self-trained. She says she has not taken an art class since middle school. "A couple years ago, I started to use painting to express how I was feeling. The colors, shapes and textures — it all represented my moods."
Last year, Koll found a home at UWL after transferring from a college where she had experienced bullying related to her LGBTQ+ identity.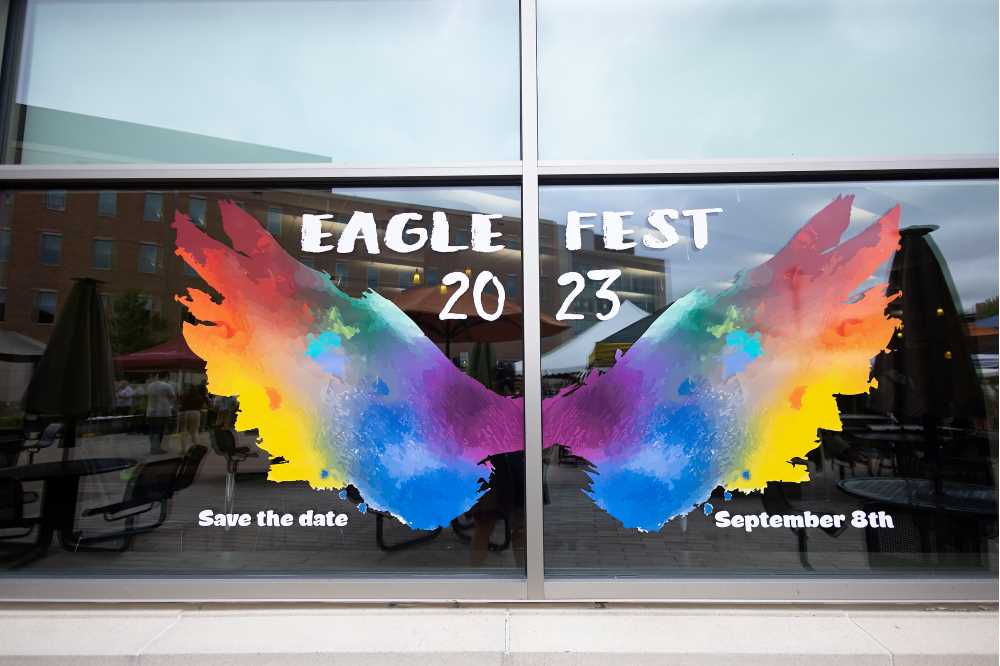 Her painting represents her metamorphosis at UWL — coming out of her cocoon, spreading her wings and being accepted for who she is.
"I've felt very accepted by people in my major and people who work here," Koll says. "I chose rainbow colors because of Pride, and I chose specifically butterfly wings to show the transformation I went through."
Koll's design — a burst of vibrant color achieved by spreading liberal amounts of paint on two canvases and then pressing them together — was modified by UWL to more closely resemble eagle wings.
For Koll, it was still meaningful to see her art displayed and appreciated.
"I couldn't believe that I had won," she says. "Even though they changed it for Eagle Fest, it was still like, 'Whoa. That's my art up there.' It was still cool."
Koll recently experienced another thrill in relation to her art: She sold her first painting during a silent auction at 611 Crystals in downtown La Crosse.
In everything she does, Koll says she aspires to help people and make the world a better place.
Her butterfly painting, for example, was created with leftover paint from previous projects.
Koll's work is proof that a masterpiece does not require expensive materials or years of formal training — only a strong artistic vision and execution.
"I'm someone who loves art, but I also care deeply about the environment and our impact on the Earth," she says. "I know that the chemicals in paint are not good for the Earth, so I try to use everything I can.
"Art to me is very personal. It's something I use to cope with life. Ultimately, I just want to help people and make the world a better place for all living things."