Posted 8:11 a.m. Friday, July 15, 2022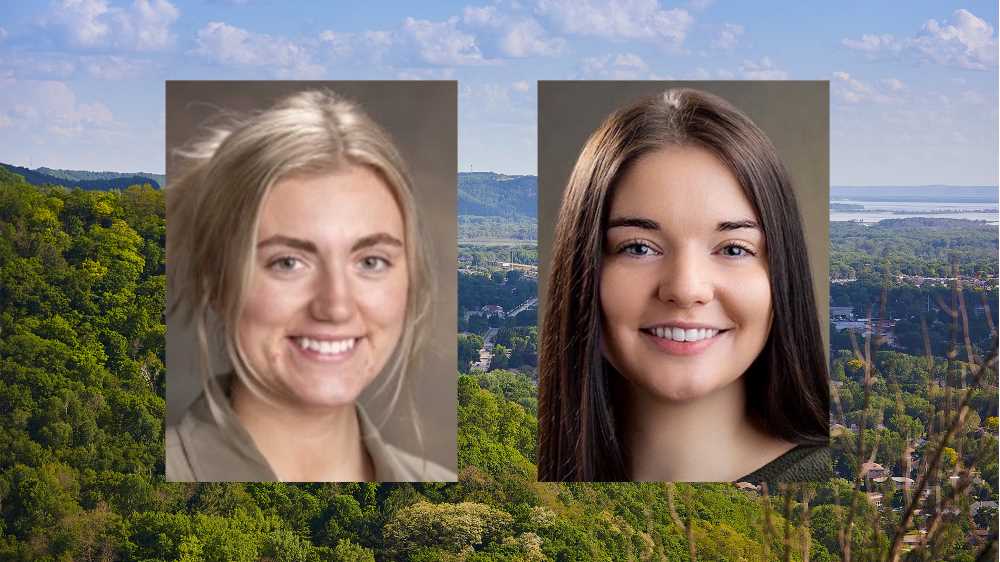 Alumni tackling issues for a better Wisconsin
From COVID-19 and Lyme disease to environmental issues, UWL alumni are addressing critical science issues in Wisconsin.
Emily Botten, '19, and Jenna DeShaney, '18, are among the many alums helping the Badger State meet STEM workforce challenges. Along with alums, UWL faculty are key to propelling the state's workforce by providing world-class learning opportunities on campus. One obstacle to this is the outdated Cowley Hall, which has worse learning spaces than almost any high school in the state.
The Prairie Springs Science Center Completion/Cowley Hall Demolition Project is vital for UWL to continue helping the economy grow.
As our series continues, here's a look at two more alums who stayed in Wisconsin to impact communities across the state. They show why campus facilities are important for a solid educational base that allows our alumni to become vital to the state's workforce.
Uncertainty into inquiry
Botten addressing two of the state's biggest health concerns
Emily Botten, '19
Hometown: Menasha
Major/Minor: Biology
Currently: Research assistant at the Marshfield Clinic Research Institute, Marshfield
She went from questioning herself for being a biology major to conducting research to help end the pandemic and combat Lyme disease.
Emily Botten says that while most professors on campus impacted her, one was particularly impactful. It was Professor Michael Abler, whom she had for a genetics class her second year of college, but also helped set her on a career path.
"I remember my junior year being in a mid-college crisis, doubting the path I had chosen and where it would take me," Botten recalls. "I went to Dr. Abler with my worries. He sat down with me, and we discussed the endless options that I would have post-graduation."
After graduating, she asked Abler to write a letter of recommendation.
"Not only did he write the letter, but he was so encouraging along the way," Botten explains. "The college experience can be really tough at times, but it goes so much smoother when you know you have someone on your side."
With COVID hitting when she graduated, Botten, like most, didn't know what the future held. Working as a CNA, she heard Wisconsin history and memories from patients. It bolstered her strong connection to the state.
"Today, I work with research that is critical to Wisconsin residents' health and safety, and I could not be prouder to be doing so," she says. "Not only do I get to have a positive impact on the global pandemic, but also on issues that are hyper-endemic to my community, such as Blastomycosis and Lyme disease."
Botten was fortunate to learn in the Prairie Springs Science Center during her junior and senior years. Cowley Hall offered uncomfortable labs and classrooms with outdated equipment and crammed space.
"Cowley Hall has a lot of history behind it; however, PSSC has state-of-the- art labs and equipment that encourage students to be fully immersed in their education, better preparing them for a career," she explains.
Botten chose UWL because of its excellent science curriculum. Eventually, she fell in love with the area.
"I love the outdoors, so the Driftless Area was perfect," she says. "La Crosse is a beautiful city with so much to offer."
Mighty mentors
DeShaney says UWL prepared her for the workforce
Jenna DeShaney, '18
Hometown: Appleton
Major: Geography with Environmental Science concentration
Currently: Environmental scientist at Westwood Professional Services, Appleton
Jenna DeShaney had two stellar mentors at UWL: Professor Colin Belby and Associate Professor Gargi Chaudhuri — both in the Geography & Earth Science Department.
They not only taught her important skills, but also mentored her through internships and Geographic Information Systems.
"Dr. Chaudhuri guided me in the right direction and gave me opportunities to think critically and independently," DeShaney explains.
Belby mentored her during a research trip to the Spanish Virgin Islands.
"I learned a lot from him throughout the trip when we collected data, as well as throughout the semester when we analyzed the data for the final publication," DeShaney says.
She took two internships, allowing her to apply what she learned in class and think independently. "UWL prepared me for the workforce by incorporating appropriate lessons, skills and technology to the classes," she explains.
DeShaney stayed in Wisconsin to pursue a master's degree at UW-Green Bay. After being offered a position at Westwood as an environmental scientist, she was excited to stay because it's where she grew up, her family was nearby and she enjoys the state's beauty.
DeShaney says UWL offers great opportunities for students. "From high-quality education to extracurricular activities to internships, the opportunities are endless," she notes. "Plus, you can't beat the views of the bluffs."