Posted 1:47 p.m. Monday, Aug. 17, 2020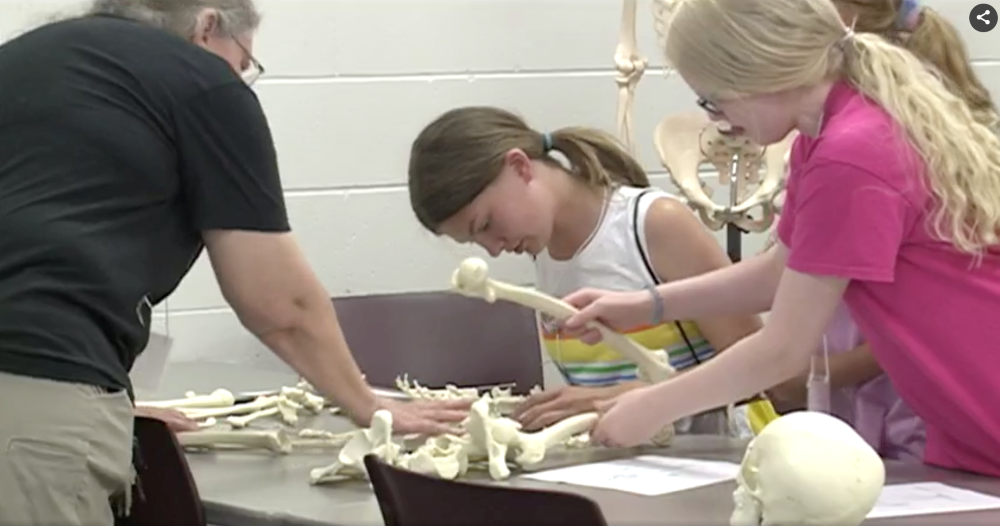 Dozens of faculty, staff, students join to teach summer camps at UWL
UWL faculty, staff, students and community came together in June to bring area youth hands-on learning experiences in math and science.
The 2019 Girls in Science and Boys' Science Exploration Camps were held June 19–20 at UWL. This marked the 21st year for the girls' program and the 9th year for the boys' program.
Children entering grades 6–8 participated in the camps, which aimed to encourage interest in science and math through a variety of activities. The girls and boys worked with UWL faculty and staff in hands-on experimentation, investigation and involvement in the fields of math and science. Susan Kelly, Ph.D., Mathematics and Statistics, directs the program.
Faculty and staff who taught and helped this year:
Instructors:
Peg Maher, Ph.D., R.D., Biology, Food is Fuel and Munch, Munch More!
Jennifer Docktor, Ph.D., Physics, It's Electric!
Sumei Liu, Ph.D., Biology, Junkyard Digestion
Nick McGrath, Ph.D., Chemistry and Biochemistry, Making Nylon and Polystyrene: The reactions that keep going, and going, and going…
Basudeb Bhattacharyya, Ph.D., Chemistry and Biochemistry, Cracking the Code: The Amazing Story of DNA!
Kelly Gorres, Ph.D., Chemistry and Biochemistry, Cracking the Code: The Amazing Story of DNA!
Heidi Masters, Ph.D., Educational Studies, Reaction Time!
Kendric Nelson, Ph.D., Chemistry and Biochemistry
Faye Ellis, M.S., Biology, Crime Scene Investigation: The Case of Jason Worth
Seth King, Ph.D., Physics, Roller Coasters
Samantha Foley, Ph.D.,Computer Science, Talking to Computers: How the Internet Works
Huiya Yan, Ph.D., Mathematics, Get Exposed to Applications of Elementary Number Theory in Cryptography
Connie Arzigian, Ph.D., Archaeology/Anthropology, Making Bones Speak
Teaching assistants:
Signe Aspengren
Elise Baumgartner
Ricky Cheng
Larry Cheng
Natalia Draghiccio
Mason Faldet
Trevor Geerdis
Mitchell Splainter
Gabrielle Travers
Jalissa Weier
The Office of Extended Learning, with special thanks to: Milandrie Wakim, program manager; Karen McGarvey, program associate
Scholarships were offered to middle school students in Holmen, La Crescent and Onalaska Middle Schools. Funds were provided from: Gundersen Health Care Grant • UWL Extended Learning Excel funds
Also, a special thanks to sponsors:
Gundersen Health System
Ingersoll Rand
UWL Extended Learning
UWL College of Science and Health
Mississippi Valley Gifted and Talented Network
Mississippi Valley Archaeology Center
Trane
Check out these new articles
Youth program scholarships~~ April 8, 2019, UWL Campus News
Future engineers learn problem solving skills ~~ June 20, 2019, WXOW.com
Science camps keep kids learning in the summer~~ June 20, 2019, NEWS8000.com (WKBT)
Students conduct experiments, get first taste of college at UW-La Crosse science camp ~~ June 20, 2019, La Crosse Tribune