Posted 4:01 p.m. Thursday, April 27, 2023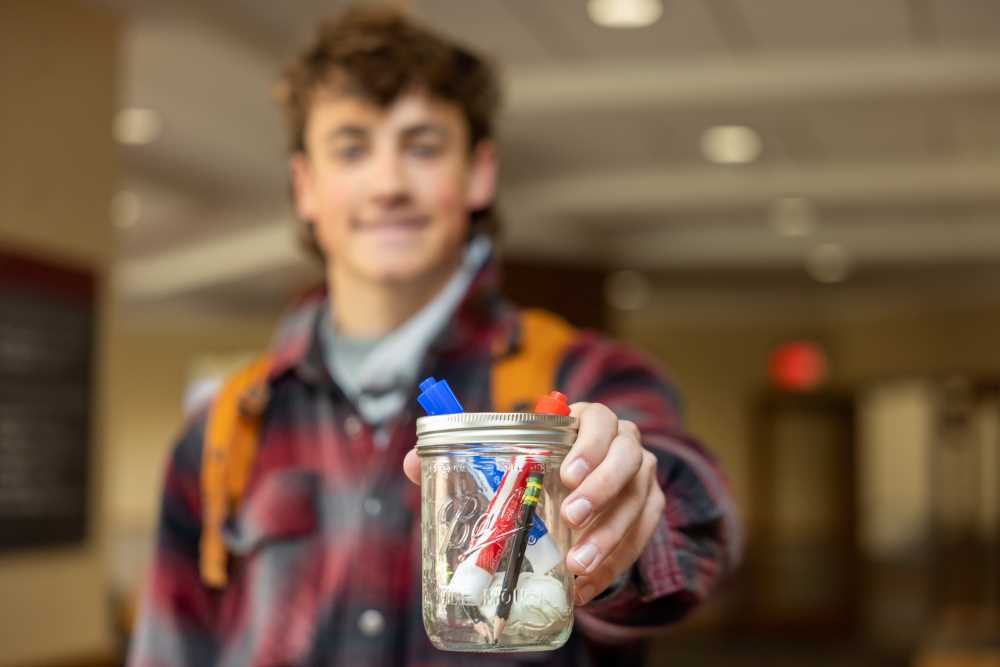 Project challenges students to share their truths, build community through vulnerability 
Typically, art exhibitions are filled with paintings on walls and sculptures on pedestals. We can ponder artists' intensions, but we have no way of seeing inside their head.
A combined UWL art history and history class is inviting the public to come on inside — opening up and sharing what's on the artists' minds.
The class is displaying mason jars in exhibits across campus through early May. Each jar is filled with objects that are personally important to the student creator and tell a personal story about them. Accompanying the jars are Moleskines, or notebooks with entries explaining the significance of the objects.
To fill their jars and journals, students have received prompts throughout the course such as "Who are you? Tell us by filling this jar," "What is your beautiful remedy," and "What does your future hold?"
Inside UWL sophomore Isaac Olson's jar are some fishing lures, a hunting knife, and a handwritten note from his grandfather who died in spring of 2022, among other mementos. The jar, as he explains in his journal, is representative of his hobbies and the deep value he has for family. His immediate family members are living all over the world, but they have always been tight.
"Family plays a huge part in my life. If I called any of them in the middle of the night, they would pick up," he says.
The exhibit offers an understanding of deeper truths about each other that are otherwise difficult to see. It helps us to realize that, even in our uniqueness, we have similarities and can cohesively function as a society, he says.
"At the core root it is about human's being vulnerable," says Olson. "In American society, we don't show emotions. We don't show how we are feeling. Up until lately, mental health wasn't talked about. This is a good way for people to be vulnerable in public and show people they are not alone. It is not to say you are not unique, but you are not alone."
This interdisciplinary, community-engaged class project was created to provide students with hands-on experience in professional exhibit planning and design, curation, management, K-12 and community programming, explains instructor Sierra Rooney, an assistant professor of art.
"We hoped students gained career-readiness skills that will set them up for future successes in the museum field and beyond and learn the value of interdisciplinary collaboration," says Rooney. "But we were absolutely floored by the creativity, insightfulness, and professionalism students brought to the project. They showed us what was possible."
See the jars on campus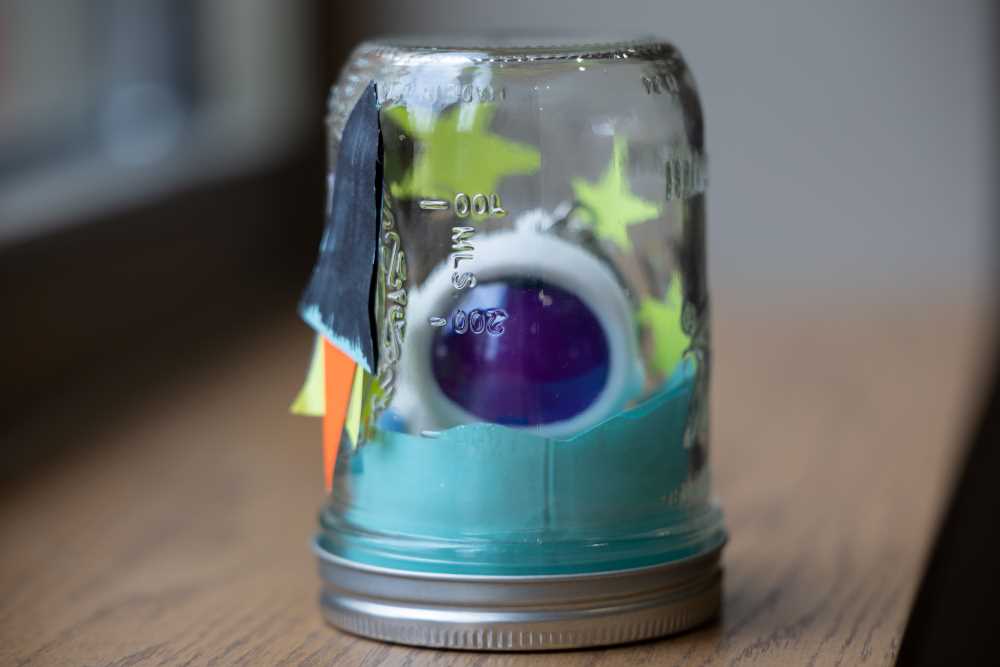 The jars will be exhibited throughout the UW-La Crosse campus through Friday, May 5. Locations include:
Center for Arts, Lobby
Student Union, Outside the COVE
Murphy Library, First Floor
Cleary Alumni & Friends Center
'What does your future hold?' in a jar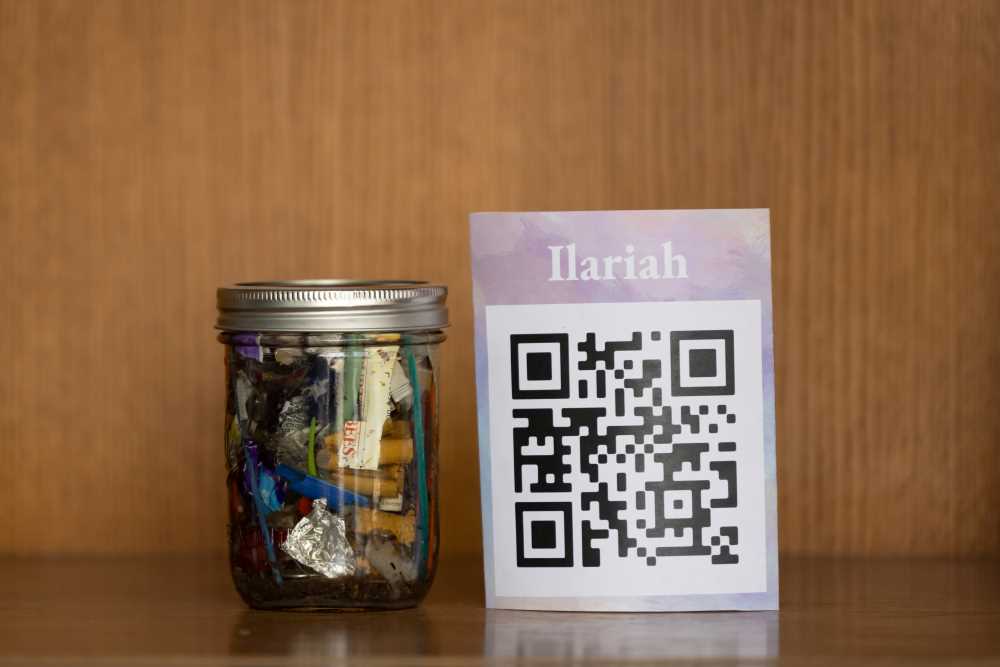 UWL student Ilariah McAnally filled her jar with water, as well as candy wrappers, gum, cigarette butts, plastic soda caps and other garbage. She said her future was inseparable from the larger environmental problems on Earth.
Excerpt from McAnally's writing about the contents of her jar:
"When I was first designing my jar, my thoughts kept focusing on the bigger picture: The Earth. How can I think about what the future holds when there might not be a future in the first place? There's a lot of aspects to focus on with the state of the Earth, like climate change and forest fires. My mind, however, went straight to where it often starts, the main source of life: water. We don't realize how much damage humans make to the water systems until it becomes an issue. Flint Michigan is infamous for its lead-poisoned water. An island of plastic floats in the ocean ..."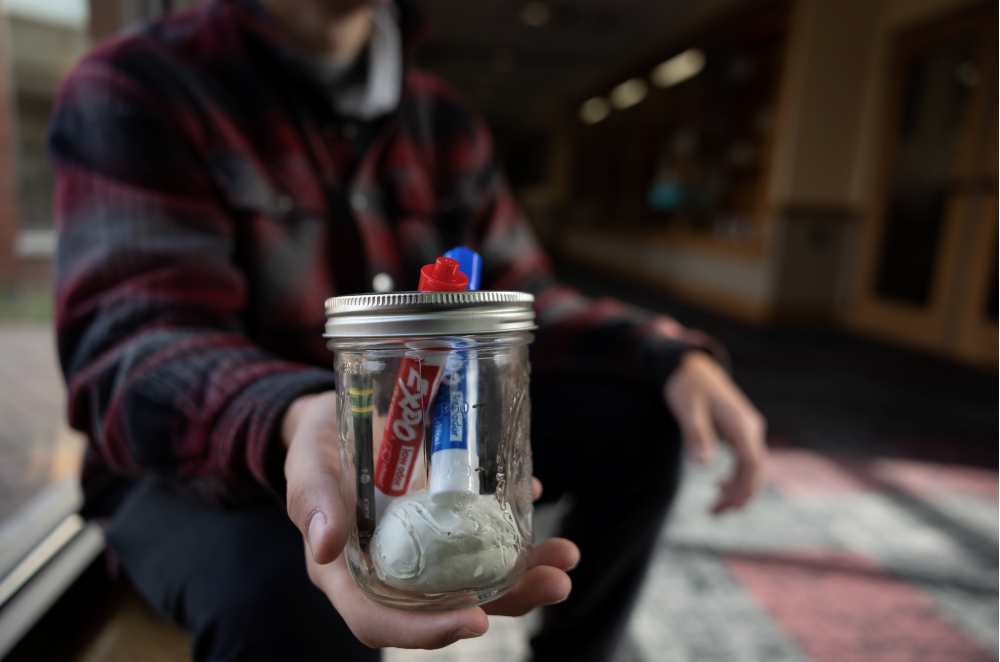 Olson, a history major who aims to become a high school social studies teacher, placed a brain created out of sculpted clay, some pencils and expo markers in his jar. He's excited to influence kids to make good decisions and watch them grow. The project has made him more aware of other's inner struggles and the value of vulnerability — even for teachers and students.
"In high school I had friends that were dropping off, but it went unnoticed. I want to create as opening and welcoming of an environment as can in the school building. I never want kids to feel like they can't come to me and explain what they are going through."