Biochemistry
program
Undergrad major
Learn the chemistry behind living things.
Biochemistry is the study of molecules used by living things, as well as how these molecules can be used to develop new products and solve problems. As a biochemist your future could be in the growing biotechnology industry or in graduate or professional school in areas such as pharmacy or medicine. Biochemists have the knowledge and skills to take these diverse directions and many more.
UWL's biochemistry major is accredited by the American Society for Biochemistry and Molecular Biology, which allows the program to offer a prestigious ASBMB-certified bachelor of science degree in biochemistry. UWL biochemistry graduates often find themselves choosing among several good job offers. They are also highly attractive to graduate and professional programs.
My four years at UWL prepared me for a wide variety of options. Between research, lectures and lab, I gained valuable experience in many settings and developed time-management strategies that remain critical to this day.
Andrew Brownfield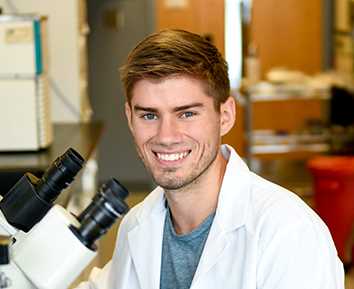 Biochemistry jobs
Many biochemistry students pursue careers in the health professions, biotechnology industry or government laboratories, working in areas such as drug design, vaccine development, biological assays, and protein or genetic engineering. Employment surveys show that biochemistry majors are the primary candidates recruited by biotechnology companies. Biochemistry graduates also may continue their education in doctoral programs.
Chemistry-related occupations and chemistry-related industries are projected to grow in the state, according to the Department of Workforce Development.
Entry level
Analysis/testing as a laboratory chemist or biochemist
Management trainee
Pollution control
Production control
Quality assurance chemist
Research technician
Sales representative
High school science teacher (with teacher certification)
Advanced
Chief project biochemist
Director of research and development
Industrial administrator
Plant manager
Production control manager
Research and development biochemist
What is biochemistry?
Biochemistry is the chemistry of biology. It is one of the five main subdisciplines of chemistry. A biochemist explores chemical processes within basic biological systems. Biochemical research has provided a more comprehensive understanding in regenerative medicine, infectious disease, organ/tissue transplantation, clinical diagnostics and genetic disease.
What distinguishes UWL's Biochemistry program?
Prestigious ASBMB-Certified B.S. degree in biochemistry
Student scholarships available
The Department of Chemistry and Biochemistry awards student scholarships annually to support returning undergraduate students in the major and graduates of the program who are entering a professional program in the basic sciences and/or health professions.
Undergraduate research opportunities
Students have numerous opportunities to get involved in cutting-edge chemical, biochemical, and educational undergraduate research projects. In 2019-20, the Chemistry & Biochemistry Department had the highest percentage of students participating in undergraduate research at UW-La Crosse. Summer undergraduate research fellowships are also available to conduct research with a faculty member. Learn about the research interests of faculty.
Preparation with technical and soft skills
Students are given broad preparation with both technical and soft skills. This leads to graduates who are flexible and creative problem solvers who can adapt and thrive as their career advances. Students gain real-world skills including:
Problem solving
Collaboration and teamwork
Independent learning
Data organization and analysis
Mentoring
Project management
Clear and concise writing
Public speaking
Experiential learning opportunities for all majors
Students gain 300 hours of hands-on, practical laboratory experience with specialized scientific equipment.