Exercise and Sport Science
program
Undergrad major Teaching/Certification Graduate program
Do you want a career in sports management, fitness, physical education, adapted physical education or school health education?
UWL's Exercise and Sport Science Department has a more than 100-year history of preparing professionals for these careers and related fields. The program has earned an international reputation and students gain hands-on experience working alongside leading researchers.
Each student in the program is assigned a faculty adviser to assist with academic and career decisions. Students can focus their major on one of three emphasis areas: physical, adapted or school health education teaching; sports management; or exercise science. The exercise science emphasis is specifically designed to prepare students for careers in fitness, health, and related fields, and they can choose a fitness track or pre-professional track.
My time here at UWL has been nothing short of amazing. I am happy to call this beautiful city my second home.
Hannah Schwartz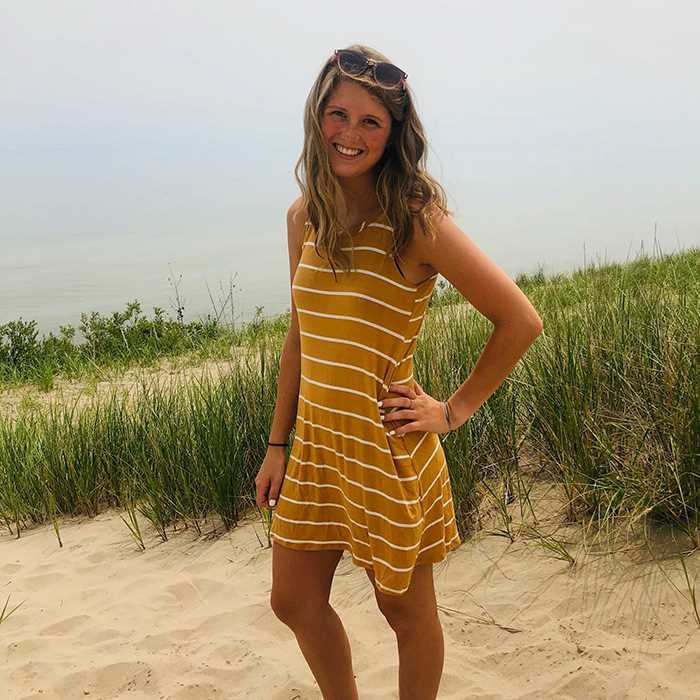 Exercise and Sport Science jobs
UWL's Exercise and Sport Science Department prepares graduates for diverse careers worldwide related to exercise and sports. Whether your interest is in sports management, teaching, coaching, fitness, medicine, or therapeutic exercise, program faculty are committed to helping you achieve your maximum potential.
Teach: Graduates of the Physical, Adapted, and School Health Education Teaching program are prepared and licensed to teach K-12 physical education, adapted physical education, and school health education in Wisconsin, nationally, and internationally. Supply exceeds the demand for physical education, adapted, and school health teachers, and graduates of the UWL program are highly sought after.
Work in the fitness industry: Students who select the Exercise Science Fitness Track are prepared for employment in the fitness industry including positions in fitness testing/assessment, program design, and instruction in a wide variety of fitness-related areas. Students are also prepared to enter a variety of graduate programs including fitness, health, human performance, and related areas. Internship sites and employers nationwide seek UWL fitness-emphasis majors including U.S. Olympic Training Centers.
Find a career in sports management: Students who select the Sports Management emphasis become highly-trained managers who find success in a variety of careers within the sport enterprise. Most graduates are employed in the field, including positions in professional sports, athletic clubs, golf/tennis clubs, fitness centers, marketing directors, sport merchandising, university recreational sports and athletics programs, facility management, swim fitness instruction, and YM/YWCA leadership positions.
Positions
Activity specialist
Aquatics specialist
Coach
Exercise/fitness specialist
Health/fitness club program director
Industrial/corporate health promotion
Personal trainer
Physical education teacher (with teacher certification)
Sports director (youth or adult)
Strength and conditioning specialist
Ticket sales and service representative
Athletic communications and events coordinator
What is exercise & sport science?
Exercise and sport science is the study of human movement as it relates to exercise and sport. Study ranges from how the body works at the cellular level to the broad, overarching activities and sports that can become a prescription to promote health and improve performance.
What distinguishes UWL's Exercise and Sport Science program?
Strong reputation
The UWL Exercise and Sport Science Department has been designated a Center of Excellence by the University of Wisconsin System. In addition to providing quality undergraduate preparation, the center provides expertise to faculty and practicing professionals in Wisconsin and throughout the nation through graduate and continuing education.
Internationally-respected faculty
Professors are well-known in the industry and have conducted hundreds of exercise-related studies in collaboration with the American Council on Exercise. UWL professors have consulted with Olympic coaches and frequently serve as sources on exercise and fitness topics in national news.
Students have close connection to faculty
Each student is assigned a faculty adviser to assist with academic and career decision. Also, students will learn from faculty instead of teaching assistants.
Hands-on experiences
The program's highly acclaimed "learn by doing" reputation is enhanced by providing students with hands-on educational experiences in their area of choice. Students have many opportunities to get involved in undergraduate research projects, internships, and other professional activities.
Top facility in the Midwest
UWL has one of the finest physical education, exercise science and sport facilities in the Midwest. Indoor facilities include gymnasiums, gymnastics area, dance studio, wrestling room, strength training centers, racquetball/wallyball courts, and swimming pools, a 200-meter track, 12 volleyball and badminton courts, six tennis courts, an indoor climbing wall, and high ropes elements, well-equipped athletic training room, and anatomy-physiology and human performance laboratories. Outdoor facilities include softball, baseball, soccer, general purpose fields, and the high ropes challenge course, Marsh Quest.
Sports Management program follows national guidelines