Russell G. Cleary Distinguished Business Leadership Series
A page within Center for Entrepreneurship & Innovation (CEI)
This lecture series honors Russell G. Cleary who attended UWL from 1951-54 and earned the Graff Distinguished Alumni Award in 1980. Cleary built La Crosse's Heileman Brewing Company into one of the largest breweries in the country. In addition to numerous other awards, he was named Executive of the Year by Corporate Report Magazine in 1980. Cleary, a strong supporter of UWL, was committed to serving the La Crosse community.
2016 Distinguished Guest Speaker
John P. Morgridge, Chair Emeritus, Cisco Systems
October 20, 2016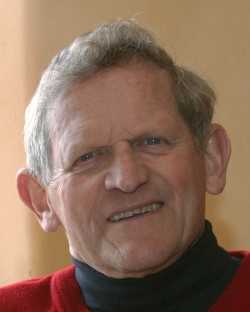 portrait of John P. Morgridge
When John Morgridge joined Cisco Systems as president and CEO in 1988, the company was a four-year-old start-up with only 34 employees. Morgridge led the company through a period of spectacular growth, making Cisco the undisputed world leader in networking for the Internet. In over a decade as Chairman, Morgridge made Cisco hardware and software the essential components in the computer networks of business, government, education and industry. By the time he retired in 2006, the company employed more than 50,000 men and women in 77 countries. Morgridge created a unique company culture of innovation, empowerment and corporate citizenship, fostering the community involvement of Cisco employees.
Morgridge has also championed innovative e-philanthropy programs, such as Netaid.org, a global partnership with the United Nations Development Program, designed to ght extreme poverty. Since retiring from Cisco Systems, John Morgridge has continued to focus on charitable efforts in education, conservation and human services. He served as chair of the board of the Nature Conservancy and Wisconsin Alumni Research Foundation (WARF) where Russ Cleary was also privileged to serve.
Mr. Morgridge addressed the public, students, and faculty, on October 20, 2016, on the significant roles of education, infrastructure and research in advancing economic and social development.