Posted 11:50 a.m. Thursday, March 9, 2023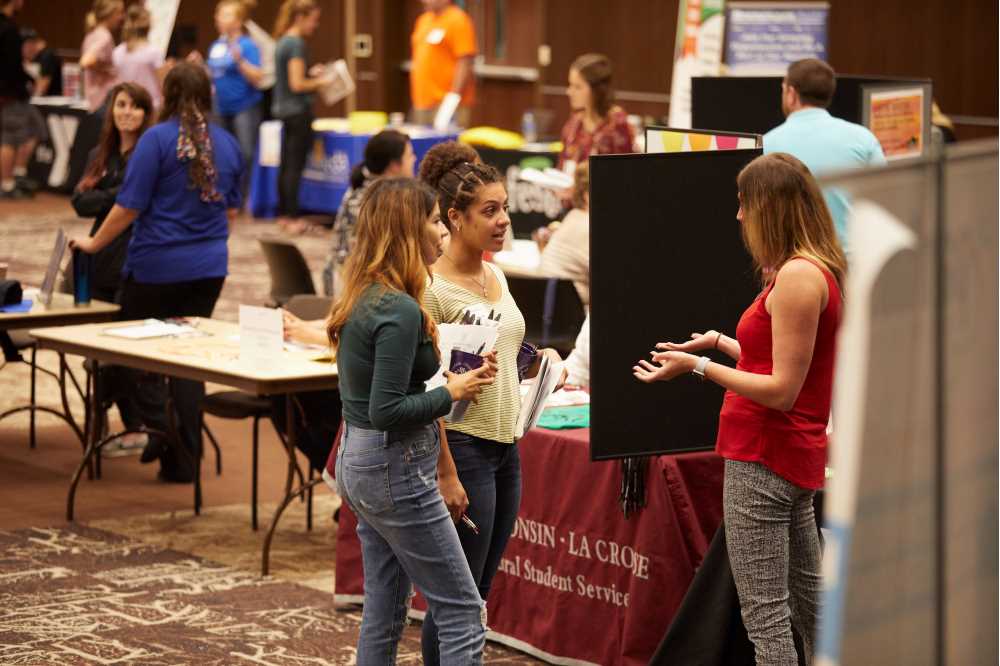 What to consider as you search
Summertime is getting closer. That means sun and relaxation — and likely a summer job. If you're just starting to think about summer work this spring, you're on the right track.
Don't miss UWL's Summer & Part-Time Job Fair from 10 a.m.-2 p.m. Wednesday, March 29, 2023, in The Bluffs, on the second floor of the Student Union.
Matt Gordy, career development coordinator for UWL Career Services, helped answer some common questions below to help guide you in your search.
When should I start looking for a summer job?
Late March is the perfect time to start looking for a summer job or internship. By April, students should be aggressively looking. If you are looking in the early spring, but you can't start until May or June, be transparent with employers about your timeline for starting to work.
With a strong job market, students will likely find many opportunities for work in summer 2022. Capitalize on demand by asking about specific job opportunities or the flexibility you need.
What is the best way to find a summer job?
Learn about resources at your school for finding careers, part-time, summer jobs, or internships. Is there an office with staff who could help? Is your school planning any job or career fairs? Job fairs are an excellent opportunity to make in-person connections and practice presenting yourself and your skills to others. The UWL Academic Advising Center & Career Services is located at 1209 Centennial Hall. Staff there can help with job or career-related questions for UWL students.
Current UWL students also have access to Handshake, an online resource with thousands of internship and job postings. Log into Handshake to be walked through a series of steps to set up a profile. An algorithm will help connect you to openings that match you, your interests, or your major. Alumni also have access to UWL's Handshake (alumni can contact UWL Career Services to sign up).
In addition, there is no shortage of job search engines to complement your school's online resources, such as Indeed.com.
How do I network at a job fair?
Job fairs traditionally have a lot of employers, so you won't have time to talk to everyone. Scope out the scene ahead of time — looking at the employer list online or a map that you receive at the event. Who are the top five to 10 employers that you really want to talk to? Go to those tables first. If you are interested in a specific opportunity such as a marketing part time job, ask the employer what opportunities are available in that area. The worst thing that can happen is getting a "no" reply. In the meantime, you are benefiting from practicing your networking and communication skills with employers.
What are common types of summer jobs?
The variety of types of summer jobs is too large to have a list. Look for the type of work you want. Common summer jobs are:
Summer camps
Parks & Recreation
Truck driving
Lifeguarding
Childcare
Retail
Manufacturing
Stocking warehouses
Marketing, communications and social media
Human resources

Accounting
Other administrative work
What should I consider when looking for a summer job?
This varies depending on who you are. Consider what you are looking to get out of the next three months.
The work you choose should align with your individual needs. It may need to check several boxes to get a good return on your time investment. You want to know your summer was well spent and you achieved what you set out to do.
What are you looking for?
Money to pay for college
A break for your brain
Something to fit a busy schedule
Skills that align with your current major or future career. The job doesn't need to be an exact match. Ask yourself, "How does the job relate to your field or developing skills for that industry?"
Other?
Should I get a job near home or school?
You may want to consider:
Is saving money important to me? If so, and being at home means that guardians would be helping to pay for things like food, a job near your hometown could be a smart choice.
Where do I want to live after graduation? You want to put yourself in the place geographically that is to your advantage. If you are planning to live in the La Crosse area or near your hometown post-graduation, from a professional networking standpoint, it would be valuable to be in the area you will be working in the future. That way you'll be growing your professional network in the right area. And networking is important. Some surveys show up to 85 % of jobs are filled via networking.
How to write about a summer job on a resume
The No. 1 practice for students is to not just have one resume. Always write a resume tailored to the job position. Print off the job description and highlight all required/recommended skills you have and can prove it. Then, connect those to courses taken and summer and part-time jobs.
If your summer job helps check some boxes, that's great. If it doesn't, don't feel compelled to include it in great detail on your resume. For instance, a job might be a single bullet point under an "other employment" section. Simply including it with the dates shows that you were employed for a period of time and were able to support yourself.
Since you are not going to include every experience on every resume, it is a good idea to have a "living resume" as well. This is basically a document with every type of skill you've grown throughout all of your work and school experiences. This is a space to store your memories of the skills you gained, as well as dates and timelines to pull from as needed for different positions. Dates and timelines can be hard to remember three or four or more years down the road.
Is a summer job worth it?
Yes. Many of us need a summer job to help pay for college and expenses. Not only that, a job will help you gain experience — even if it doesn't tie directly to your future work.
What is the difference between a job and an internship?
From a student perspective, an internship is about developing skills for the professional world. The employer is agreeing to a set of standards or curriculum that will help the intern grow while getting a company need met. Internships can be paid or unpaid, typically for a set period of time. While the word "internship" can feel formal and scary, it is really about you and the employer crafting something where both sides win.