Posted 3:09 p.m. Wednesday, June 30, 2021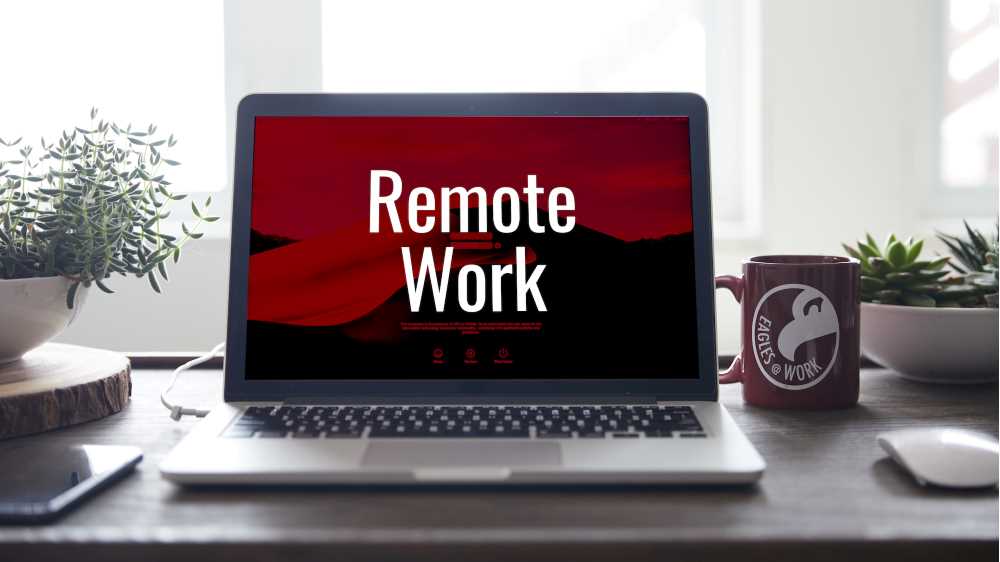 UWL expert explains telecommuting benefits, challenges and the future of work
Up to half of the American workforce is now working from home. A grand social experiment is underway as employees log in to Microsoft Teams, Zoom and other video conferencing tools to begin the remote workday from their bedrooms and basements. Such a rapid change in the way people go to work raises the question: What does this mean for the workforce long-term?
Although no one can predict the future, the shift to telecommuting has cleared some of the muddy waters that have long held employers back from embracing it. For one, employers have learned that working from home is possible for many employees. They can become adept at using the tools and technology to do it, explains Christa Kiersch, University of Wisconsin-La Crosse associate professor of Management. Still, whether this trend will take hold and transform the workforce is left to tell. Below Kiersch helps answer some of the common questions surrounding the unanticipated virtual shift.
Will work

from

home become the new norm

?
Kiersch says it is a safe bet that more flexible work arrangements will be happening worldwide post COVID-19 than before it. That is because many employees and companies are seeing some benefits.
T

he majority of

people worki

ng

from home don't want to

go

back full time

.

They want the flexibility of where and how they work.

PwC surveyed 120 U

.

S

.

executives from public and private companies, as well as 1,200 U

.

S

.

office workers from a range of industries. The surveys found that

8

3

% of office workers want to work from home

at least one day a week, and

55

%

of

employers

anticipate that most of their workers will do so long after COVID-19 is not a concern

.

A

separate

large-scale survey from Slack

found

72 % of knowledge workers surveyed prefer a mix of remote and office work

. Others were split between working exclusively in the office or exclusively at home.

Slac

k

is

a

n online business communication platform,

which

would

potentially

benefit from more remote connections

.

So

Slack

as a source could have potential bias.

C

ompanies

that have made a planned switch to virtual and reduced their physical footprint

are

like

ly recogn

izing

the financial

saving

s of employees working from home.

Stanford

Economist

Nicholas Bloom

sum

s

up

the cost savings

found by

a Chinese travel

company

pre-pandemic

in

this

TED talk

.



What are the benefits of work from home?
Mounting research pre-COVID-19 shows the positive benefits of telework. Studies have found outcomes like improved productivity, retention and cost savings. But this research was all conducted pre-pandemic when telework was optional, most people were telecommuting only some of the time, and employees weren't faced with the added responsibilities and stressors of the pandemic such as supervising children during the workday. So benefits pre-COVID-19 can't be applied to the current situation where many employees are mandated to work from home all the time, explains Kiersch. Still the research could be applied to a post-pandemic environment where telework could again be optional, less frequent and without added family-related responsibilities such as childcare.
Studies demonstrating the benefits of telework pre-COVID-19
Challenges w

ork

ing

from home

during COVID-19
During a pandemic, telework looks different. Instead of being a choice, it is often mandated. Instead of being a couple days a week, it is happening all week long. Often employees are also juggling home responsibilities such as teaching and childcare. Workers may have more difficulty separating work and home responsibilities, which can make work-life balance even worse. Others are feeling increasingly isolated away from the social life that work can offer. The challenges for employees have brought a heightened attention to employee health/safety and wellness.
Also, some simply can't work from home, widening inequalities within the workforce. COVID -19 has brought issues of economic instability and job insecurity.
All these factors add up to moving from positive benefits of telework into negative territory. Standford Researcher Bloom sums up why COVID-style of working from home is not effective.
How can we thrive in this new norm of telecommuting?
While studies pre-COVID-19 show the benefits of telework, it is also clear that it doesn't work if the company culture doesn't support it and if managers don't know how to manage in the virtual environment. Managers may feel lost during the pandemic as they were unprepared for the shift to virtual and/or they may worry that teams are distracted at home or not getting as much done.
Kiersch says many companies (probably unintentionally) won't realize the benefits of telework if they don't establish the culture, norms, and employee development needed to make it work. Pre-COVID, many companies had a stigma against telework, lack of trust of employees teleworking, lack of employee training for technology or virtual communication, lack of manager training, and more. Without these supports, telework won't be successful. Yet, the research suggests it's worth the setup because the payoff can be huge.
Employers should also aim to find the right balance of remote work for their employees as the COVID-19 style of exclusive telecommuting (all day, every day) often isn't a good fit for employee wellbeing or performance. Also, creative and collaborative teams can suffer with no opportunities for face-to-face interactions. For teams learning how to do work in a virtual environment, Kiersch advises:
Magnifying best practices for teamwork:
Foster open and transparent communication
Set clear purpose and goals
Create clearly assigned roles and expectations
Shift thinking on the best way to get work done:
Focus on work outcomes vs. input of a specific amount of time.
Question assumptions that the virtual work environment needs to mimic the in-person environment. For instance, an hour long in-person meeting does not need to be replaced with an hour-long meeting on Zoom. People don't effectively engage in conversation for the same amount of time and quality of communication when they are virtual vs. face-to-face.
Re-navigate work-life balance. During the pre-COVID environment, the suggestion to improve work-life balance was to maintain stricter boundaries between 'work' and 'family/life' hours. If you are able to do that successfully, then you're better off. However, during the pandemic, that type of separation hasn't been possible for a lot of people.
What can we learn from this massive experiment?
The pandemic provides the opportunity to question a long-held assumption that people need to be in the office during a set time every day for work to happen. It was a ridiculous assumption given the type of work many people can do online, explains Kiersch. But we also have a lot of systems in place that make it difficult to make big changes. Still, Kiersch says we can expect some changes post-pandemic because society has been forced to rethink how we do work.