Curriculum
A page within Athletic Training

The academic program is 68 credits and requires 23 months to complete. The program begins mid-summer and continues for 6 semesters. The curriculum has strong components in athletic training and medical content, research, and clinical experiences. Students complete the program in a cohort with approximately 15 students per cohort based on quality of applicants and available positions.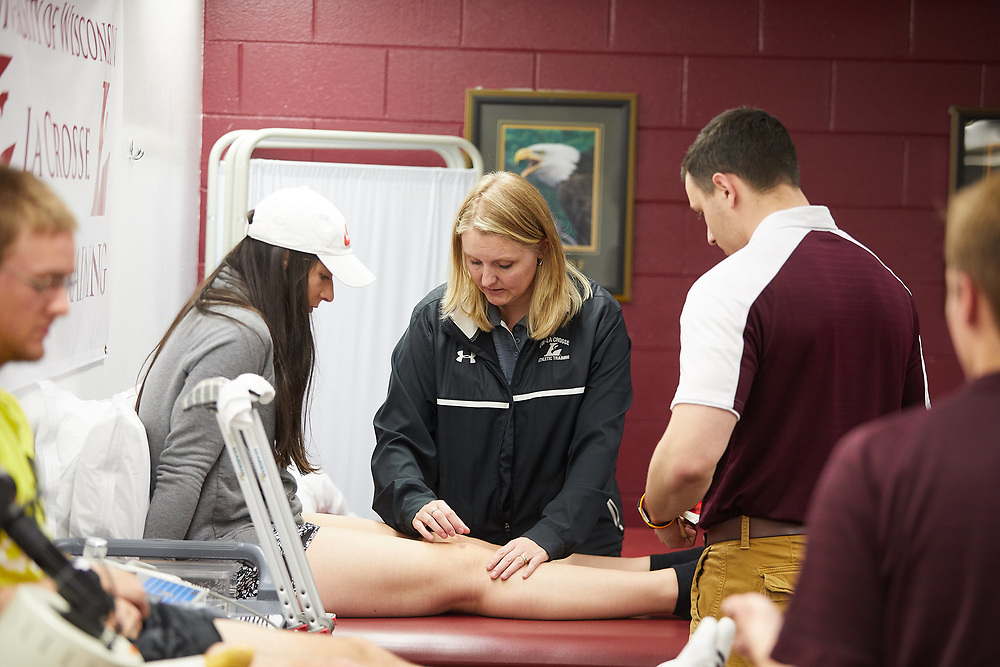 Student Outcomes

The ATP combines a strong classroom experience with valuable, supervised clinical educational opportunities. As such, the objectives of the ATP are:
Assemble a thorough knowledge base beginning in the classroom setting;
Provide students meaningful laboratory experiences to foster learning athletic training skills;
Complete clinical experiences with a variety of activities and patient populations;
Prepare students for the Board of Certification examination;
Develop professionals that abide by high professional and personal ethical standards, who value education and the importance of lifelong learning;
Contribute in a positive manner to the continued development of the profession of Athletic Training.
By keeping these objectives in mind, the ATP seeks to prepare students for an ever-changing job world.
Course Sequence
Year 1
Summer
2 cr ATS 740 Research Methods in AT
2 cr ATS 745 Statistics for Athletic Trainers
4 cr ATS 710 Emergency Care Principles in Healthcare
4 cr ATS 700 Professional Practice and Athletic Training Healthcare
12 cr
Fall 1
3 cr ATS 702 Functional Anatomy and Medical Physiology
5 cr ATS 712 Diagnosis & Therapeutic Interventions I
4 cr ATS 731 Athletic Training Clinical I
1 cr ATS 741 Athletic Training Research I
13 cr
Spring 1
3 cr ATS 704 Applied Neuroscience in Athletic Training
5 cr ATS 714 Diagnosis & Therapeutic Interventions II
4 cr ATS 732 Athletic Training Clinical II
1 cr ATS 742 Athletic Training Research II
13 cr
Year 2
Summer 2
3 cr ATS 716 Pathophysiology of General Medical Conditions
5 cr ATS 720 Lifespan Wellness and Conditions
2 cr ATS 722 Rehabilitation Psychology and Healthcare Sociology in Athletic Training
10 cr
Fall 2
3 cr ATS 718 Healthcare Administration
3 cr ATS 733 Athletic Training Clinical III
2 cr ATS 743 Athletic Training Research III
2 cr ATS 750 Athletic Training Readings
10 cr
Spring 2
6 cr ATS 734 Athletic Training Clinical IV
2 cr ATS 744 Athletic Training Research IV
2 cr ATS 750 Athletic Training Readings
10 cr
68 cr Total