Stay up-to-date with news from the Professional Studies in Education program. Get in touch with us to share your news and have it displayed below.
Reading Programs Director, Gary Whillhite, contributes
literacy article to the Teaching Today publication
Read more on Gary's article titled "The Science of Teaching Phonics?"
2018 Fall For Education - La Crosse Tribune Article
Michele Borba - Empathy
Michele Borba will be at our2018 Fall for Education Conference presenting on UnSelfie - Why Empathetic Kids Succeed in Our All-About-Me World
UWL ME-PD Graduate Named March 2018 Top Notch Teacher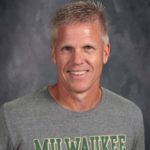 Congratulations to our ME-PD graduate, Larry Noll, for being named La Crosse area "Top Notch Teacher" for March. Larry is a long time physical education teacher at Sparta High School and understands the importance of student relationship building, a key building block of our ME-PD program. Keep up the wonderful work with your students Larry! Read more
Christopher Gleason - ME-PD Alumni 2002
Congratulations to our ME-PD graduate, Christopher Gleason, for receiving the Burth and Norma Altman Teacher Education Award!Instrumental Music Teacher, Patrick Marsh Middle School, Sun Prairie, since 2004. La Crosse Logan Middle School, 1999-2004; East Troy Middle School 1997-1999.
Founder, Kalahari Band Festival.
Semi-finalist for the 2017 Grammy Music Education Award; Wisconsin representative for National Teacher of the Year Award; Michael G. George Distinguished Service Award; Kohl Teacher Fellowship; Melvin F. Pontious Sparks in Music Education Award.
Masters of Education in Professional Development from UWL, May 2002
2017 Fall for Education Conference - WKBT News Article
The 20th annual "Fall for Education Conference" brings those working with children from preschool through 12th grade to La Crosse from across the state. The different breakout sessions are helping the attendees better understand, address and prevent the problems that many young people face.
Michelle Powell - Making a Difference - 2012 ME-PD Alumni
Congratulations UW-La Crosse ME-PD graduate, Michelle Powell, on being named July Top Notch Teacher! In Powell's bustling classroom, the lesson of the day is one in community. Read more about Michelle.... Top Notch Teacher
Jean Ruprecht - 2011 ME-PD Alumni
University of Wisconsin-La Crosse, College of Liberal Studies 2012 Excellence Award Recipient!
Jean is currently teaching 5th grade at State Road Elementary School in La Crosse, WI. She has taught in La Crosse since 1996 and in Chicago for three years prior to that. In 2008 she received a Top Notch Teacher Award and in 2011 she graduated with a Master of Professional Education Degree from UW-La Crosse. The title of her Action Research Work is "Differentiating Instruction in 5th Grade Mathematics." For the past two years, Jean has combined the challenges of graduate school, a full time teaching job, and parenting sons Robert and Charles. Billie Finco says that Jeanie's passion for learning is rooted in a desire to see her own students achieve at the highest levels.
Weston Glasbrenner - 2002 ME-PD Alumni
Recipient of the Presidential Award for Excellence in Mathematics Teaching!

Katy Smith - 2003 ME-PD Alumni
Minnesota Teacher of the Year 2011!

Bradley Markhardt - 2001 ME-PD Alumni

Markhardt meets with President Obama
Read Article >
---
2010 ME-PD Learning Community Conference - WKBT News

---