Posted 8 a.m. Thursday, Feb. 16, 2023
UWL police, international students build bonds through ice fishing
A wintertime tradition has brought UW-La Crosse police officers and international students closer together.
The two groups recently met for a day of ice fishing at La Crosse's Pettibone Park — a chance to build mutual trust and understanding, and for international students to experience a staple of Midwestern culture.
"The ice fishing program is a great way to introduce international students to a very popular Wisconsin activity," says Miranda Panzer, an international student and scholar advisor for UWL International Education & Engagement. "It is also a great opportunity to break the stereotypes of what international students may assume campus police are like based on the movies and TV shows they see prior to attending UWL. We enjoy helping build bridges between the international students and the greater La Crosse community."
Campus police had plenty of help introducing students to the art of ice fishing. Members from the UWL Fishing Club were on hand to teach students the basics, while Senior Executive Chef Robb Hanson, from the university's food service, prepared a classic Wisconsin fish fry for those in attendance.
Rene Faun, a junior biomedical science major from Malaysia, says she had never experienced anything quite like ice fishing. She described it as "10/10."
"As soon as I came to La Crosse, ice fishing was listed first on my bucket list. So I was elated we could have this opportunity with the UWL campus police," Faun notes. "Other than learning how to utilize the fishing equipment, my favorite part of it all was obviously the fishing itself. The joy of catching a fish at Pettibone Park was contagious and relatively easy."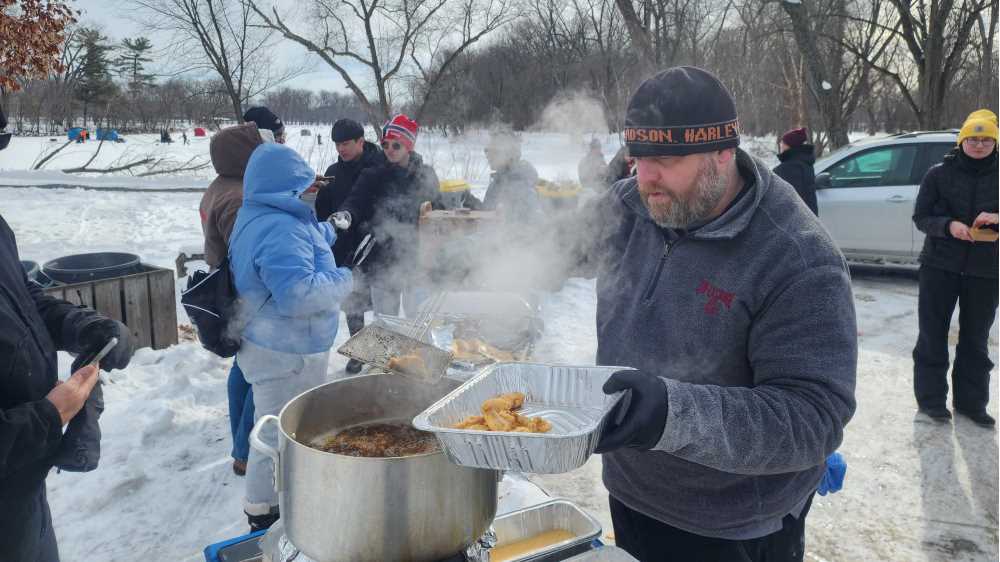 This was the second-consecutive year UWL police and international students met to ice fish at Pettibone Park.
In 2022, organizers had little time to organize and promote the event, and just two students attended.
But those students enjoyed themselves so much, Officer Dave Pehl says, that it was clear they were onto something.
"Those two had so much fun," he remembers. "We caught a bunch of fish, and by the end, we had to physically take the fishing poles out of their hands and tell them we were done fishing for the day."
Several international students attended this year's event, along with four police officers, five fishing club members, and a handful of friends and family members.
Pehl, who had dreamed about starting an event like this for years, says it can only be described as a success.
"The thing that I loved was how everyone came together to enjoy our time on the ice," he explains. "Even though we didn't catch many fish, it didn't matter. What mattered was that people were having fun, talking to each other, fishing, laughing and just enjoying themselves and the experience.
"I wanted to show them that they have nothing to fear and can trust us to be there to help whenever they need it. This was about building friendships, and I think we did that."