Posted 7:04 a.m. Thursday, May 25, 2023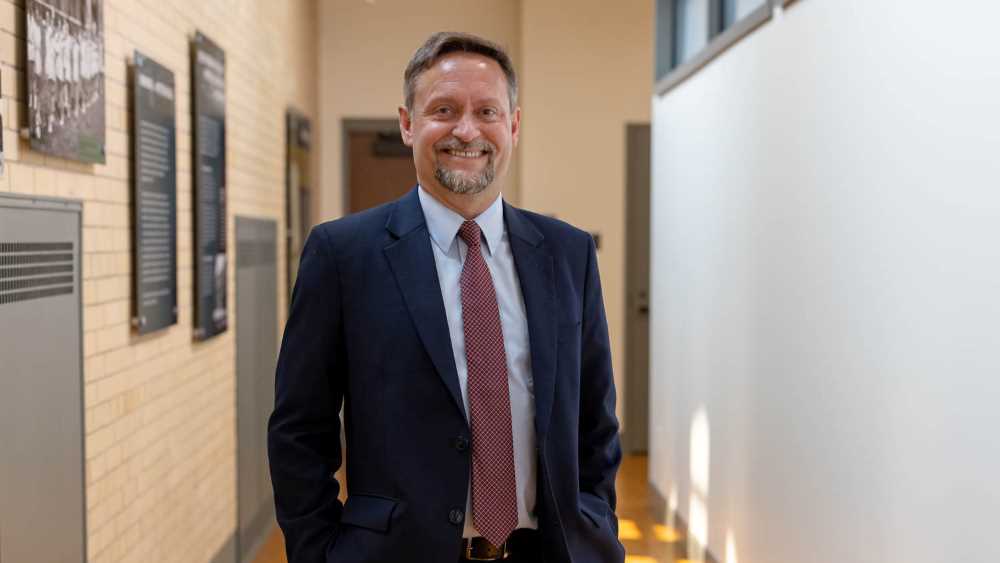 John Miller, '90, supports small businesses nationwide
John Miller began his career in a small Texas apartment, using an ironing board as a nightstand.
Today, he is the deputy associate administrator for the U.S. Small Business Administration's Office of Capital Access — responsible for managing the office's $500 billion portfolio of direct and guaranteed loans.
And it all started at UW-La Crosse.
"As a finance major, I got to know my faculty quite well, and I even became a finance tutor," says Miller, '90, who returned to campus in May to meet with local lenders and small business owners, and to tour the recently renovated Wittich Hall, which now houses the College of Business Administration.
"I really enjoyed my experience … and I think it made a difference to get involved with the faculty," he says. "My finance degree helped me get my first job with the Federal Deposit Insurance Corporation (FDIC), right out of college. I actually got the info from a UWL bulletin board."
Miller is the highest-ranking career official in the Office of Capital Access, which helps make capital available to small businesses throughout the United States through partnerships with banks and other lenders.
This assistance is critical to entrepreneurs seeking to grow their business, weather a rough patch or simply get their idea off the ground.
Never was this more evident than during the COVID-19 pandemic, when Miller oversaw the $800 billion Paycheck Protection Program (PPP), the $400 billion COVID EIDL Loan Program and the Restaurant Revitalization Fund.
During his visit to UWL, Miller had the chance to meet area business owners who benefited from these programs.
"We've heard from business owners who were emotional about how vital the capital was in saving their businesses and keeping their employees paid," he notes. "We had one individual not only on a PPP loan, but he also said the COVID EIDL loan made a difference in whether he could keep his business open. He didn't even go for the increased loan amount – he took just what he needed to stay open, and he was happy he did."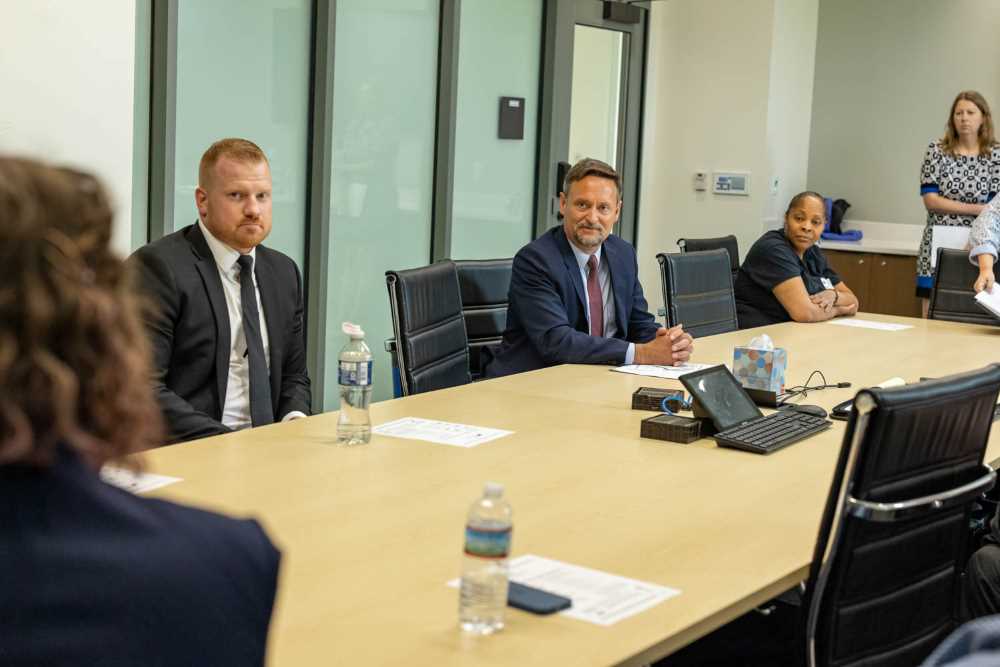 Supporting businesses in the Coulee Region is particularly meaningful to Miller, who was raised in La Crosse and still has a soft spot for this part of the country.
"I love the community. I love La Crosse," Miller says. "I'm an outdoorsman, and I grew up hiking the bluffs. We had a big family presence here growing up, a large family."
When it came time for college, UWL was an obvious choice.
It helped that UWL had a strong finance program, as Miller had long been interested in investments, stocks, bonds and banking.
While the program remains successful, Miller noted one significant change during his recent visit: the CBA's move from Wimberly Hall to the recently renovated, state-of-the-art Wittich Hall.
"This new building is incredible," Miller says of Wittich. "I was given a tour when I first arrived, and what a great learning environment and collaborative environment for students. I think it looks tremendous."
Miller's first job after college was with the FDIC in San Antonio. He remembers loading up his car with his few belongings and driving the 1,000-plus miles due south.
"It was a major culture shock," he says. "I moved into a one-bedroom apartment. My furniture consisted of an ironing board, which I converted into a nightstand while lowering it, where I'd sleep on my sleeping bag."
Three decades later, Miller is much more established in the furniture department — but he still holds tight to the passion that first inspired him to pursue a career in finance.
"I completely enjoy the people that I develop inside the agency … and the impact that we have on the nation and the economy and small businesses realizing their dreams," he says. "I lead a very talented executive team, and I pride myself on working with them to foster a culture of mutual support where we all assist each other in performing at our best and also selflessly bring up the knowledge of the entire organization. In doing so, we're able to run this office like a business and perform at a really high level."