Posted 8:24 a.m. Wednesday, Sept. 22, 2021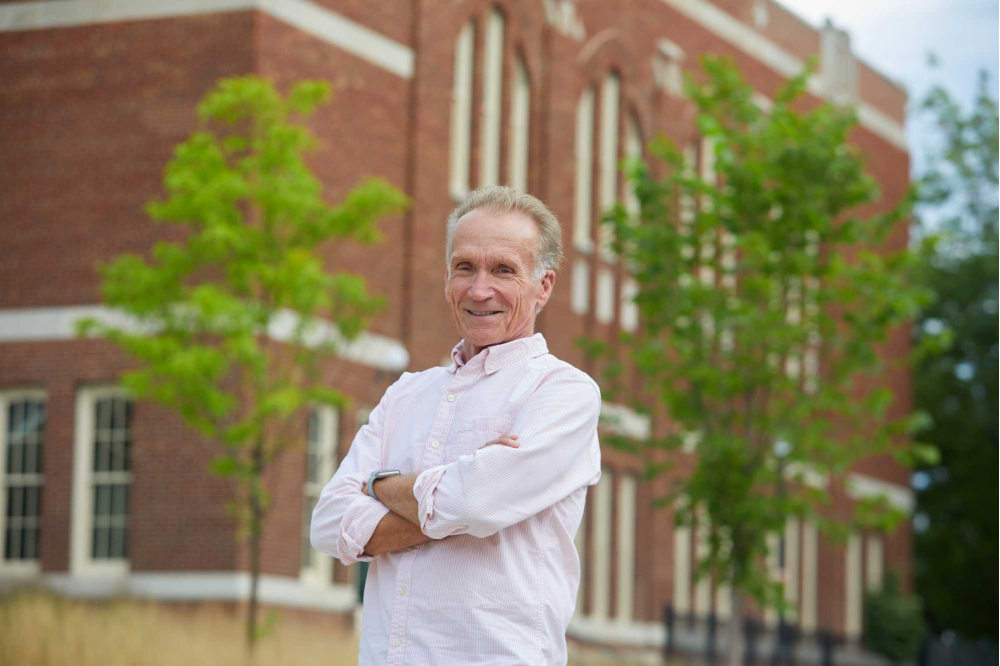 Ralph Heath to bring business knowledge to the classroom
When Ralph Heath was 12 years old, he returned from his first day delivering newspapers and proclaimed to his father: "I found 50 of my 54 customers. I only have four papers left over."
His father was not as impressed with his son's first attempt at customer service and told him to get back out there and find the remaining customers. It was Heath's first lesson in customer service and set him on a path that made customers his top priority.
Heath applied those lessons throughout his career as founder and president of Ovation Marketing, a La Crosse-based advertising agency that operated from 1978 to 2009. Heath continued in leadership positions with nonprofits ORA Trails, La Crosse Promise and Mississippi Valley Conservancy.'
Now, Heath will share his knowledge with the next generation of business owners and entrepreneurs, serving as the College of Business Administration's inaugural Executive in Residence.
"The essential thing is to find work you're passionate about," Heath notes. "I can't think of anything worse than going to a job where you're not happy, where you're not excited every day to get up and come into work."
For Heath, who graduated from UWL with a bachelor's degree in mass communications in 1973, that calling was marketing.
After switching his major from physical education to mass communications, he found he had an affinity for it.
For his final project, he presented on how to create a progressive rock radio station. The project wasn't just academic — Heath immediately used it to land a managing job at WSPL-FM, and to convince the station to change its format to rock.
Heath loved producing ads and commercials, and soon launched his own ad agency.
Ovation Marketing started small, with a handful of employees and a modest stable of clients.
That changed when the owner of the La Crosse-based Company Store, which sold down comforters and coats to department stores, came to Heath with a revolutionary idea.
"He asked us to create an ad and run it in the New York Times so they could sell down comforters direct (to the consumer)," Heath says, noting that few businesses at the time operated that way. "It worked beyond anyone's wildest imagination. The phones rang off the hook."
Soon, Ovation was creating direct-response advertising for companies such as State Farm, Budweiser, Betty Crocker and Microsoft. Almost overnight, they grew from five employees to 60.
Rapid growth created new challenges.
Budweiser, for example, wanted to create close relationships with retailers selling its beer. This required Ovation staff to embed themselves with Budweiser's retailers — attending wholesale conventions, providing an array of marketing opportunities for Budweiser swag and merchandise, and brainstorming ways the retailers could grow their business.
"We positioned ourselves as direct marketing experts from this little town in La Crosse, Wisconsin," Heath explains. "It resonated with people who didn't think they could find that same specialized service in a bigger city."
Heath also had rapidly growing staff to recruit, maintain and manage.
He implemented many outside-the-box ideas:
Selling 40% of the company to the employees
Bringing in health care professionals for free employee and family health screenings
Building a company gymnasium so employees could blow off steam at the time of day of their choosing
Granting employees time off to volunteer for nonprofit organizations of their choosing.
"Our company was extremely people-oriented," says Heath, noting the gratitude expressed for the health screenings. "You do that kind of thing repeatedly for people, and they become extremely loyal."
Heath says his experiences at UWL — which included acting in theatre productions and working with the campus radio station — helped him discover his passion.
His most important advice for students is to push past fears of failure and find what they love to do.
"We should celebrate that students are here on campus trying to learn, and attempting to implement bold new ideas," Heath says. "They're not going to excel at every subject or every idea. But you take away what you can, make continuous improvements to your process, and keep trying to succeed. Eventually you will either be successful, or back at square one trying the next big idea."
About the CBA's Executive in Residence
As the CBA's inaugural executive in residence, Heath will engage in one-on-one advising sessions with students, speak to classes, meet with CBA student groups, help the CBA collaborate with local businesses and consult with faculty on curricular changes.