Posted 3:15 p.m. Thursday, Jan. 12, 2023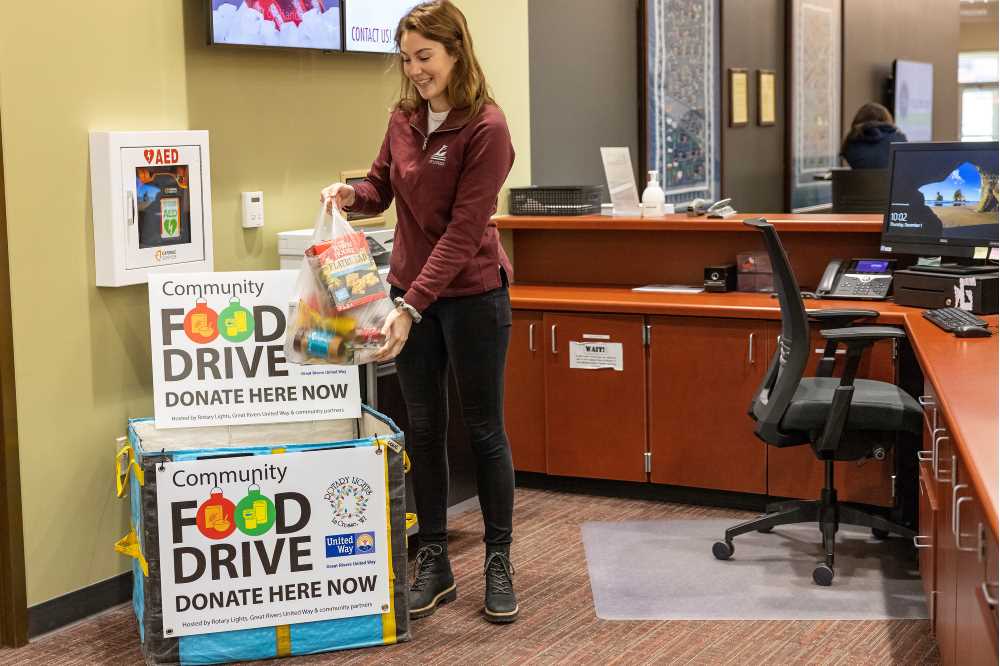 UWL helps Rotary Lights surpass food collection goal
The inaugural Great Rivers United Way and Rotary Lights Community Food Drive brought in thousands of food items for those in need, with a helping hand from UW-La Crosse.
The Information Desk on the first floor of the Student Union was one of several community collection sites for the food drive, which ran from Nov. 28 to Dec. 21.
Items collected during the drive are being distributed among a dozen food banks and community resources, including the UWL Campus Food Pantry.
"The UWL Campus Food Pantry relies on community donations to keep its shelves stocked," says Amanda Krafft, program coordinator for Civic Engagement & Leadership at UWL. "This year, we received over 5,000 items from the Rotary Lights Food Drive, which will help keep the pantry stocked as students return to campus for the spring semester."
During previous Rotary Lights Food Drives, donations could only be made at Riverside Park. By adding collection sites around the community, organizers hoped to increase access and, in turn, donations.
Between Riverside Park and the community collection sites, this year's drive brought in more than 340,000 food items, nearly double the initial goal. The haul pushed Rotary Light's 28-year collection total over 5 million items.
The UWL Campus Food Pantry — located in the COVE (2220, Student Union) — serves more than 250 students each month.
All students, staff and faculty can gain access to the pantry by completing a form. Access is granted to Eagle ID cards within two to three business days.
For immediate access to the pantry, or to make a donation, visit the front desk at the COVE during regular business hours.