Posted 12:14 p.m. Friday, June 16, 2023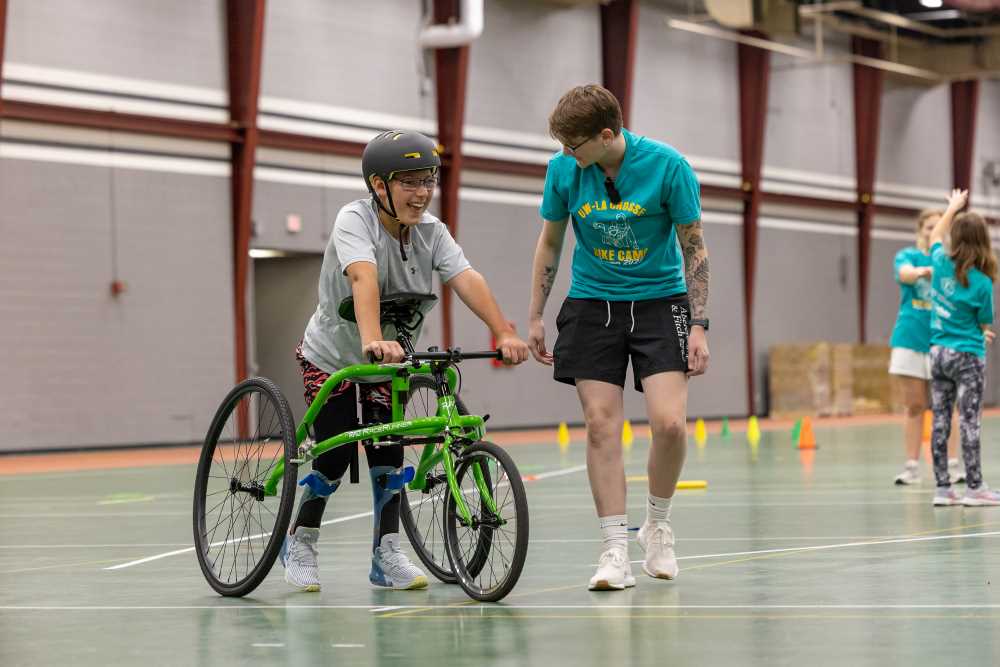 UWL graduate student receives community donations, provides training for new adaptive bike for community programs  
"We're going to do 10 more pushes now," calls UW-La Crosse graduate student Mandi Lucas, as she and 10-year-old Bentlee Cleveland round the corner of Mitchell Hall's 200-meter track. "1, 2, 3 …"
Cleveland, who has mobility challenges from Spina bifida, finishes the lap pushing with both legs while leaning his chest into a three-wheeled bike called a RaceRunner.
The task is "hard but fun" he says, his face flushed and smiling.
Cleveland rolls his wheelchair up to dad who is sitting on the bench alongside the track. "You looked pretty darn good out there, kid," says dad, Lee Cleveland, shaking his son's hand. "Real fast guy."
Cleveland was participating in UWL's 5th annual, week-long Bike Camp for Children with Disabilities on June 13, supported by The La Crosse Autism Foundation and the Down Syndrome Association of Wisconsin – Greater La Crosse Chapter.
It was the first time the RaceRunner, an adaptive bike, was used at the camp. That's because a RaceRunner is costly to acquire and requires highly-specialized training to use. Only five certified coaches for the RaceRunner live in the U.S., and training is only available in Denmark.
UWL graduate student Lucas took special interest in the RaceRunner after hearing a guest speaker from the local STAR Center, Ginny Wintersteen, talk about it in one of her UWL adapted physical education classes.
Lucas saw the potential of the RaceRunner for local kids who participate in UWL's popular bike camp for children with disabilities. The camp traditionally attracts students with cognitive disabilities such as Down syndrome and Autism, but this new bike could open the camp up to a wider range of kids, including those who have mobility challenges.
Lucas received training from Wintersteen on how to use the bike and garnered $2,000 in local donations to pay for it from Mayo Clinic Health System, Riverfest Commadores Kids in Need and La Crosse Community Foundation.
About the RaceRunner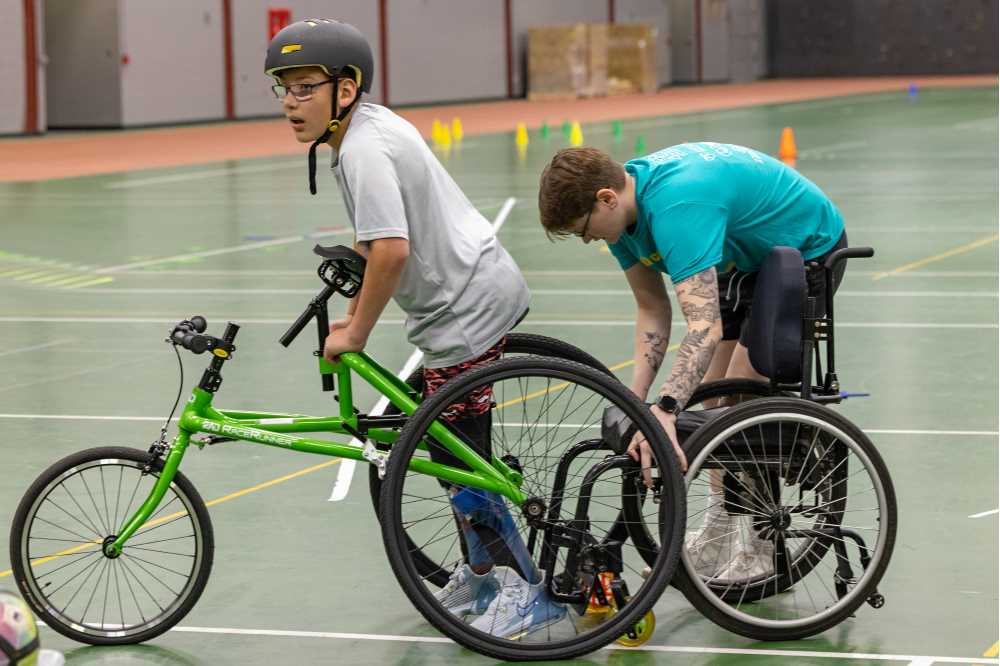 The RaceRunner is an adaptable piece of equipment that works for a range of conditions such as Cerebral Palsy or Muscular Dystrophy. It allows people with these conditions to "bike" alongside their peers, while also improving health and fitness.
Many kids in adapted physical education programs at local schools could benefit from the equipment, explains Abbie Wagner, UWL associate teaching professor in Exercise and Sport Science, who helped Lucas with her project to secure the RaceRunner.
"Many kids with mobility or physical disabilities will be in wheelchairs, so they are sitting a lot and not working on muscular strength or endurance," she says. "So having a bike like this allows them to get out, get their blood flowing and get their muscles moving."
Helping school districts secure their own RaceRunner
The RaceRunner will become a part of UWL's Center on Disability Health and Adapted Physical Activity Programs. Lucas is also developing a web-based manual for others in the community to learn how to use it and garner donations to purchase one of their own. The guide will be catered to area physical therapists and adapted physical education teachers who may see a huge benefit for children they work with but have no way of funding it.
For Cleveland the racerunner has been a game changer, says dad. "He looks like he is running out there - that's amazing."
About UWL's Physical Education Teaching graduate program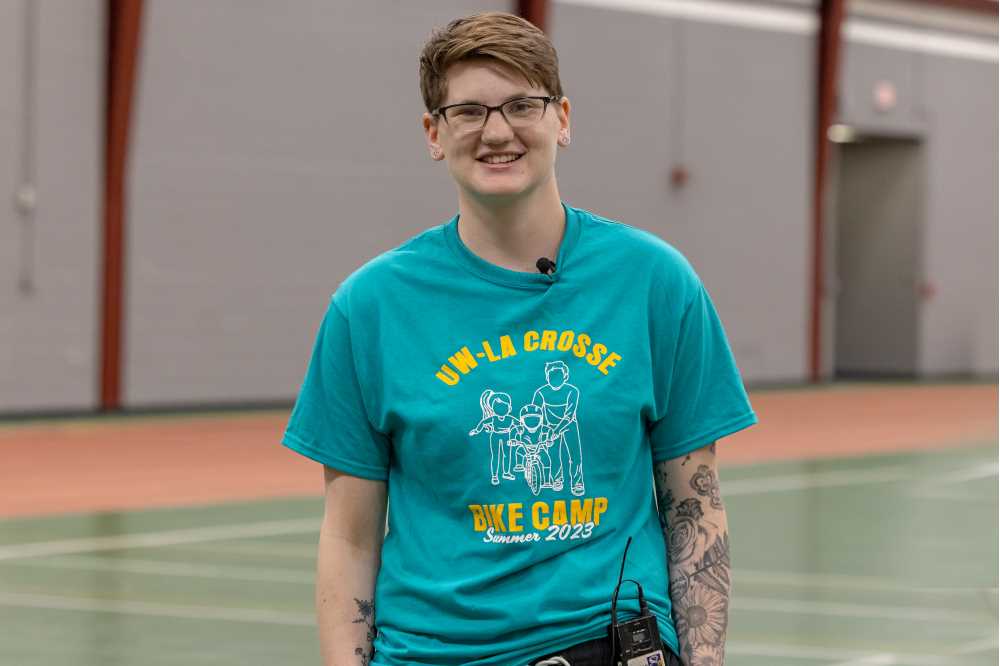 Mandi Lucas is completing her graduate degree in physical education teaching with an emphasis in adapted physical education this summer. She recently accepted a job with Northwest Association for Blind Athletes in Idaho where she will be coordinating outdoor programming including the planning, teaching, and equipment management.
"I loved the program," she says, noting she has made connections with many kids with disabilities through her various adapted physical education programs though UWL. "I could probably name half the kids with disabilities in this community. One of the best parts of the program is how involved in the community it is."
The manual will be available online in the near future. School districts interested in renting the racerunner to consider for future programming can contact Abbie Wagner, UW-La Crosse Associate Teaching Professor, Exercise and Sport Science, awagner@uwlax.edu or 608.785.8691.
See the News 8 feature
For Bentlee Cleveland, the adaptive bike provides physical fitness benefits while also satisfying his love for racing. "He just has the desire to move fast, and I want to give that to him," Lucas says of Cleveland in this News Channel 8 Clip.