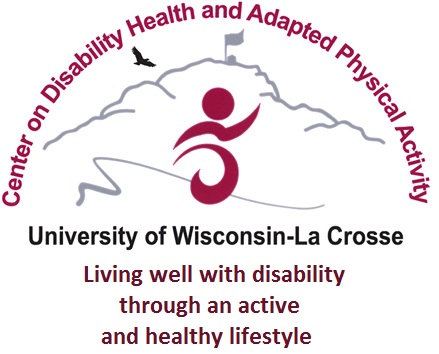 ADAPTED SPORTS LEAGUE
Summer 2022
Registration
2022 SUMMER ADAPTED SPORTS LEAGUE
AGES 5 – 12 5:00 – 6:00 P.M.
TUESDAYS & THURSDAYS: JUNE 21 – JULY 28
A summer sports program for students with disabilities. UW-La Crosse will be hosting the Summer
Adapted Sports League at the Mitchell Hall Fieldhouse on the UW-L campus.
• Ages 5-12 – Introduction to sports skills
• Athletes will learn team building skills and sportsmanship techniques though 1:1 and
small group instruction and team games
• All kids will participate in activities developing basic motor skills like kicking,
throwing, and catching, as well as sport-specific skills in an interactive community-based setting
$60 PER ATHLETE
Registration forms can be found at www.uwlax.edu/center/cdhapa/
Mail completed registrations by June 1 to scoron@uwlax.edu
Center on Disability Health 1725 State Street
108 Mitchell Hall La Crosse, WI 54601

Contact Abbie Wagner awagner@uwlax.edu with questions about the program.
BIKE CAMP FOR CHILDREN WITH DISABILITIES
Summer 2022
Application
The Down Syndrome Association of Wisconsin – Greater La Crosse Area, the La Crosse Area Autism
Foundation, and the UW-La Crosse Center on Disability Health and Adapted Physical Activity, are
hosting our fourth annual bike camp for children with disabilities. Children enrolled in camp will
be provided with instruction to ride a two-wheel bike by Adapted Physical Education Teachers and
UW-La Crosse Adapted Physical Education students. Children who have previously enrolled in Bike
Camp can re-enroll again for the Summer 2022 sessions. Enrollment is limited to 16 children. To
enroll in the program contact Sallie Coron at 608-785-8690 or scoron@uwlax.edu. The deadline for
registration is May 13, 2022.
Dates: June 13-17, 2022
Times: 8:30-10:00am (Session 1)
10:30am-12:00pm (Session 2)
*There will be 8 children in each session. Participants can only enroll in one session.

Location: UW-La Crosse Mitchell Hall Fieldhouse (across from the football stadium)

Fee: There is a $75 fee to enroll into bike camp. Participants are required to enroll in the UW-L
Physical Activity Mentoring Program for the summer. When enrolled in the Mentoring Program the participant will be paired with a UW-L graduate student to continue to practice biking for 2 days a week for 2 hours per week throughout the summer session. Payment for mentoring is separate from the Bike Camp fee.
Requirements for Participation in Bike Camp:
• Between the ages of 8-18 years old (must be 8 years old by June 13, 2022)
• Have a documented disability
• Provide properly fitted two-wheel bike
• Provide properly fitted helmet
• Be able to walk without assistive device
• Willing to wear properly fitted helmet during all bike riding instruction
• Has parent/guardian/babysitter supervision during all sessions
• Must attend camp all 5 days
• Agree to enroll in the Physical Activity Mentoring Program