Physical Activity Mentoring
A page within Center on Disability Health and Adapted Physical Activity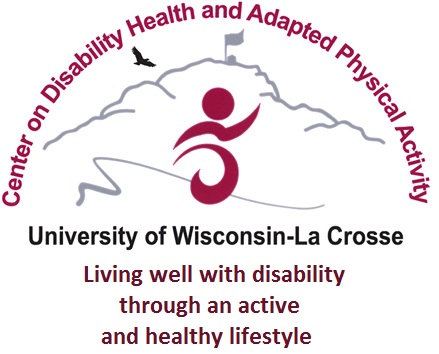 The Physical Activity Mentoring Program for Persons with Disabilities is sponsored by the Center on Disability Health and Adapted Physical Activity at the University of Wisconsin-La Crosse. This community-service program matches university students (mentors) with children and adults (mentees) with disabilities, ages 5 and above. The goals of the mentoring program are to increase physical activity and enhance community-based physical activity experiences for persons with disabilities through significant one-on-one relationships.
Program Times and Days
The Mentoring Program is comprised of 8 week sessions during the Fall, Spring and Summer semesters. Each week, mentors provide a minimum of two 1-hour activities with their mentee that is scheduled at a time convenient for both the mentor and the mentee. Throughout the session there will also be group mentoring outings planned by the program staff. Outings we have done in the past include hiking, bowling, sledding, fishing etc.
Cost:
There is a $25 participation fee per semester which covers the cost of community programs and outings.
Location:
Physical Activity can take place in numerous settings including the UW-La Crosse facilities such as the Eagle Student Recreation Center and Mitchell Hall. Off campus sites could include Hixon Forest, Myrick Park, Forest Hills Golf Course, pools, the YMCA and many other La Crosse area locations. We encourage mentors to work with families to plan activities that meet the needs, interests, and abilities of the mentee.
Application Materials
Parents, teachers, friends, and others can refer a person with a disability age 5 and older to the mentoring program. An application packet must be completed by a parent or guardian for participation consideration. A Medical Clearance Form, included in the packet, must also be completed. See our parent information page to learn more about registering your child/guardianship and other aspects of the program.
For Student Volunteers
Students interested in becoming a mentor must turn in a Mentor Application, Please visit our mentor page for more information about this exciting service opportunity for university students.