Posted 11:12 a.m. Friday, Jan. 20, 2023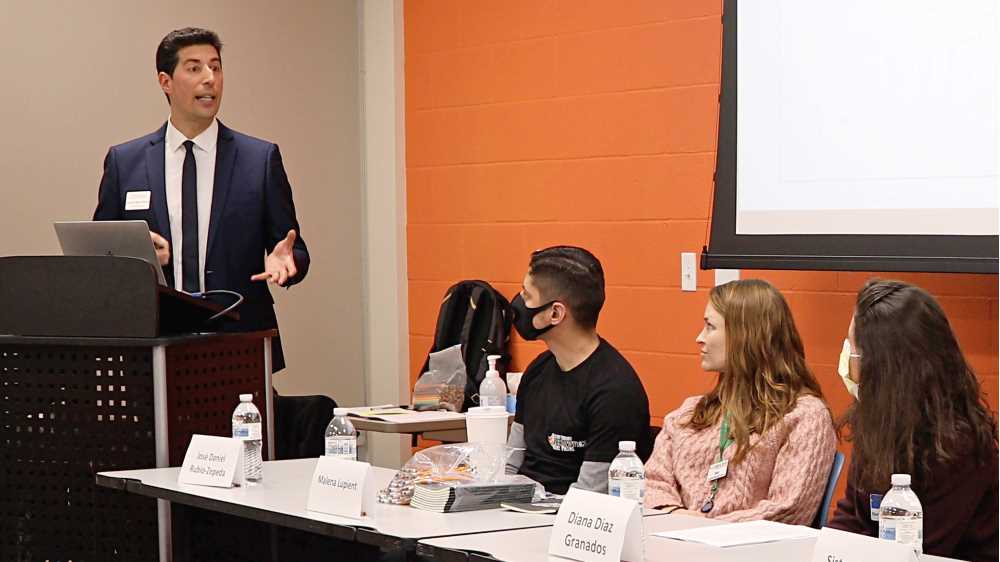 UWL students apply their Spanish skills for mental health awareness
A UW-La Crosse class is making community health resources accessible to a much wider audience thanks to their Spanish language skills.
A UWL Spanish for Mental Health Professionals class partnered with the La Crosse Area YMCA to create Spanish subtitles for a series of videos on resilience and positive psychology. The videos were only available in English on the YMCA website.
"I think this is the true goal of learning another language, to provide care to people who are not receiving equal treatment due to their limitations with English," says UWL Biology major Lydia Schult, who has a minor in Spanish.
The knowledge students gain through this type of activity is deeper and the experience is more motivating than working solely in the classroom, says UWL Assistant Professor of Spanish Antonio Martín Gómez who teaches the class.
"I was particularly interested in giving these students an opportunity to put in practice what they learn in class, given that we acquire best the grammar and vocabulary of a foreign language by using them in context," says Martín Gómez.
The videos are accompanied by one or two skills worksheets, a summary of the lesson from each video, which are also being translated. These translations will be added to the YMCA's dedicated website, so anybody can access the subtitled videos and translated worksheets.
The English videos were created by Former YMCA Mental Health Director Sarah Johnson.
"All of us — including ourselves, our family, friends and neighbors — need to know how to effectively care for ourselves and each other. We know that there are barriers and inequities that make that difficult," says Johnson. "I am so impressed with Antonio's students and thankful for the work they have done to increase accessibility to mental health literacy by offering the Dinner Table Resilience series in Spanish."
Nicole Weber, also a Biology major with Chemistry and Spanish minors, says the event helped her realize how important the work they do in class is. The videos will be used not only by patients, but also by the mental health therapists to help them communicate better with Spanish-speaking patients.
"The event helped me realize the disparities in mental health services in our health system, and how gratifying it is to be able to address patients in their mother tongue", says UWL December graduate Alison Fletcher, who would like to become a therapist who can serve patients in Spanish.
The project is an ongoing volunteer activity that students majoring in health-related professions and Spanish will do for the YMCA, saving the institution expensive translation costs. This initiative also recognizes the local Spanish community of the La Crosse area by making a free resource more accessible so speakers with limited English skills can benefit from positive psychology tips. It is also an experience that Psychology majors can use to be more competitive in the current job market, in which having proficiency in more than one language is highly valued, says Martín Gómez.
The class is part of UWL's new Certificate of Spanish for the Health Professions, a program that prepares students to interact with Spanish-speaking patients in many health-related environments.
This isn't the only outreach work within the program. During Spring semester students in SPA 325: Spanish for Professional Communication will create a workbook that will complement the La Crosse Public Library digital resources to learn Spanish, Transparent Languages Online.
"My plan is to keep establishing partnerships for students from other degrees, so they can put to practice their second language skills for practical uses even before they graduate from UWL," says Martín Gómez.