Posted 9:49 a.m. Wednesday, Aug. 26, 2020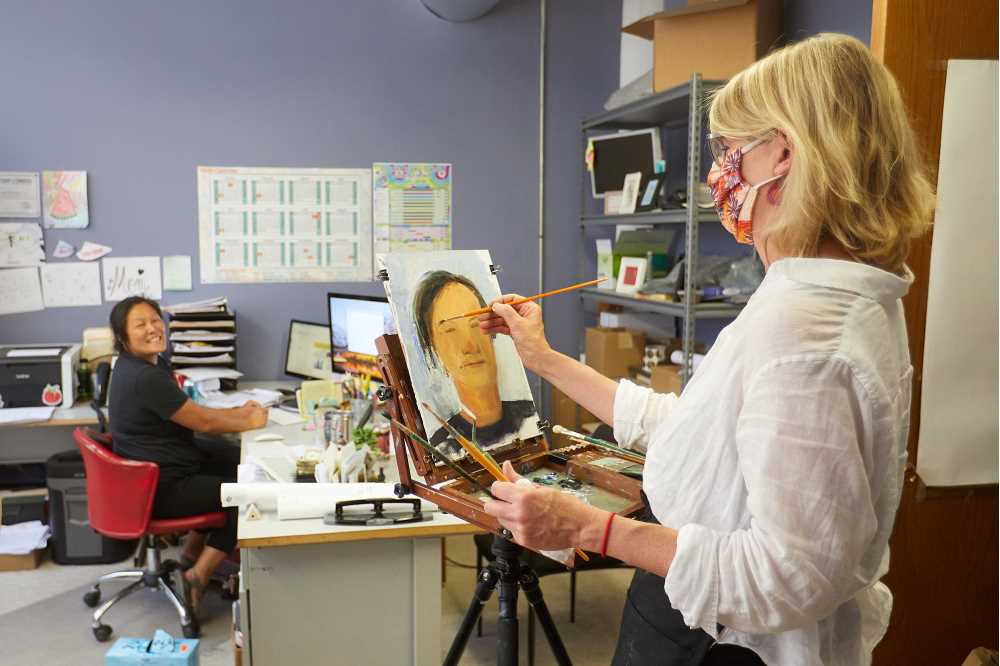 Professor captures images of despair, hope
Jennifer Williams thought of the idea once the pandemic settled in — painting the faces of family, friends and others amid the quandary. The UW-La Crosse art professor calls it "Painting us Forward" and the images provide insight into what people are going through during a pandemic.
When COVID-19 shutdowns began, Williams contemplated the impacts — economically, socially, psychologically, educationally and more. As an educator, she hastily prepared with colleagues to teach online.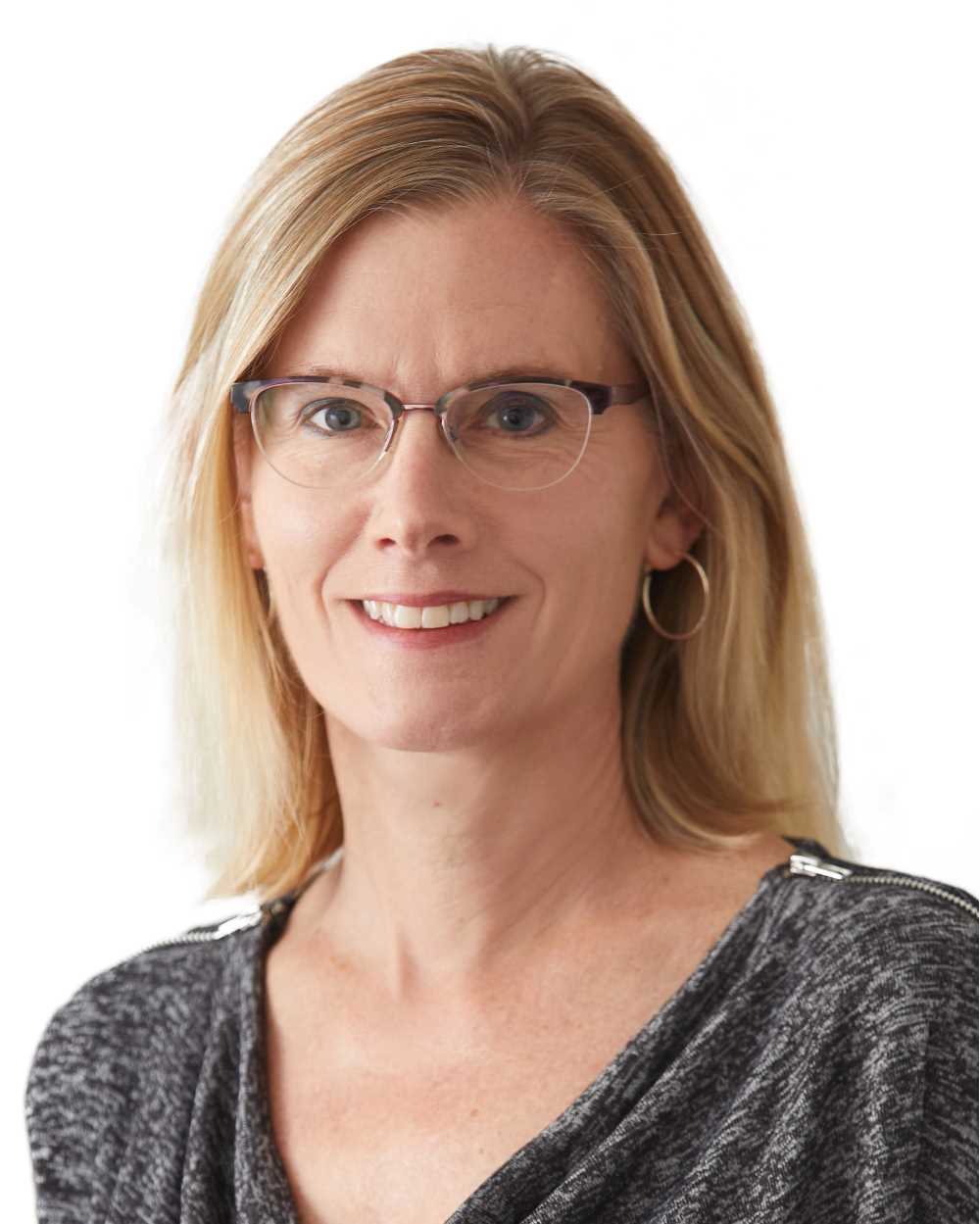 But as a community member, she started to realize how the impact would be felt in a local and broader scope. She responded by supporting small businesses, as many others did.
"As an artist, I recognized that performing artists were particularly impacted due to the closure of music and theatre venues," she explains. "And certainly visual artists were similarly affected, with galleries either closing or eventually shifting to online exhibitions."
Williams says she, like other visual artists, often seek solitude to produce work. That was the silver lining for her during quarantine, though with mixed feelings.
But like everyone else, she missed interacting face-to-face. That's how "Painting Us Forward" was born.
"I connected first with close family and friends, painting studies both from life and from photographs," Williams says. "I then designed a long-term project that would allow me to engage with the broader community, connecting with small businesses in a meaningful way."
Four months into the project, Williams is pleased with its development. Her subjects are painted on 11" x 14" canvases rather quickly using oils, usually in one or two sessions, mainly from photographs. Adhering to physical distancing, Williams paints people in person, too.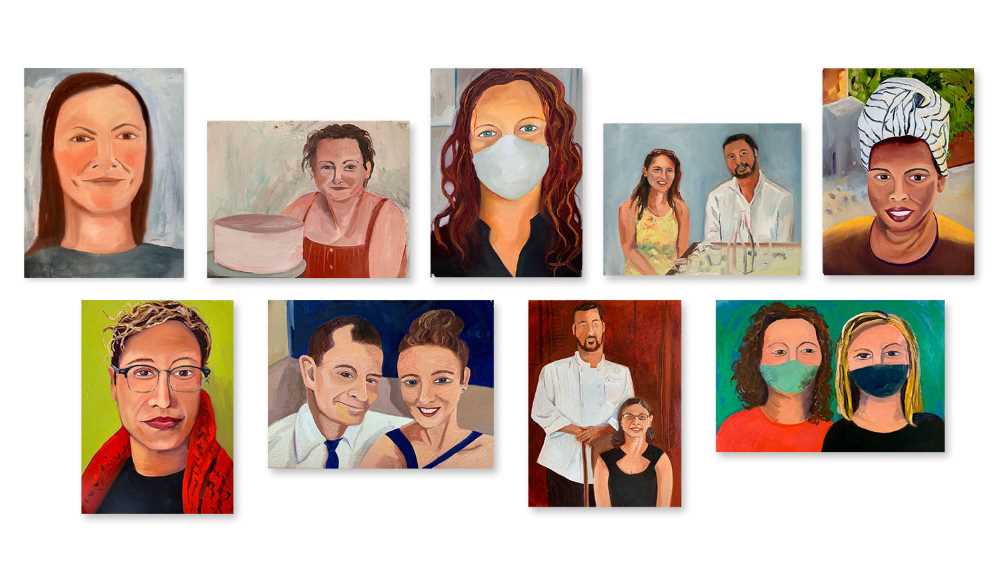 Williams has connected with businesses she already frequents and has visited some for the first time. She does more than one painting at each business and plans to eventually exhibit one from each.
One of her hangouts has been Le Chateau's terrace, which provides a perfect area for physical distancing. Another has been Uptowne Café in north La Crosse. And, she also made an inaugural visit to Jen Barney's Meringue Bakery before the Food Network Holiday Bake-Off champion officially opened her shop in downtown La Crosse.
Before Williams began "Painting us Forward," most of her paintings dealt with landscape and abstraction. She took a risk in shifting her subject matter — something she thinks will help her while teaching in these changing times.
"Although I am mainly completing my work sequestered in my studio, I'm allowing the paintings to leave the studio pretty quickly in the form of images I'm posting to social media, including works in progress," she explains. "That in itself feels vulnerable, kind of a risk to post something that is part of an ongoing process, and a new approach."
Williams says those she's painted have been helpful in the back-and-forth of sharing her work-in-progress. "These aren't commissions dictated by a client's taste, so there is a unique understanding between artist and participant here," she notes. "I won't publish anything until it is shared in with the participant I've painted."
Looking to classes this fall, Williams says she's had more time and training to prepare for taking classes online, along with abbreviated face-to-face opportunities. And she has her new "Painting us Forward" experience.

Her students will be working with iPads and Apple pencils for a new course, "Drawing and Painting Media," where they will use the technology to work with digital art related to the human form. Williams also plans to incorporate, as she did in the spring, assignments for students that involves a response to the pandemic.
"The art world's expressions about this extraordinary time, are numerous, well-executed responses," she says.