Posted 8:58 a.m. Friday, Feb. 3, 2023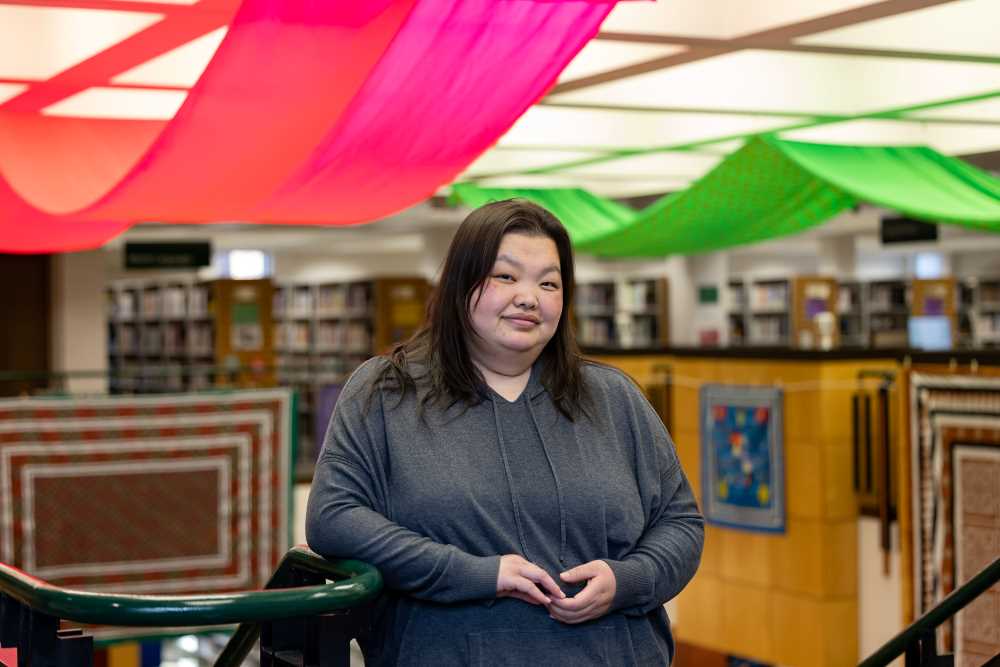 Student-organized collection at the public library educates and informs about Hmong culture
When we talk about equity and social justice, it is much more than protesting and signing petitions, says UWL student Yia Vue.
Vue says a partnership she is helping to grow with the La Crosse Public Library is also an example of social justice at work.
Vue played the lead role in organizing an exhibit at the public library that aims to preserve Hmong culture and heritage and expand the collection of books by Hmong authors. "Hmong Diaspora: A Spotlight Collection" will run through Tuesday, Feb. 28.
The exhibit includes many items on loan from community members including Hmong artwork; artifacts; and vintage and handmade traditional clothing and story cloths. During the exhibition, programs will be available on various topics including the garments in the exhibition, Hmong spiritual beliefs, and guided tours. Two upcoming events include:
Feb. 19: Hmong Diaspora: A Spotlight Collection Exhibit Guided Tour.
Feb. 21: A Cloth Story: The History of Hmong People Through Textiles.
"The Hmong community has been in the La Crosse area for 47 years, but to my understanding, there hadn't been anything of this nature done yet," says Vue. "The Hmong community here was underserved, but the wonderful team at the library now is working hard to be inclusive."
Have you heard of these historic events?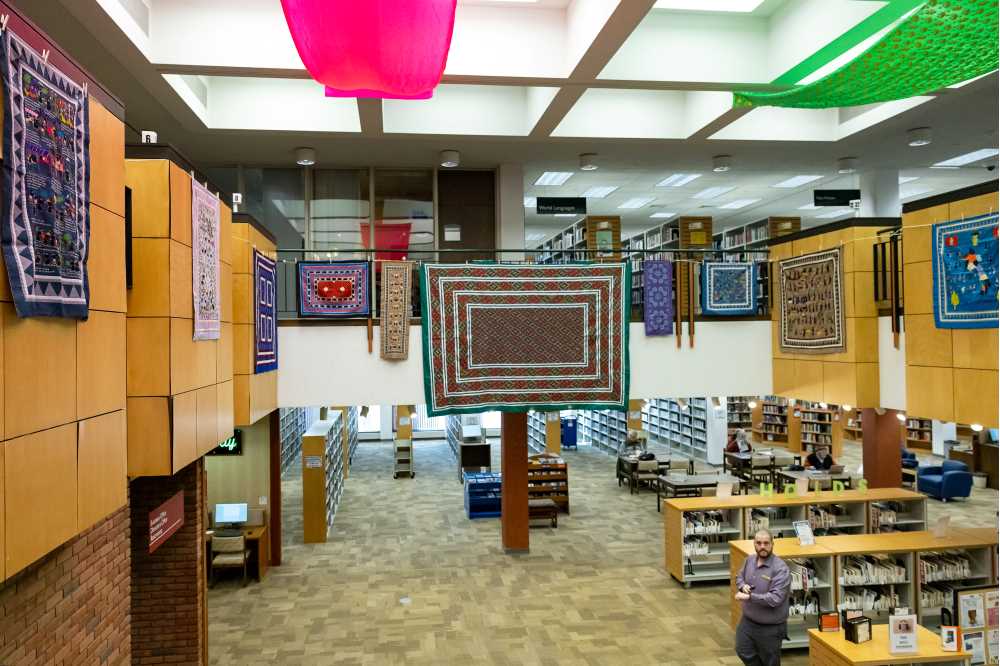 Asians have been a part of American history for hundreds of years, yet they are rarely mentioned, explains Vue.
"We too are American. We too deserve to be seen. We too deserve to be remembered," says Vue.
For example, have you heard of:
Chinese teenager Mabel Ping-Hua Lee leading a 10,000-strong women's suffrage march in 1912 up 5th Avenue in New York City
Daniel Inouye and the 442nd Regimental Combat team made of Japanese American boys and men during WWII being the most highly-decorated combat team in American history
Hmong and other hill tribes fighting for America during the Secret War
Vue says the Hmong impact on American history are often downplayed or erased altogether like the contributions of other Asian groups that came to the U.S. before them.
Hmong youth need to push forward Hmong stories and demand they not be erased, whether that is through small, local events like the library exhibit or the passing of federal and state legislation to include more Asian American history in all classrooms, says Vue.
Growing Hmong literature at the library
Vue says the Hmong book collection is, in a small way, a step toward battling some of the "otherism" and "constant foreigner" syndrome that Asians in America experience, even if they are born and raised in the U.S. Bringing Hmong heritage and Hmong books into such a public space takes it out of that "other" space and into the mainstream.
She wants non-Hmong parents as well as Hmong parents to read these books to their kids.
For a long time, Asian children had a difficult time finding American books with characters that looked like them, says Vue. Children are born with no understanding that they are different from their friends, but that awareness grows later on in subtle and not-so-subtle ways as their awareness of the world grows.
"Yes, representation matters. It is important for Hmong children to see themselves in these public places. It is important for them to see faces like their own in books and other entertainment," says Vue. "But it is equally important for us to normalize for non-Hmong children to also see these faces as routine and not "other."'
Pieces that preserve the rich, cultural heritage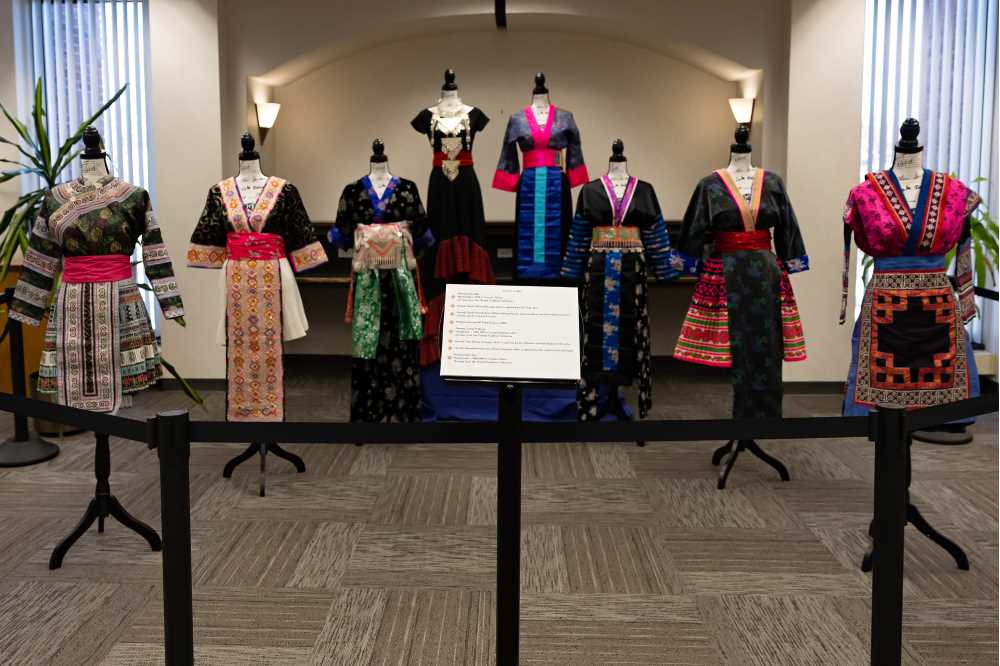 It was critical to Vue to have rare and culturally important pieces in the collection —particularly pieces produced by local Hmong people.
"This is the chance for young Hmong people to see and learn things that they may never get the chance to see or learn," says Vue. "Ours is a rich heritage, but through assimilation, we are seeing the erosion of heritage. It is said that once you lose your language, you lose your culture. We cannot let this happen."
Vue was originally connected to the public library through two UWL friends, UWL Alum Jenny DeRocher and UWL History Professor Ariel Beaujot. Vue's initial partnerships with the library included facilitating a talk on Sleep Demons and the Hmong presented by Seng Alex Vang in October, as well as her own talk on "Child Soldiers of the Secret War" in November. It grew from there to creating the exhibition.
Want to create an exhibit with Vue?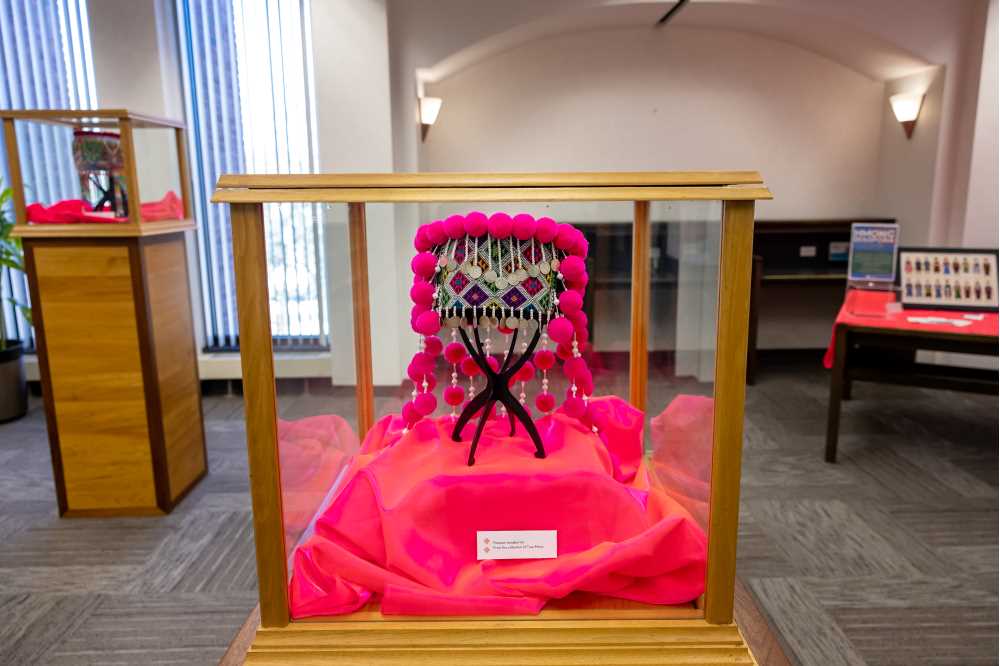 Vue would love to create more exhibitions in the future and would also like to help other communities get their opportunity to shine. Any indigenous or minority groups interested in pulling together an exhibit can contact Vue at vue9086@uwlax.edu.