Profile for Ariel Beaujot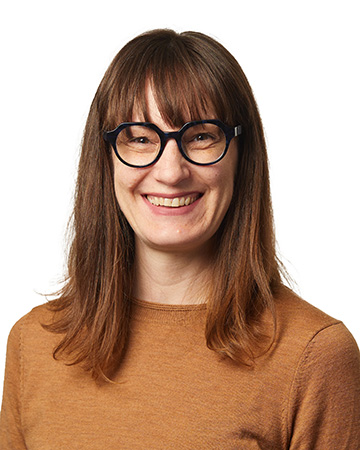 Contact me
Ariel Beaujot
Pronouns: She/Her/They
Professor
History University of Wisconsin-La Crosse
Specialty area(s)
Public History, Digital Humanities, Community Engagement, Experiential Learning, World History, European History, Material Culture
Brief biography
I am a public historian who works with classes to mount local history projects using experiential and community engaged learning. My award-winning work in the digital humanities uses emergent technologies, such as Interactive Voice Response (IVR), Linked data, and mobile applications, to decolonize public spaces and make-available voices of historically underrepresented peoples.
Some examples of past projects are:

•Hear, Here La Crosse, an oral history project in downtown La Crosse, Wisconsin, where residents share memories about the spaces they walk through every day. The stories are accessed through cell phones. This project began in 2015 and continues today.
•Hear, Here London, Ontario, an oral history project spread throughout three neighborhoods of London. This project began in 2019 and continues today.
•In 2020 Hear, Here London partnered with Driftscape, a mobile app which has allowed us to develop themed virtual tours. Driftscape is a unique, multi-media experience that allows users to explore Hear, Here stories with voice recordings, photographs, guided walking tours and augmented reality.
•[art]ifact, a project that combines local history artifacts from the La Crosse County Historical Society and asks local artists to respond to them in an exhibit that was displayed at the Pump House Regional Arts Center in 2016.
• Balade Blanche, a historical ghost tour prepared by study abroad students and a local artist in Pontlevoy, France, 2010.

Through these projects students develop skills in public relations, grant writing, curatorship, and artistic design, which help them use their historical knowledge beyond university walls. Above all I try to foster a cooperative classroom environment, encouraging students to work together to mount large projects in partnership with local community organizations.
Current courses at UWL
HIS 110: World History: 6 Objects that Changed the World (hybrid)
HIS 240: Survey of Europe
HIS 318: Exhibition Development and Design I
Education
Ph.D. University of Toronto, 2008
B.A. University of Western Ontario, 2001
Career
Teaching history
Introduction to Public and Policy History (HIS 320)
Exhibition Development and Design I (HIS 318)
Exhibition Development and Design II (HIS 418)
Material Culture (HIS 393)
Survey of Europe (HIS 240)
Historiography and Historical Methods (HIS 200)
Professional history
•2020-present Professor of History. University of Wisconsin-La Crosse
•2016-2020 Associate Professor of History. University of Wisconsin-La Crosse
•2012-2016 Assistant Professor of History. University of Wisconsin-La Crosse
•2010-2012 Postdoctoral Fellow and Visiting Scholar (British History) The University of Vermont.

•2010 Postdoctoral Fellow (European History) The Abbey Program, University of Southern Mississippi.

•2008-2009 Visiting Assistant Professor (Canadian, Women/Gender History) Department of History, Laurentian University.
Research and publishing
I have written a book about the material culture of fashion objects in Britain: Victorian Fashion Accessories (London: Berg Press, 2013) and am currently working on a manuscript titled Uncomfortable Truths: Public History and Private Memory.
Articles published include:
• co-authored with Hamilton, Michelle A.. "Hear, Here: Oral History, Gentrification, and Memory Politics" International Public History, vol. 4, no. 1, 2021, pp. 55-66.
• co-authored with Víctor Macías-González, "Hear, Here: Mapping Queer Stories in La Crosse, Wisconsin," in Queer Sites in Global Contexts: Technologies, Spaces, and Otherness, ed. Regner Ramos. New York and London: Routledge, 2020.
• "[art]ifact: Where History Meets Art: A case study in shared authority," Curator: The Museum Journal, 63.3 (2020): 387-405.
•"Hear, Here: Digital History and Community Engagement Activating Social Change." In Digital Community Engagement: Partnering Communities and the Academy, edited by Rebecca Wingo, Jason Heppler, Paul Schadewald, Jason Heppler and Paul Schadewald. Cincinnati: University of Cincinnati Press, 2020.
•"Sun Up in a Sundown Town: Public History, Private Memory, and Racism in a Small City," The Public Historian, 40.2 (2018): 43–68.
•"Gender and Sexuality and its Relations to Fashion and Dress." In Age of Empire, 1800-1920, edited by Denise Baxter. London: Bloomsbury Academic, 2016.

•"Balade Blanche: Putting New Museum Theory into Practice." Curator: The Museum Journal, 58.1 (2015):17-26.

•"If you want to get ahead, get a Hat: Manliness, Power, and Politics as seen through the Top Hat." Journal of the Canadian Historical Association, 25.2 (2015): 57-88.

• "'The Beauty of Her Hands': The Glove and the Making of the Middle- Class Body." In Material Women: Consuming Desires and Consuming Objects, 1750-1950, edited by Maureen Daly Giggin and Beth Fowkes Tobin, 167-184. Aldershot: Ashgate Publishing Company, 2009.

• "Coiffing Vanity: A Study of the Manufacture, Design, and Meaning of the Celluloid Hairbrush in America, 1900-1930." In Producing Fashion: Commerce, Culture, and Consumers, edited by Reggie Balszczyk, 229-254. Philadelphia: University of Pennsylvania Press, 2007.

• "The First Decade of the John Gordon Home: Learning How to House HIV and AIDS." Oral History Forum, 21-22 (2001-2002): 75-86.
Kudos
awarded
Ariel Beaujot, History; Nese Nasif, Marketing; and Kathleen Hawkes, Lisa Lenarz, Marc Manke and Sierra Rooney, all Visual & Performing Arts; received the award for Preservation Alliance of La Crosse Heritage Award at Preservation Alliance of La Crosse Banquet on Wednesday, Sept. 6 in La Crosse, WI, USA. Preservation Alliance of La Crosse has granted us the 2023 Heritage Award for contribution to Historic Preservation via the Hear, Here Project.
Submitted on: Aug. 28
presented
Ariel Beaujot, History, presented "Community Stories, Built Heritage & Heritage Conservation " at Ontario Heritage Conference on Friday, June 16 in London, Ontario, Canada. Opening Keynote Discussion – "The Vision SoHo Alliance Project: Community Stories, Built Heritage, and Heritage Conservation" This unique Keynote session involved five complimentary presentations that build on each other. Ariel Beaujot discussed her international project Hear, Here which records community stories about places and makes them accessible via street signs with a phone number at that site.
Submitted on: June 8
presented
Ariel Beaujot, History, presented "Hear, Here: A Public History Project that Reckons and Re-imagines Neighborhoods based on Difficult Histories in a Global Context " at Canadian Historical Association on May 30 in Toronto, Ontario, Canada. In this session Dr. Beaujot presented about the creation of Hear, Here in Wisconsin, a famous swing-state, and how stories of anti-Indigenous and anti-Black racism created a reckoning in the city of La Crosse.
Submitted on: June 8
published
Ariel Beaujot, History, authored the chapter "If you want to get ahead, get a hat": manliness, power and politics via the top hat" in "Political and Sartorial Styles" and was accepted for publication by Manchester University Press. This paper identifies an important historical and social phenomenon largely neglected by historians: the way in which headwear functioned as a site in the making of class-based masculinities in Victorian British society. Hats were an index to social power and an object from which a narrative could be read. They were also part of the signs and symbols that clarified the public landscape. By focusing on headwear we can assess one of the ways in which power, class, and masculinity were formed and maintained in Victorian Britain. The first half of this article explores the symbolism of hats by focusing on the ways in which they depicted and reinforced elite masculinity and status. The second half looks at the particular arena of the House of Commons where several sartorial issues were tested and resolved. This paper argues that the consolidation of hegemonic elite masculinity is done in what seemed like minor incidents concerning fashion. --This is the second publication of this article, the first came out in the Journal of Canadian History in 2015.
Submitted on: Jan. 23
Important links